Books have been utilized as sources of knowledge since time immemorial. Here we are presenting My School Library Essay in English for kids which will surely prove to be beneficial for them.
A library is a storehouse that holds an unimaginable amount of knowledge in its treasure. An essay on my school library in English is a common topic for essay writing in primary school. Through the given essay, kids will be able to draft an essay on this topic.
One of the best things about school libraries is that students can borrow books for a certain period of time for free, read them, and return them to the library. Click on the link provided below to download My School Library Paragraph in English in a printable PDF format.
Essay on My School Library in English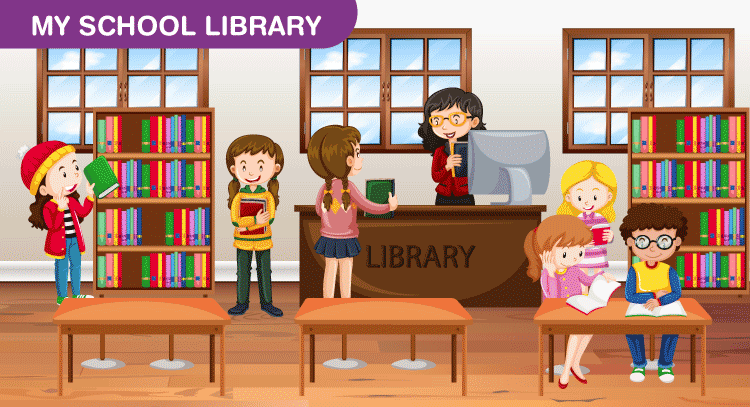 A library is a place where one can find a huge collection of books, periodicals, etc.

My school library is huge. It has two big rooms.

One room has books arranged neatly on shelves. Another room is called the reading room. It has tables and chairs where students sit and read books.

Mrs. Reet Rathod is our librarian. She is very strict about maintaining discipline in the library.

We need to maintain silence in the school library.

In my school library, we have various types of books- fictional, non-fictional, literature, books on general knowledge, etc.

I love to read storybooks and books on general knowledge which have colourful illustrations.

Books in my school library are arranged in such a way that students find them easily.

We are allowed to borrow at most three books from the school library at a time. We need to return the books within three weeks from the date of issue.

I feel blessed to have a library in my school. It encourages me to read more when I see so many students reading different types of books in the library.
You can check out more such amazing essays for kids on other topics that are very popular in the formative years of learning of children.
Essay writing develops sound creativity and imagination prowess in students. It works on the overall advancement of linguistic skills. It enhances vocabulary and sentence formation understanding.
The above-given my school library essay in English is our attempt to give kids an idea of how they can write a simple yet impressive essay on this topic. In primary classes, students develop habits that stay within their routine for long periods of time. In these formative years of learning, libraries can play a vital role in kids getting to nurture their interest in reading.
We have a plethora of such engaging learning resources for kids- intriguing worksheets, brain-tickling general knowledge questions, interesting stories from most popular genres, poems for children, NCERT solutions, easy trivia questions, etc. on our kids learning section. Explore this section and find everything you need for your child's education in one place.