Here, we are presenting an exciting Happy New Year Essay for kids. The entire world celebrates the New Year with a lot of zeal and excitement. A New Year is marked by the end of 31st December of the year at 12 o'clock midnight and the beginning of 1st January. 
New Year 2021 is approaching and an essay on New Year is a commonly asked topic in primary classes. So, here we are with a simple and impressive essay on New Year 2021. You can also download this essay on new year celebration PDF form, through the link provided below.
Essay on New Year 2021 for Kids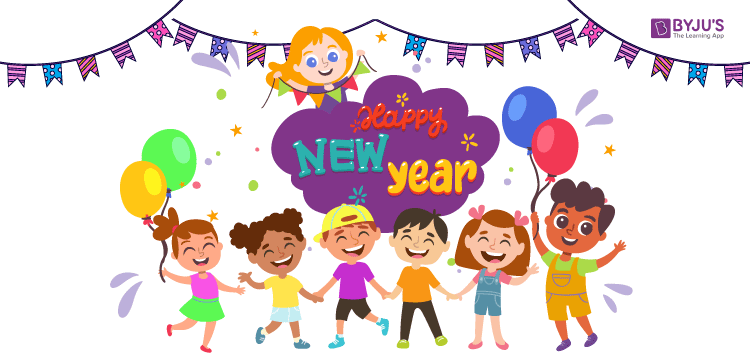 The New Year falls on 1st January of every year.
According to the Gregorian calendar that is followed by all the countries of the world, there are 12 months in a year.
The beginning of every year i.e. 1st day of January is widely celebrated as the New Year.
People celebrate this day with huge pomp and show.
People wear new clothes and rejoice with music, dance and delicious food.
Various kinds of events- parties, treks, competitions and other such gatherings are organized to make the new year memorable.
On this day, people welcome another year leaving behind the sorrows and failures of the previous year.
On the night of 31st December, as the clock ticks 12 o'clock midnight and marks the beginning of 1st January, people congratulate each other with a "Happy New Year".
On 1st January, people make several kinds of new year resolutions. Some people decide to maintain a healthy lifestyle, some others resolve to attain a new goal, etc.
The new year resolution is followed for the entire year. My new year resolution is to develop healthier eating habits.
Happy New Year Essay in English for kids is a very frequently asked topic in primary school. You can also have a look at other common essays for Class 3 in the linked article. Essays are a great way to enhance one's creativity and imagination. It also builds better linguistic skills.
Just like this 10 line essay on Happy New Year, we also have a lot of other essays that might interest you. These essays are available in PDF format that you can download and let your child learn them anywhere.
An essay on new year celebration will let kids pen down their thoughts about the given topic. It will also give a general idea of how 10 lines essays on different topics can be drafted in a simple language.
We hope that your kid enjoyed reading this essay. We have a lot of other such amazing resources too that you can explore and let your kid excel in studies. Visit our kids learning section to find engaging worksheets, intriguing general knowledge questions, easy trivia questions, stories, poems and a lot more!