Presented here for your reference is a Sardar Vallabhbhai Patel Essay in English for children of primary classes. This essay will offer kids a glimpse into Sardar Patel's life and his achievements.
Sardar Vallabhbhai Patel is regarded as the Iron Man of India as his passion for unifying India was iron-strong and uncompromising at any cost. It is because of him that India could convince almost every princely state to stay as a part of India. Click on the link provided below to download this essay on Vallabhbhai Patel in a printable PDF format.
Sardar Vallabhbhai Patel Essay in English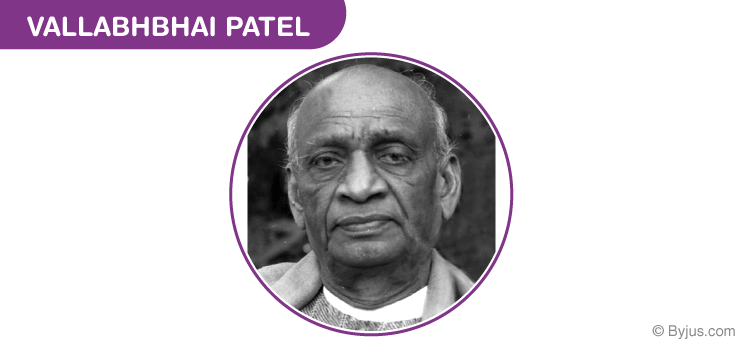 Sardar Vallabhbhai Patel was an Indian politician who served as the first Home Minister of India and the first Deputy Prime Minister of India.

He was a barrister and a very active member of the Indian National Congress. His actual date of birth was never formally recorded. But, as per his matriculation examination papers, he was born on 31 October 1875.

He was born in Nadiad, Gujarat. His father's name was Jhaverbhai Patel and his mother's name was Ladba. Vallabhbhai Patel had five siblings.

He was highly influenced by Mahatma Gandhi's views on non-violence. He was an ardent follower of Gandhi's principles. He strongly emphasized the need for unity of the Indian masses in order to achieve independence from the British rule.

He played the most pivotal role in the integration of India as he was the one who convinced almost all the princely states to become a part of India post India's independence.
He became popularly known as Sardar Patel, Iron Man of India, Bismarck of India, Unifier of India, etc.

Since 2014, his birth anniversary, 31st October is annually celebrated as "Rashtriya Ekta Diwas" i.e. the "National Unity Day" in India.

On 31st October 2018, his birth anniversary, the tallest statue in the world was inaugurated and dedicated to him. The statue is called the "Statue of Unity". Located in the Indian state of Gujarat, the Statue of Unity is approximately 182 meters in height.

He was posthumously awarded the highest civilian award of the Republic of India- the Bharat Ratna, in 1991.

Sardar Patel's health deteriorated rapidly in the 1950 summer. He suffered a massive heart attack and died on 15 December 1950 at Birla House in Bombay.
The provided short essay on Sardar Vallabhbhai Patel in English 250 words and more will help kids get an understanding of the kind of struggle that Sardar Patel underwent in his journey to achieve India's independence.
The topic 10 lines on Sardar Vallabhbhai Patel essay is common and frequently asked in primary classes. You can check out more such brilliant essays for kids on other topics that are very popular in the formative years of learning in children.
Essay writing develops sound creativity and imagination prowess in students. It works on the overall advancement of linguistic skills. It enhances vocabulary and sentence formation understanding.
The given essay about Sardar Vallabhbhai Patel will instil interest in kids to know more about Sardar Vallabhbhai Patel's life and how he made it possible for almost all the princely states to become a part of India. If it was not for Sardar Patel, India would have divided into numerous miniature nations. Thus, we must never forget the contributions Sardar Vallabhbhai Patel made in shaping today's India.
We also have a plethora of engrossing learning resources for kids- intriguing worksheets, brain-tickling general knowledge questions, interesting stories from most popular genres, poems for children, NCERT solutions, easy trivia questions, etc. on our kids learning section. Visit the linked article now and help your child excel in studies.