Writing essays on interesting topics boosts the vocabulary and grammatical concepts of kids as these form the foundation of learning the English language. Once they get an in-depth understanding of a topic, they can draft a few lines in their own words using simple terms. Given here is a short essay on Swami Vivekananda for kids. This short essay on Swami Vivekananda will help them understand how they can frame a simple and impressive essay on the given topic.
Essays are a great way to work on linguistic skills. Writing essays refines creativity and understanding of sentence formation. It also builds better vocabulary. That is why essay writing is a frequent practice in all classes. You can also download this amazing Swami Vivekananda essay in English in a colourful PDF format, through the link provided below.
Swami Vivekananda Essay in English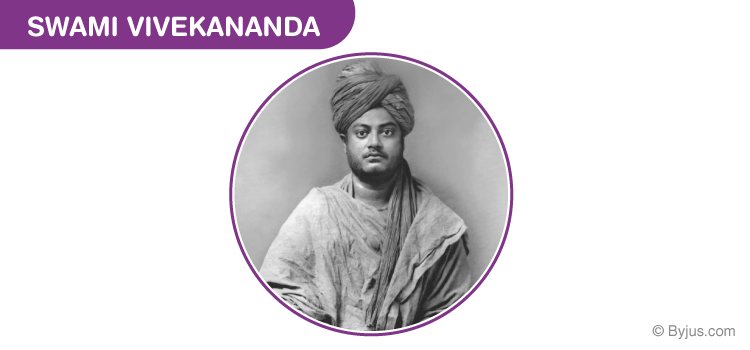 Swami Vivekananda was one of the most popular Hindu monks and spiritual leaders of India.

His name was Narendranath Datta. He was born on 12 January 1863 into a Bengali Kayastha family of Calcutta.

His father's name was Vishwanath Datta. He was a legal practitioner at the Calcutta High Court.

His mother's name was Bhubaneswari Devi. She was a housewife.

He was inclined towards spirituality from a very young age. He used to meditate in front of the idols of Lord Shiva, Lord Ram, etc.

Swami Vivekananda's speech at Parliament of the World's Religions in Chicago in 1893 made him profoundly famous. He began his speech with "Sisters and brothers of America…" which won many hearts.

He was an ardent disciple of spiritual leader, Sri Ramakrishna. He revived Hinduism in India.

He made a prominent contribution to spreading the concept of Indian nationalism among the people of India.

Swami Vivekananda's birthday 12th January is celebrated as National Youth Day in India.

He died on 4 July 1902 while meditating. His disciples believed that he attained Mahasamadhi.
The given topic Swami Vivekananda essay in English 250 words is a very important and frequently asked topic in elementary school. To explore more such common essays for children, you can visit BYJU'S website and download those essays for your child and guide them on how to write impressive essays.
While writing a short essay on Swami Vivekananda in English, kids will get a glimpse into Swami Vivekananda's life, achievements, morals and principles. We hope the above Swami Vivekananda essay in English 250 words will help kids to pick some ideas on how to draft an impressive essay on this topic.
Apart from such brilliant essays, we also have a lot of other learning resources that you might be looking out for. Intriguing worksheets, brain-tickling general knowledge questions, interesting stories, poems for elementary school children, NCERT Solutions, easy trivia questions on various topics, etc. are available in our Kids Learning section. Don't forget to explore the BYJU'S website now for more such awesome resources and lots more!