UP Board Class 11 Biology Syllabus is prescribed under the UPMSP Board Class 11. The syllabus all major topics such as diversity of the living world, human function, plant organisms, etc. The topics that are covered in Class 11 are mentioned in the syllabus with its subtopics and concepts defined. The syllabus includes proper information about the course along with the time frame given for each topic. By going through the Syllabus the Class 11 Biology students will get a complete overview of what is expected from them for that academic year.
UP Board Class 11 Biology Syllabus Marks Distribution
Along with the topics, the syllabus also provides information about practical assignments and projects. Knowing the syllabus beforehand helps students to prepare properly for the exam so that they can score good marks in their Class 11 Biology paper. Any student who has proper knowledge of the syllabus will be able to manage better not just the upcoming class test exam but also the whole academic year by dividing the time in a more convenient manner.
जीव विज्ञान कक्षा 11 पाठ्यक्रम का अंक वितरण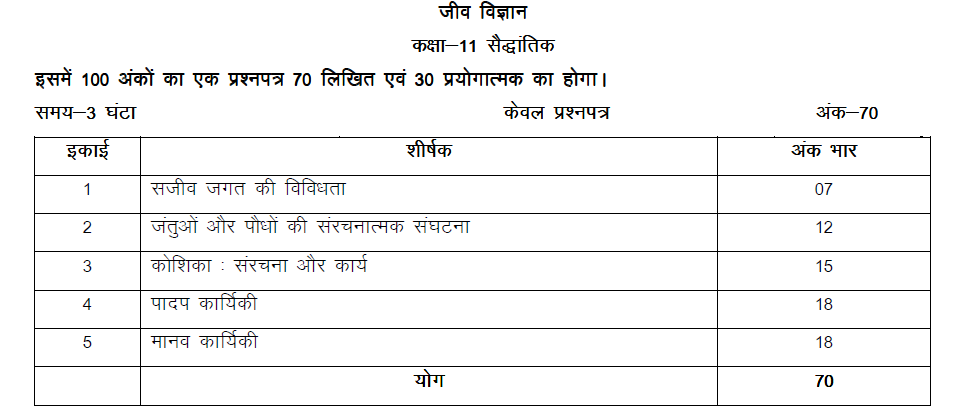 UP Board Class 11 Biology Syllabus
More detailed information is given in the syllabus for Class 11 Biology here. To download the Class 11 Biology UP Board Syllabus PDF click on the link below:
Units
Topics
Marks
Unit 1
Diversity of living world
7
Unit 2
Organizational organization of animals
12
Unit 3
Cell: structure and function
15
Unit 4
Plant organisms
18
Unit 5
Human function
18
Total
70
Liked this page on "UP Board Class 11 Biology Syllabus"? Do let us know in the comments. Moreover, stay tuned for more updates on UP Board Exams. Download BYJU'S App for interesting science & maths videos.
Important Links to refer: