Science influences most aspects of everyday life, including food, energy, medicine, transportation, leisure activities and more. Science education is one of the most important subjects in school due to its relevance to student's lives and the universally applicable problem-solving and critical thinking skills its uses and develops.
Why studying science is important?
Science prepares you for the future
Science open doors to many disciplines
The scientific method fosters thinking skills
I Matter – Its Nature and Behaviour
II Organization in the Living World
III Motion, Force and Work
IV Our Environment
V Food; Food Production
UP Board Class 9 Science Syllabus 2019 with Marks Distribution
Students can refer to the up board previous year question paper class 10 to get an idea about the marking scheme. Alternatively, you can see the marks distribution of UP Board Class 9 Science Syllabus 2018 below:
UP Board कक्षा 9 विज्ञान पाठ्यक्रम हिंदी में जानिये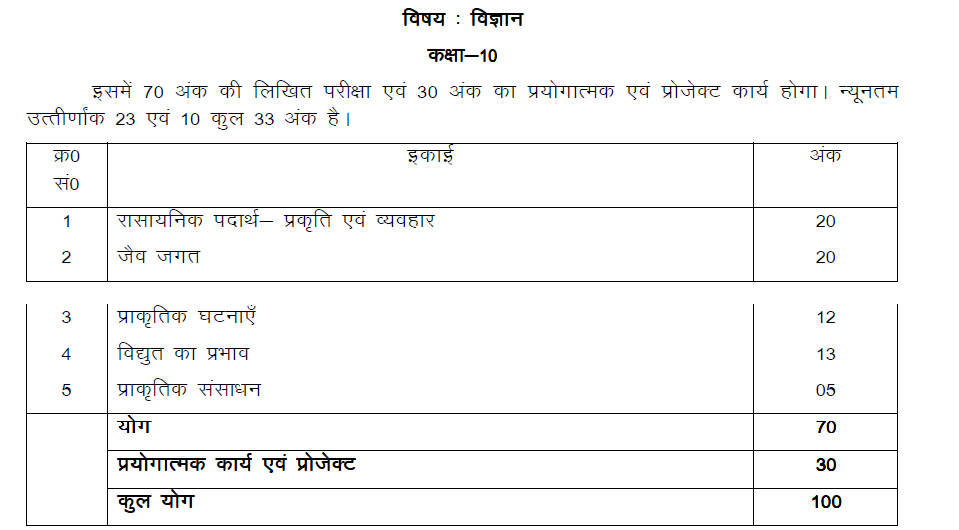 UP Board Class 9 Syllabus
The Class 9 syllabus 2020-2021 provided by the UP Board covers topics such as material nature and behaviour, speed, force and function, etc. Click the link below to get PDF of UP Board Class 9 Science Syllabus along with the practical syllabus.
| | |
| --- | --- |
| Chapter No. | Unit Name |
| 1 | Material nature and behavior |
| 2 | Organization in the living world |
| 3 | Speed, force, and function |
| 4 | Our environment |
| 5 | Food production |
Stay tuned for more updates on UP Board Exams. Download BYJU'S App for watching interesting science & maths videos.
Important Links to refer:
Related Searches: UP Board Solutions For Class 9