Syllabus is prepared by subject matter experts from any education board for the students. Syllabus clearly states what it expects from a student, thus giving them an open mind to explore. It makes learning simpler and also reduces much of our energy and time looking for information from all possible sources. Class 11 Chemistry syllabus of UP Board is created with the aim to provide quality education for the students and direct them to the right path so that they score good marks in Class 11. The syllabus is designed in a step by step manner enabling students to keep up with a chapter on a daily basis without having any fear over the last minute studying.
Unit I Some Basic Concepts of Chemistry
Unit II Structure of Atom
Unit III Classification of Elements and Periodicity in Properties
Unit IV Chemical Bonding and Molecular Structure
Unit V States of Matter: Gases and Liquids
Unit VI Chemical Thermodynamics
Unit VII Equilibrium
Unit VIII Redox Reactions
Unit IX Hydrogen
Unit X s -Block Elements
Unit XI p -Block Elements
Unit XII Organic Chemistry: Some Basic Principles and Techniques
Unit XIII Hydrocarbons
Unit XIV Environmental Chemistry
UP Board Class 11 Chemistry Exam Pattern 2019
Before start preparing for Class 11 Chemistry subject, students must go through the exam pattern thoroughly, so that they can get an overview of the course and what is expected from them during the entire academic year. Then they can solve the 12 up board paper to prepare for the exams.
रसायन विज्ञान कक्षा 11 पाठ्यक्रम का अंक वितरण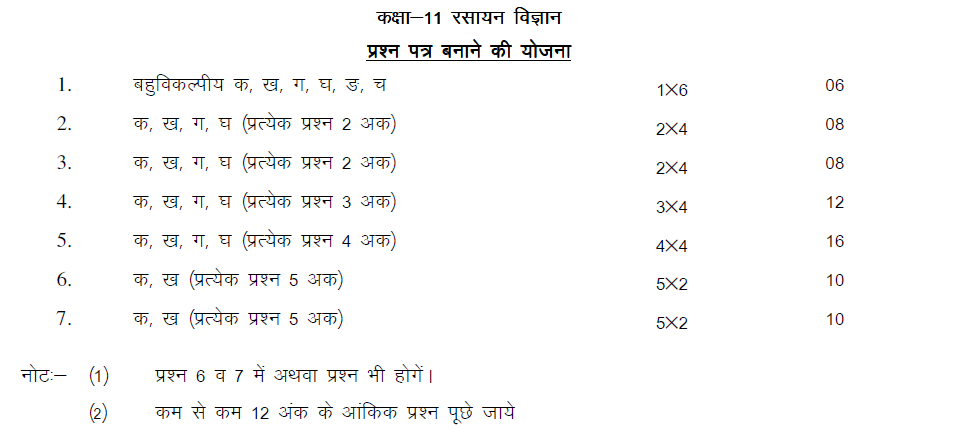 UP Board Class 11 Chemistry Syllabus 2020-2021
The chemistry syllabus 2020-2021 of UP Board Class 11 is distributed into a total of 11 units. Students can download the complete Chemistry Syllabus PDF of UP Board Class 11 from the link below:
Students can find the Chemistry Class 11 UP Board Syllabus 2019 in both Hindi & English Medium below:
UP Board Class 11 Chemistry Syllabus 2019 in Hindi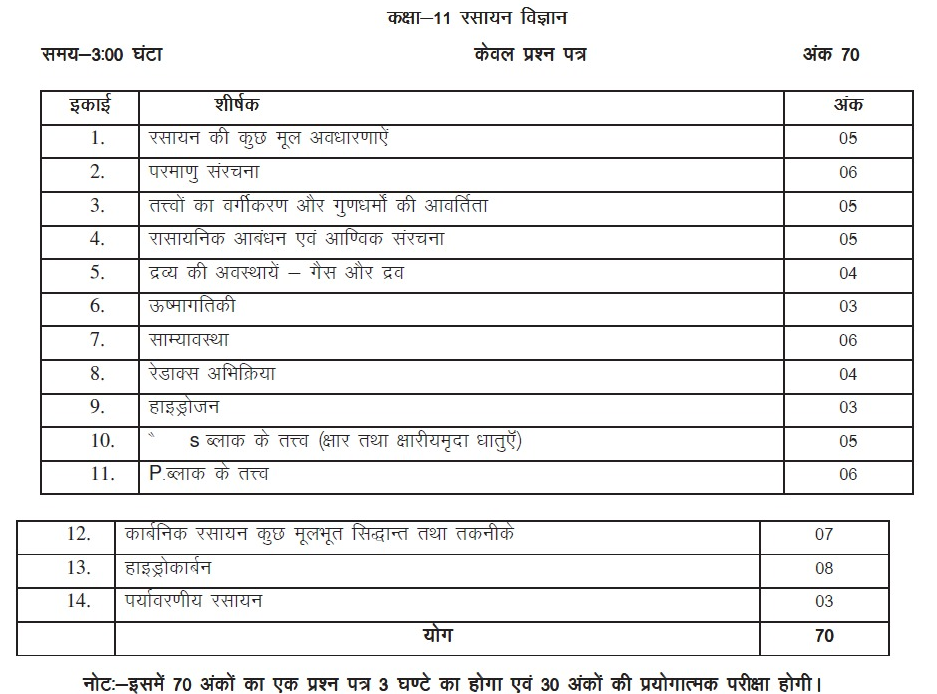 UP Board Class 11 Chemistry Syllabus 2019 in English
Class 11 Chemistry Syllabus
Unit 1: Some Basic Concepts of Chemistry
Unit 2: Structure of atom
Unit 3: Classification of Elements and Recurrence of Properties
Unit 4: Chemical composition and molecular structure
Unit 5: Hydrogen
Unit 6: S Block Elements
Unit 7: Elements of P blocks
Unit 8: Solid state
Unit 9: Chemical Equilibrium
Unit 10: Organic Chemistry Some Basic Principles and Techniques
Unit 11: Hydrocarbons
Unit 12: Stages of matter-gas and liquid
Unit 13: Environmental chemistry
Unit 14: Chemistry in Daily Life
Liked this page on "UP Board Class 11 Chemistry Syllabus"? Do let us know in the comments. Moreover, stay tuned for more updates on UP Board Exams. Download BYJU'S App for interesting science & maths videos.
Important Links to refer:
Students can also find the up board 12th sample paper here.