The Board of Intermediate Education Uttar Pradesh has prescribed a new syllabus for the students of class 12. The new 2020-2021 syllabus based on NCERT has been developed or more so adapted to help students develop better skills in science subjects, especially chemistry. Each unit and the topics discussed in the several chapters have been put together to enable students to think and understand the concepts more clearly and from a real-world application perspective. Previously class 12 UP board students had to take two written exams for Chemistry. Each paper was allotted 50 marks. As per the new up board syllabus of class 12th, students will now write one exam which will comprise of total marks of 70.
Unit I Solid State
Unit II Solutions
Unit III Electrochemistry
Unit IV Chemical Kinetics
Unit V Surface Chemistry
Unit VI General Principles and Processes of Isolation of Elements
Unit VII p -Block Elements
Unit VIII d -and f -Block Elements
Unit IX Coordination Compounds
Unit X Haloalkanes and Haloarenes
Unit XI Alcohols, Phenols and Ethers
Unit XII Aldehydes, Ketones and Carboxylic Acids
Unit XIII Amines
Unit XIV Biomolecules
Unit XV Polymers
Unit XVI Chemistry in Everyday Life
UP Board Class 12 Chemistry Syllabus Marks Distribution 2019
The solved paper of 12th up board helps students to get an idea about the exam pattern. Alternatively, students can find the paper pattern along with the marks distribution of Class 12 Chemistry Syllabus below:
रसायन विज्ञान कक्षा 12 पाठ्यक्रम का अंक वितरण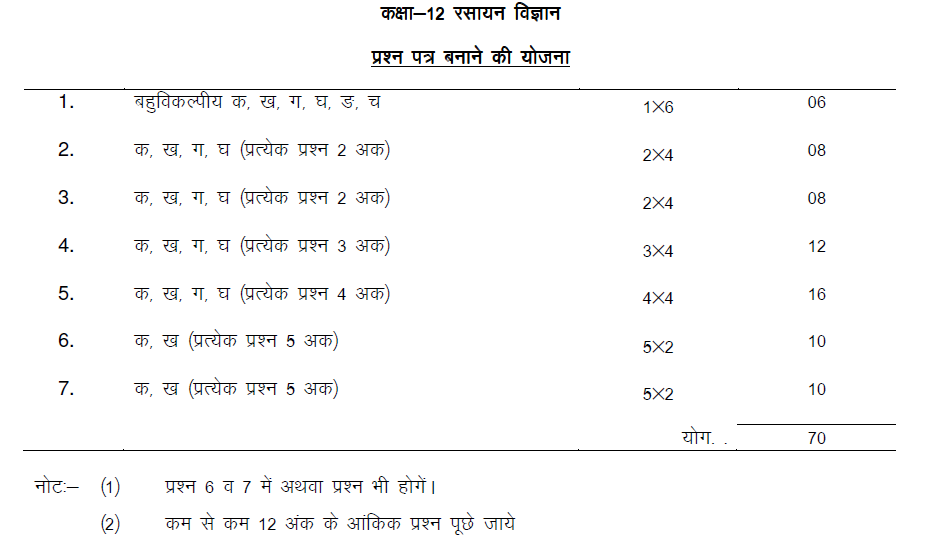 Students will find the latest syllabus of Class 12 chemistry here. Students can access the complete revised UP Board Class 12 Chemistry syllabus in the form a PDF and download it for later use.
Read on to get the overview of Class 12 Chemistry Syllabus 2019.
Overview of UP Board Class 12 Chemistry Syllabus (Hindi Medium) 2019
The UP Board Class 12 Chemistry Syllabus consists of 16 units. Students can see the Rasayana Vigyaan Syllabus in Hindi below:
UP Board कक्षा 12 रसायन विज्ञान पाठ्यक्रम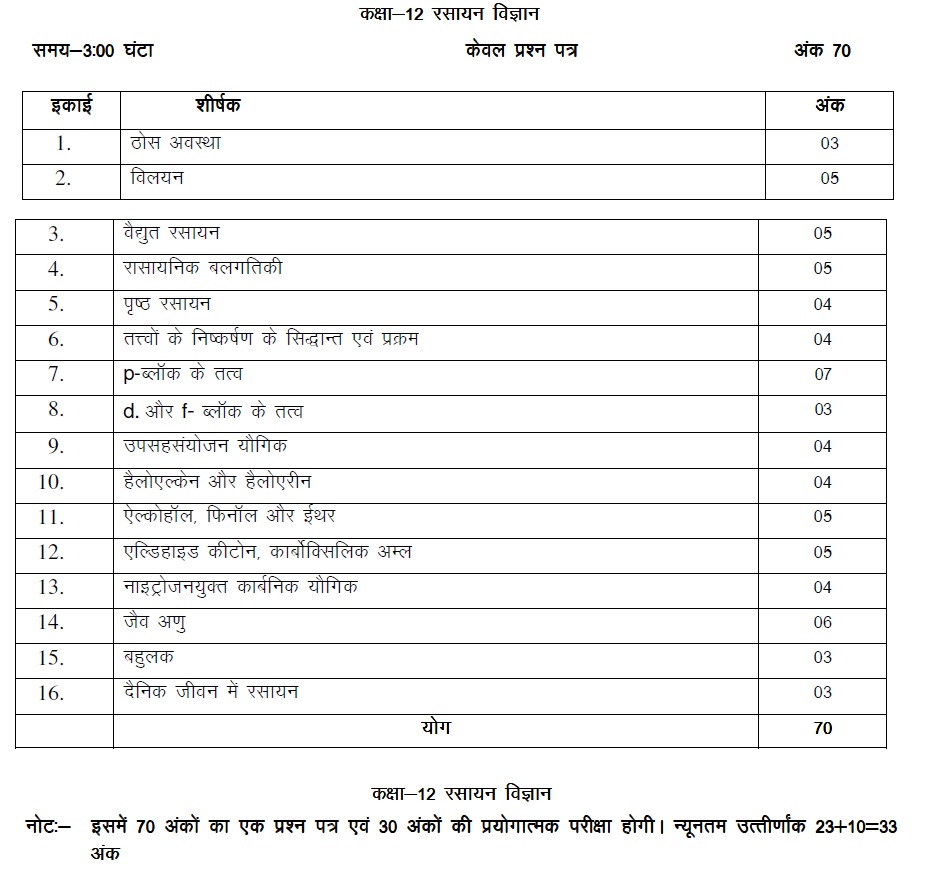 Features of UP Board Class 12 Chemistry Syllabus
The syllabus comes along with important details like;
The course structure.
Name of the Units.
Details of topics and the sub-topics.
Practical details including a list of experiments.
Question Paper structure and marking scheme.
Students who are familiar with the syllabus will be able to significantly stay ahead in the class as they can devise an efficient preparation strategy and at the same time learn productively for the exams.
Do stay connected to BYJU's to get all the latest information regarding the UP Board and also access a lot of study materials like textbooks, up board 12th model paper and more for class 12. Download BYJU'S App for interesting science & maths videos.
Important Links to refer:
Students can also access study material such as the up board 12th science syllabus, from BYJU'S.