WBBSE Madhyamik Class 10 Science syllabus has been created by the board in such a way that it facilitates a successful environment for learning and at the same time limits confusion among students. The WBBSE Madhyamik Class 10 science syllabus has also been put together by experts to help students develop the required abilities in cognitive and psychomotor domains. The WBBSE Madhyamik 10th Class Science syllabus will include the concepts and topics covered under the subject for the current academic year.
Further, as class 10 is an important stage for students the syllabus has been carefully and thoughtfully crafted to help them develop a strong foundation for their +2 academic streams. The topics that are discussed in Madhyamik class 10 syllabus of Science are specifically selected to help students develop better abstraction and quantitative reasoning as well as generate greater interest in the subject itself.
As directed by the Honourable Minister-in-Charge, School Education Department, Government of West Bengal, the West Bengal Board of Secondary Education has reduced 30-35% of the syllabus in all the subjects for Madhyamik Pariksha (S.E.), 2021. Find here the updated West Bengal Board Class 10 Science syllabus for 2020-21.
Note: The WBBSE has reduced the Syllabus  for Madhyamik, 2022 by 30-35%, for the subjects First Language, Second Language, Mathematics, Physical Science, Life Science, History and Geography.
WBBSE Madhyamik Science Syllabus for 2021-22
Class 10 Science Syllabus for West Bengal Board is provided here.
WBBSE Madhyamik Syllabus for Physical Science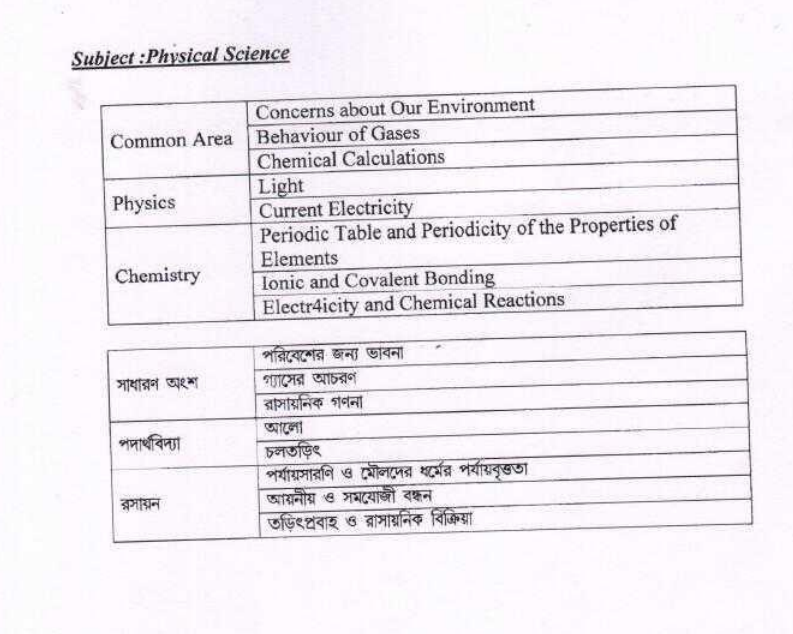 WBBSE Madhyamik Syllabus for Life Science

WBBSE Madhyamik Science Syllabus for 2020-21
Chapter 1: Concerns about Our Environment
Chapter 2: Behaviour of Gases
Chapter 3: Chemical Calculations
Chapter 4: Thermal Phenomena*
Chapter 5: Light
Chapter 6: Current Electricity
Chapter 7: Atomic Nucleus*
Chapter 8: Periodic Table and Periodicity of the Properties of Elements.
Chapter 9: Ionic and Covalent Bonding
Chapter 10: Electricity and Chemical Reactions
Chapter 11: Inorganic Chemistry in the Laboratory and in Industry*
Chapter 12: Metallurgy*
(* chapters have been removed from the reduced Physical Science syllabus for just the academic year 2020-21)
Chapter 1: Control and Coordination in living organisms
Chapter 2: Continuity of life
Chapter 3: Heredity and some common genetic diseases
Chapter 4: Evolution and adaptation*
Chapter 5: Environment, its resources and their conservation*
(* chapters have been removed from the reduced Life Science syllabus for just the academic year 2020-21)
Students can keep visiting BYJU's to check out various study materials for WBBSE Board classes 6 – 12.