West Bengal Board of Secondary Education or the WBBSE board is an autonomous educational board in the state of West Bengal and is administered by the state government. This board is responsible for conducting standard 10 or class 10 exam, which is commonly known as the Madhyamik Pariksha. Thus, the board is also sometimes referred to as the West Bengal Madhyamik Board.
WBBSE Board Overview:
| | |
| --- | --- |
| WBBSE Full Form | West Bengal Board of Secondary Education |
| Board Type | Autonomous |
| Inception | May 3rd, 1951 |
| Administered by | State Government of West Bengal |
| Headquarters | Kolkata, West Bengal |
| Role | Conducting Madhyamik Pariksha (Class 10) |
| Official Website | http://wbbse.org/ |
West Bengal Board of Secondary Education Details
The WBBSE was established by the state government of West Bengal to facilitate the conducting of standard 10 examinations for all the schools affiliated to West Bengal Board present all throughout the state. The standard 10 exams, which is popularly known as the Madhyamik Pariksha is generally conducted in the month of February and the results are declared by June.
WBBSE Class 10 Exam Statistics
The trend of Total Students Appearing for Madhyamik Pariksha (Year-wise Comparison)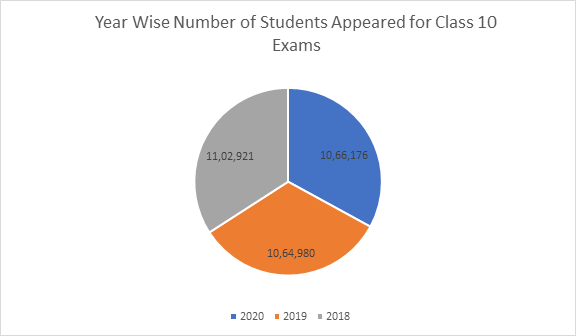 It can be seen that the total students appearing for the standardised exams were slowly increasing. The year 2018, saw the highest number of candidates for the Class 10 exams, with 2020 following at 10,66,176 candidates.  The year 2019, in the meantime, is a close second to the 2020 data.
Overall Pass Percentage of Standard 10 Exams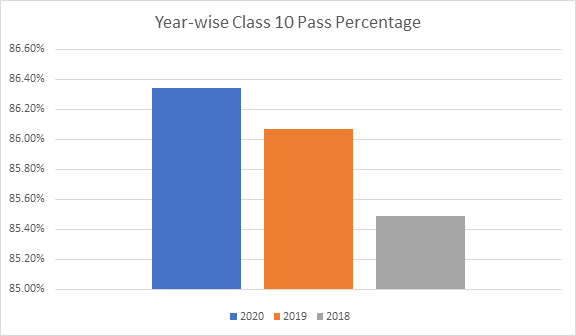 From this trend line, it can be seen that just like increasing total students appearing for the Madhyamik Pariksha, the pass percentage of the students are also increasing.
West Bengal Secondary Board Syllabus and Pattern for Class 10
The syllabus for the Madhyamik Pariksha is strategically designed in a way to help students get exposed to a wide variety of important topics and concepts. The subjects included in the Madhyamik Pariksha include First and Second Languages which include either English, Bengali or Hindi, Physical Science, Life Science, Mathematics, History, Geography, and an optional subject. The pattern of the exam is simple in which students are required to give all the papers compulsorily. There are objective type questions and descriptive type questions in the exam.
WB Madhyamik Exam Routine and Results
Generally, the class 10 exams are conducted between the second week of February to last week of February. After the commencement of exams, the WBBSE board results are declared. The results are generally declared by the first week of June and can be checked online from the official website.
Students preparing for the boards or other final exams can easily find the resources from Classes 1 to 10 to study by clicking the links of West Bengal Board of Secondary Education given below in a table.
West Bengal Board of Secondary Education-Information and Materials
Keep visiting BYJU'S to get complete information about the West Bengal Board of Secondary Education i.e. WBBSE and its related details.