What is Collateral Security?
Collateral Security is a system of subordinate (secondary) protection which is often required by the bank and implied to assure a debtor's conduct on the debt obligation. The elementary security on the considerable trading loan is normally the part that is being financed, namely: Shipment or a company car, a factory; however, collateral or secondary security might be requested by the bank to help in the process of guarantee so that the loan would be repaid on time. In such situations, the enterprise may circulate its own debentures to the bankers in addition to some other assets guaranteed. Such type of issue of debentures is referred to as 'Debentures issued as Collateral Security'.
Debentures issued as collateral security can be transacted in 2 ways in the books of the enterprise:
Method Number 1 :
Since no liability is created by such issue, no entry is being recorded in the books of accounts. However, on the liability side of the balance sheet, under the section loan, a note to the result that it has been protected by the circulation of debentures as collateral security is affixed.
Method Number 2 :
The circulation of debentures as collateral security may be documented in the books of the journal as follows :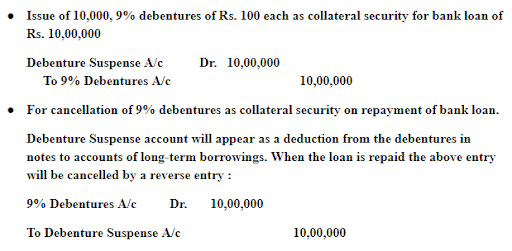 The above mentioned is the concept, that is elucidated in detail about the Issue of Debentures as a Collateral Security for the Class 12 Commerce students. To know more, stay tuned to BYJU'S.
Also See: