Essay on Holi for Children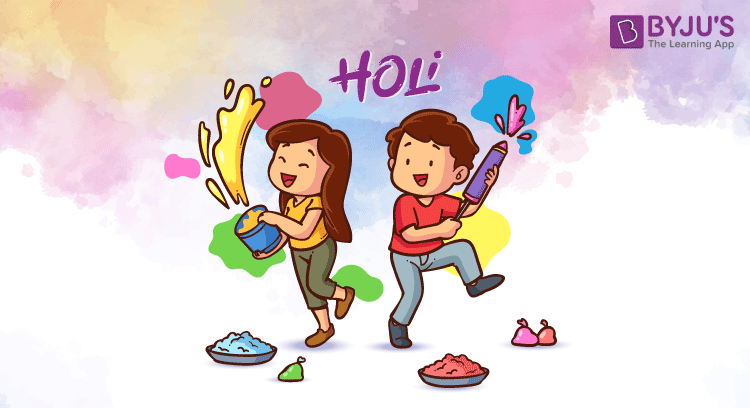 Holi is a festival of colours and one of the most important festivals in India. After the Holi celebration, you can involve your little ones in engaging kids learning activities by asking them to write a Holi essay. When they write an essay on Holi, they get an opportunity to learn about the vibrant Indian culture, customs and traditions alongside enhancing their vocabulary.
Holi is a festival that gathers families and friends who exchange sweets and spray coloured water at each other. Holi is celebrated in March, and according to the Hindu calendar, it is Phalgun. Here is a short essay on Holi for kids to learn to write essays and develop their writing skills. BYJU'S Holi essay in English allows the little ones to organise their thoughts and express themselves. Moreover, when kids write a Holi festival essay, it encourages them to discuss the traditions and customs followed with their friends.
Table of Contents
History of Holi Festival
BYJU'S short essay on Holi represents the festivals of India to the world and keeps the kids engaged in learning about the history of Indian festivals.
Holi festival symbolises the victory of good over evil. Holi's history takes us back to 'Satya Yuga.' A demon king, 'Hiranyakashyapu,' killed those who went against him or worshipped Lord Vishnu. This demon king's son Prahalada was Lord Vishnu's devotee. But, Hiranyakashyapu was displeased with his son's devotion. Then, the demon king took his sister Holika's help to kill Prahlada.
The demoness Holika planned to kill Prahlada by tempting him to the funeral pyre as Lord Brahma blessed her that fire wouldn't kill her. On the contrary, Hiranyakashipu and Holika's plans went in vain as Prahlada started chanting Lord Vishnu's name, and he was saved. Lord Vishnu saved young Prahlada and burnt Holika into ashes.
Holi essay in English teaches us a moral that we must follow for a lifetime, 'Victory of good over evil.' Moreover, you can provide the little ones with BYJU'S Essay on Holi for Class 3.
Holi Celebration
Now that we have learned the history of Holi by reading the Holi festival essay, let us proceed in understanding how this festival of colours is celebrated across the country. Once kids have understood the celebrations, you can ask them to write an essay on their favourite festival by referring to BYJU'S 'essay on my favourite festival.'
The Festival of colours is celebrated for two days, mainly in North India. Holi is celebrated in March. People celebrate Holi with a lot of enthusiasm and joy. After worshipping and praying to God, people wear white-coloured dresses and start playing with colours, splashing coloured water etc., and kids run around by throwing coloured water balloons at each other and daub organic colours.
After playing with colours, people bathe and dress up well to visit their relatives and friends. They share and distribute sweets and dance to their heart's content. Moreover, they consume a specially prepared drink on Holi named 'Bhaang.'
Holi is a festival that spreads happiness and prosperity. It brings people together and strengthens their bonding. Mainly, Holi is a festival that symbolises the victory of good over bad. This Holi essay is an excellent mode of teaching kids the precious Indian culture and traditions. For more essays, worksheets and stories, visit BYJU'S website.
Frequently Asked Questions
Q1
What does the Holi festival symbolise?
The Holi festival signifies the victory of good over evil.
Q2
What special drink do people consume at the Holi festival?
People consume a specially prepared drink on Holi named 'Bhaang.'
Q3
What do children learn from BYJU'S Holi essay?
Holi essay is a great way to help kids organise their thoughts and write in words. Holi essay in English develops kids' vocabulary and their creative thinking abilities.
Related Links