The elucidation of the economy in the previous segment allows us to have an idea of how a simple economy – without the interference of a government, external business or any savings – may function. The households obtain their payments from the enterprises for manufacturing pursuits they perform for the subsequent. As mentioned before, there may basically be 4 kinds of benefactions that can be made during the manufacturing of commodities and services :
Contribution made by human worker, payment for which is called 'wage'
Contribution made by capital, payment for which is called 'interest'
Contribution made by entrepreneurship, payment for which is 'profit'
Contribution made by fixed natural resources (called 'land'), payment for which is called 'rent'
In simplified economy, there is only one way in which the households may unload off their income – by spending their complete earning on the commodities and services manufactured by the domestic enterprises. The other means of unloading their earnings are locked : we have presumed that the households do not save or retain, they do not pay taxes to the government – since there is no government interference and neither they purchase imported commodities since there is no external business in simple economy. To put it in other words, factors of manufacturing use their payments to purchase the commodities and services which they helped in manufacturing. The average utilisation by the households of the economy is equivalent to the average expenditure on commodities and services manufactured by the enterprises in the economy.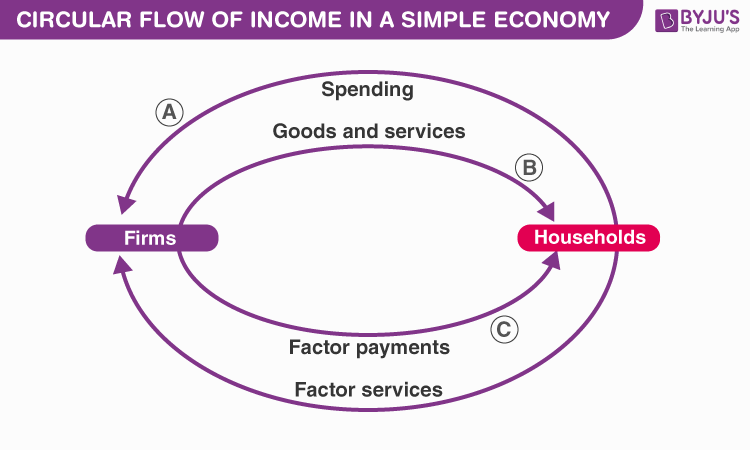 The complete earning of the economy, hence, comes back to the manufacturers in the form of sales revenue. There is no leakage from the structure – there is nil difference between the amount
that the enterprises had allocated in the form of factor remunerations (which is the total of
payments earned by the 4 factors of manufacturing) and the average utilisation expenditure that they receive as sales revenue.
The above mentioned is the concept that is explained in detail about Circular Flow of Income and Methods of Calculating National Income. To know more, stay tuned to BYJU'S.