Students, who are smart enough, will read through the Punjab Board Class 11 Chemistry syllabus thoroughly to get an overview of the subject. Doing so will help them to know what is expected from them during the academic year, and so can prepare accordingly. Well-prepared students will ace the PSEB Class 11 Chemistry exams. This will also give them a strong foundation to go ahead with their career choice with chemistry in it.
Here, in this article we have provided the links to access the PDF version of the PSEB  Class 11 Chemistry Syllabus 2021-22 for the current academic year. We have also provided the unit wise distribution of the marks, in a snapshot below.
UNIT WISE DISTRIBUTION OF MARKS OF CLASS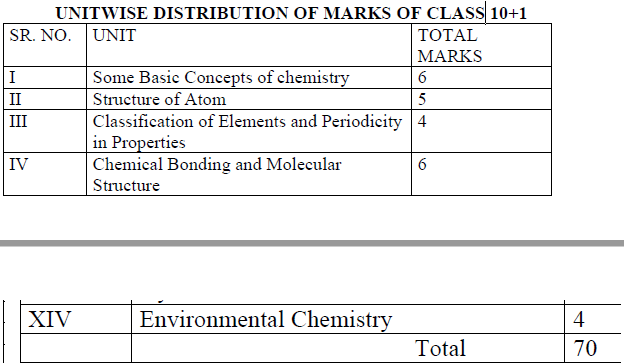 A complete chemistry pseb syllabus of class 11th includes both theory and practicals. The practical syllabus of Class 11 Chemistry is given below:
Benefits of Chemistry Syllabus for Punjab Board Class 11
An effective syllabus is useful for students. Here are some advantages given:
Gives an overview what a student is expected to do during the academic year
Get an idea on how they are graded on their exams
Know the time allotted for chemistry and the topics or concepts under it
Know the assignments or practicals students have to submit
Get the schematic distribution of marks
Get a proper indication of the academic calendar for that year
Meanwhile, more free study materials, including the Class 11 Previous Year Question Papers are available at BYJU'S.