When zinc oxide reacts with acetic acid zinc acetate is formed. Zinc Acetate commonly occurs as dihydrate and is in white crystalline in nature. It is used as a food additive and is also used to treat zinc deficiencies in humans. Zinc acetate is a white colour solid of all the forms.
Properties Of Zinc Acetate Structural Formula
Chemical formula
C4H6O4Zn
Molecular weight
183.468 g/mol (anhydrous)

219.50 g/mol (dihydrate)

Density
1.735 g/cm3 (dihydrate)
Chemical names
Zinc diacetate, zinc salt, and Acetic acid,
Boiling point
decomposes
Melting point
Decomposes at 237 °C
Zinc Acetate Structural Formula
The structural formula for zinc acetate is as shown in the figure below. It features tetrahedral molecular shape with octahedral geometry. The zinc is coordinated to 4 oxygen atoms to give an ionically balanced zinc acetate tetrahedral environment.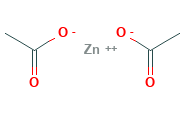 Stay tuned with BYJU'S for more scientific information!!