DK Goel Accountancy Class 11 Solutions Chapter 25 Introduction to Accounting Information System which is outlined by expert Accountancy teachers from the latest version of DK Goel Class 11 Accountancy textbooks. We at BYJU'S provide DK Goel Solutions to assist students to comprehend all the theories in particular. There are numerous concepts in Accountancy, but the concept of Trial Balance, Depreciation and Bank Reconciliation Statement (BRS) is required.
DK Goel Accountancy Class 11 Solutions – Chapter 25
Question 1
How are computer and accounting?
Answer: The computer, an electronic device which computes, modifies, compares, retrieves and stores the facts, is being widely used in the field of accounting. It has an inbuilt system of making arithmetical calculations, collecting and processing accounting data and presenting the outcomes in the form of reports to the management for decision-making purposes.
Question 2
Depict the organisational levels in the form of a diagram.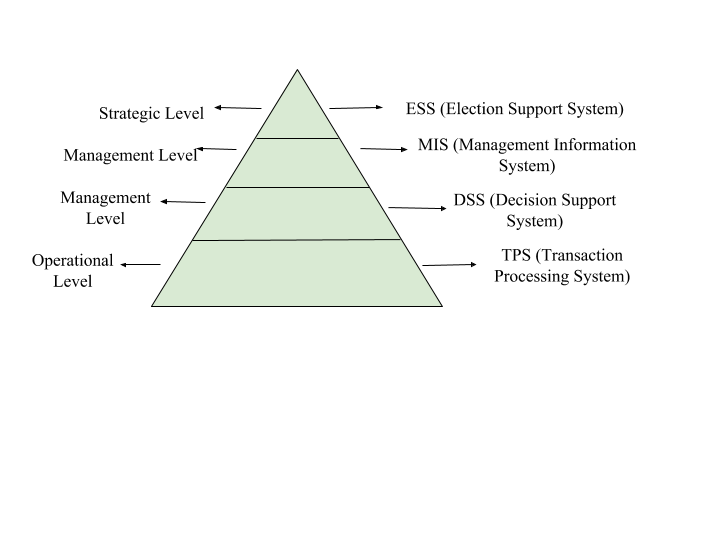 Question 3
Explain any six purposes of accounting information system.
Answer
The six purposes of an accounting information system are.
Sales Order Processing- It is one of the important transaction processing systems which prepares buyers order and produces invoices for them and data needed for sales analysis and inventory control.
Inventory Control- It is used to keep a record of various levels of inventory and changes happened to it.
Accounts Receivable- This system is used to track the amount owed by the buyers.
Accounts Payable- This is used to record data related to all the purchases from the supplier and payment done by them.
Payroll- This system records data from employees time card. It is used in producing employees documents like salary statement, payroll reports, labour analysis report, etc.
General Ledger- The general ledger system consolidates the data received from accounts receivable, account payable, payroll, and other accounting information systems.
Also Check: DK Goel Solution for Chapter 26 Computerised Accounting System
Stay tuned to BYJU'S for more DK Goel solutions, question papers, sample papers, syllabus and Commerce notifications.
Important Topics in Accountancy: