Here we bring to you my family essay for Class 2 kids that will help them to pick some ideas on how to write a few lines about my family in English.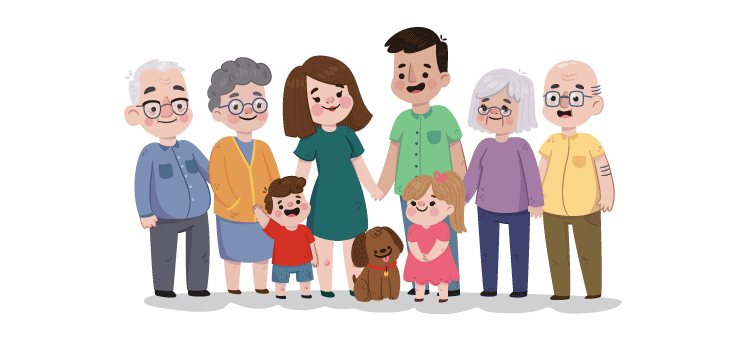 10 Lines on My Family In English For Class 2
My family is a joint family that consists of paternal and maternal grandparents, my parents and younger brother, our lovely dog and myself.
My paternal grandfather is a retired defence personnel and my paternal grandmother is a housewife who prepares delicious food for all of us.
My maternal grandfather is an ex-Principal of a school and my maternal grandmother used to teach at the same school.
My father is a doctor and my mother is a lawyer by profession and I have a younger brother too.
We also have a lovely dog who listens to our commands obediently.
My family teaches us moral values and lessons of discipline, hard work and cleanliness.
In my family, all the members stay peacefully in unison and love each other.
All members of my family love, respect and care for each other and stand by each other during tough times.
My family goes for a family outing or leisure trip once every month.
I pray to God earnestly to keep my family safe from the evils of society and protect us from any misfortune.
A Short Essay on My Family for Class 2
A family is a group of people who love each other, support each other and are related to each other from birth. There are four members in my family, and our family is a nuclear family. My family is the most important part of my life. My father is a Banker, and my mother is a Professor. I have a twin sister. In my small family, we are taught to respect elders and be compassionate with each other. We love celebrating festivals and birthdays together. During these festivities, we invite close friends and family members.
In this article, we looked into "My Family Essay for Class 2" kids which they can refer to while writing an essay on a similar topic. Without question, a family is important because it provides love, care, support and virtues to each of its members. The elder members of the family teach moral values to the young ones and share their joys, sorrows and experiences of life. Family is the single most important component of people living together, which has a significant influence on a child's life. We hope the simple lines about my family essay in English as given above will guide kids to understand the important points they should include while writing an essay on this interesting topic.
Young kids often enjoy writing an essay of short simple sentences as they want to express their feelings and thoughts in the best possible way. We hope the above sample on "My Family Essay for Class 2" helps young kids get an idea about the important points they should consider while drafting their write-up about my family essay in English for Class 2. This will also help them to enhance their English writing skills. Kids can also explore more such essay topics by checking our Kids Learning section and explore a huge variety of kids resources such as colourful worksheets, essays of primary classes, poems for kids, GK Questions and lots more.
More Essays for Class 2
Search Essays by Class