In this article, we bring you an interesting essay on my teacher for Class 2 students in simple words, which young learners can refer to while drafting a few lines on this topic. Teachers play significant roles in our lives. They are the ones who not only impart knowledge but also help in building our character and shaping our personality. They are the guiding stars who help us in making the right decisions and impart righteous values in us.
A teacher-student relationship can help in moulding the tender minds of Class 2 students to bring out the best in them. Young learners have innocent minds and given an opportunity they try to express their views about their teacher in the most creative manner. You can download the essay on my teacher for Class 2 kids from the link provided below.
My Teacher Essay for Class 2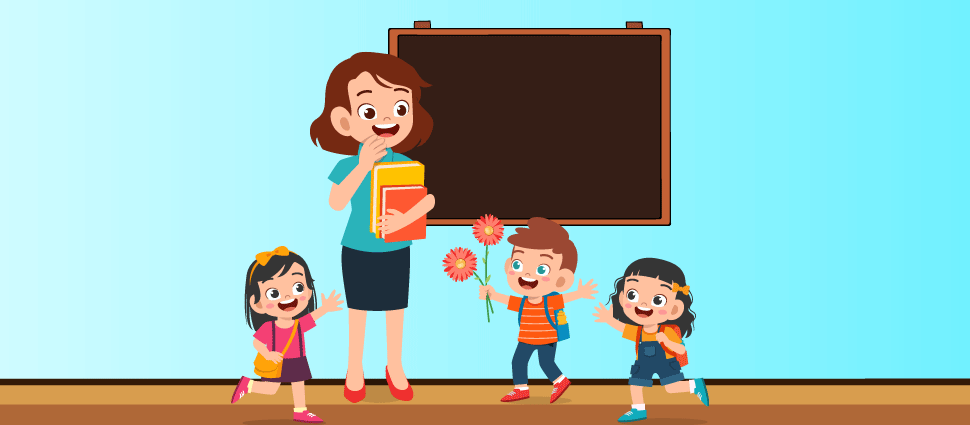 A teacher is a source of inspiration for students as he/she guides us.
Almost every student admires his/her teacher, idolises and wants to follow his/her footsteps in life.
Miss Nandita Roy is my favourite teacher at school who teaches us Mathematics.
She is my class teacher too and takes our attendance every morning.
Although she is strict by nature, she teaches us Maths in a simple manner and makes it interesting for us.
She teaches us Maths with real-life examples which arouses our interest and inquisitiveness in the subject.
She has a pleasant personality but is very disciplined too. She ensures that we listen to her classes attentively.
She listens to our questions and problems patiently and clarifies our doubts with a smile on her face.
She always motivates us to participate in extracurricular activities like elocution, debate, etc.
Miss Nandita's way of teaching inspires everyone and every student in my class respects her dearly.
We hoped you loved "My teacher essay for Class 2" kids? The above sample essay on my teacher for Class 2 is a modest attempt from our end to help young kids to express their thoughts about their favourite teacher and develop a liking for writing simple English essays on a day-to-day basis.
To explore more such engrossing essay topics for Class 2, you should keep an eye on our Kids Learning section and discover the joy of learning for your child.
More Essays for Class 2
Search Essays by Class