A home is a place where we live with our family in full security and safety. We stay together with our parents, grandparents and siblings, and it is a place which gives us affection and a sense of warmth. In this article, we shall look into "My Dream House Essay for Class 1" children and understand the importance of a dream house from a young child's perspective. While writing "My House Essay for Class 1", a child should understand the significance of a dream home in their life. Besides, a child should consider home as a symbol of human togetherness i.e., a place where every person learns the first steps of their life.
Here's a sample of 'My Home Essay for Class 1' children which they can refer to while drafting an essay of their own.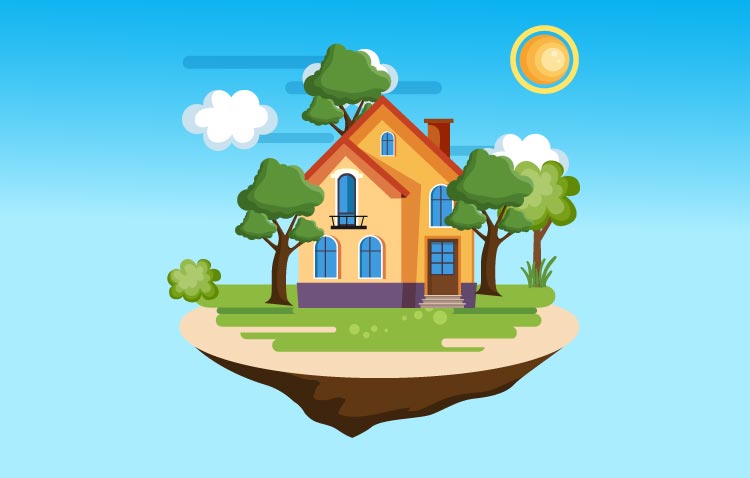 My Dream House Essay for Class 1
My dream house is where I can live happily with my parents.
I want the house to have large rooms.
The house should have a big veranda for me to play.
It should have a nice kitchen.
My dream house should be built of bricks, cement, marble and tiles.
All the rooms of my house should have big windows to let in cool air.
The walls in my home should be light yellow in colour.
There should be a balcony with a beautiful view.
I would love a small garden with trees, plants and flowers.
My sweet home will make me feel safe and comfortable.
A Short My House Essay for Class 1
I love nature and want my house to be in an area covered with many trees. I want to build a dream house with a garden where I can grow my fruits and vegetables. I would also like to have a big living room and four other rooms that can be used as a bedroom and study. My dream house would be a place where I would live happily with my family. It would be large with four rooms and should have a big common room. My house would also be a wonderful place decorated with beautiful paintings.
My dream house would have a trampoline room, a pool, a small waterfall, and a big garden. My whole family would stay in every room. In my house, I would have an enormous kitchen where I could help my mother cook. Moreover, I would also have a game world. It would be a house where my family and my pets could live together, surrounded by a large garden full of flowers and trees.
For young children, writing is often regarded as an enjoyable experience as they can express their thoughts in short and simple sentences. Writing 10 lines on 'My House' essay for Class 1 is a small attempt from our end to help youngsters put their thoughts into words and explore their English writing skills. To explore more such essay topics, you can also download our learning app- Disney BYJU'S Early Learn for your kids and learn more.
More Essays for Class 1
Search Essays by Class