In this article, we shall look into "My best friend essay for Class 1" which will help young kids to write an essay about their best friend at school. We bring you a 10 line essay on my best friend for Class 1 that children can refer to while writing their own essay.
As the famous adage goes, "A friend in need is a friend indeed". The world will become a boring and dark place if we do not have any friends to share our joys and sorrows with. Here we have given a sample of 'My Best Friend' essay for Class 1.
Friends are the ones who fill our lives with joy and they gradually tend to become an important part of our world. Happy are those people who have close friends to share their joys, happiness and sorrows with and they are the ones who help us in times of need.
Looking back, every human being has his/her own circles of friends with whom he/she wants to share his/her thoughts, views and take their advice while making a decision.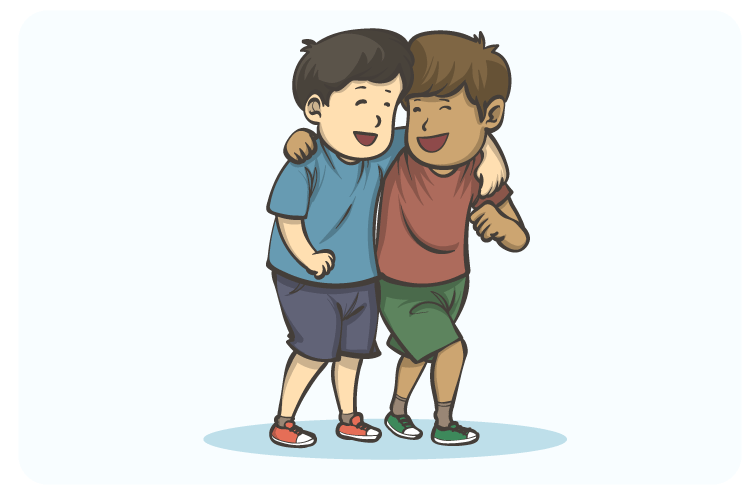 My Best Friend Essay In English For Class 1
My best friend's name is Arjun.
He has a round face with brown hair and eyes.
My best friend is funny.
Everybody loves him.
He is very good at his studies and helps me in my studies too.
We sit, study and play together at school.
Arjun and I live close to each other.
His parents and my parents are good friends too. They visit us often.
During break time, we eat and share our lunch with each other.
On my birthday, he gives me wonderful gifts. I also give him nice gifts on his birthday.
Short Essay on My Best Friend for Class 1
I have a best friend who lives next door to me. Her name is Anita, and we go to the same school, play together and take part in competitions. Our families too have a close connection. Anita is kind-hearted and loves to help others. I have learned many good things from her. She loves pets and has a dog at their place. Her dog's name is Bruno, and we spend a lot of time playing with him. Anita is a well-behaved girl. She speaks politely and loves to make new friends. We both have a lot of common friends at school and in our neighbourhood.
Anita and my family usually plan vacations and spend time together. She is excellent in sports and good at dancing as well. She loves trees a lot. We planted two trees together last week.
This is a Short Essay on My Best Friend for Class 1.
We hope your child can get some ideas from the above-mentioned "My Best Friend" essay for Class 1 and draft an essay in his/her own words. For young kids, writing an essay is always an enjoyable experience as it helps them to express their thoughts in black and white and also improves their English writing skills.
The above sample "My best friend essay in English for Class 1" is a simple attempt to help young learners to be prompt in expressing their thoughts in words. To explore various other essay topics, you may also want to download our learning app- Disney BYJU'S Early Learn and learn more.
More Essays for Class 1
Search Essays by Class