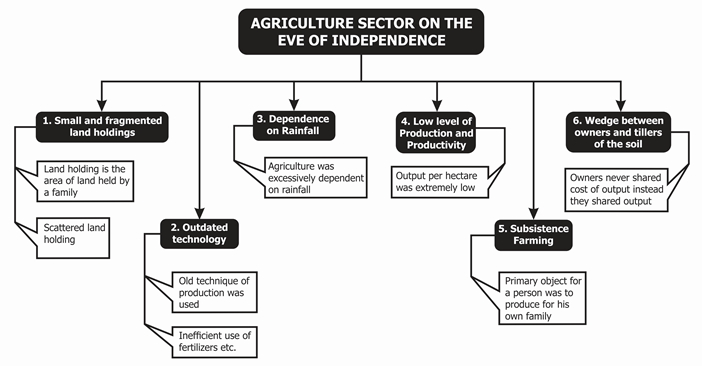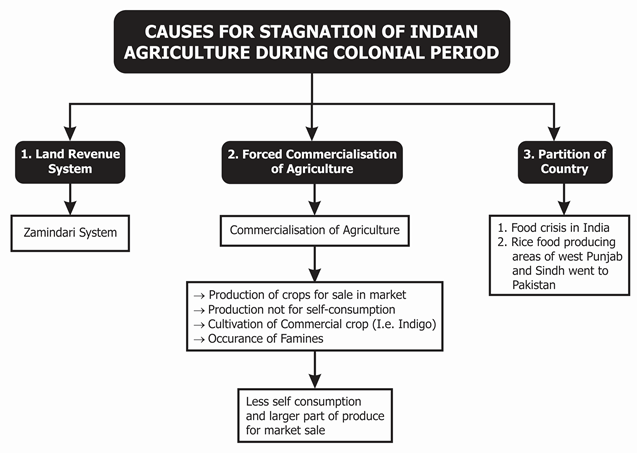 Q.1- EXPLAIN THE STATE OF AGRICULTURE IN INDIA ON THE EVE OF INDEPENDENCE?

OR

WHAT WERE THE CHARACTERISTICS OF INDIAN AGRICULTURE ON THE EVE OF INDEPENDENCE?

ANSWER:

(A) EXPLANATION

The Indian economy was an agro-based economy on the eve of independence.
75% of the Indian population was earning a livelihood from agriculture.
Despite of being a primary source of income for a major population, this sector faced decline under British rule.

(B) STATE OF AGRICULTURE ON THE EVE OF INDEPENDENCE CAN BE OBSERVED BY FOLLOWING CHIEF CHARACTERISTICS:

(1) SMALL AND FRAGMENTED LAND HOLDINGS

The landholding is defined as the area of land which a person or a family owns.
Land holdings in India were not only small but scattered as well
Small and scattered land holdings were very difficult to cultivate.

(2) USE OF OUTDATED AND OLD TECHNOLOGY

At the time of independence, old and outdated methods of farming were used in the agriculture sector.
There was insufficient use of fertilizers and other machines etc.

(3) DEPENDENCE ON RAINFALL

Agriculture was excessively dependent upon rainfall.
Good rainfall implied good output, while poor rainfall implied poor output.

(4) LOW LEVEL OF PRODUCTIVITY AND PRODUCTION

Level of productivity i.e. output per hectare of land was extremely low.
Low productivity implied a low level of output, despite large area was under cultivation but due to fragmentation low output could be produced.

(5) SUBSISTENCE FARMING

Subsistence farming is one where the primary objective of the farmer is to produce for his own family.
Sole aim is to produce for self-consumption or for his family rather than selling it to others to earn money.

(6) A WEDGE BETWEEN OWNERS OF THE SOIL AND TILLERS OF THE SOIL

Owners were seldom tillers of the soil they never shared the cost of output, instead, they shared the output.
They were only interested in maximizing their rental income.
The tillers of the soil (farmers) were given very less for subsistence.
Consequence was backwardness and stagnation of agriculture.
For more data on Economics Class 11 Syllabus, Commerce notifications and sample papers for class 11 Commerce, stay tuned to BYJU'S.