Meaning of Health
Health can be explained as mental, physical, and social well-being which are the resources of living a full and happy life. Good health does not only mean an absence of disease but having the ability and willpower to overcome and bounce back from sickness and other physical or mental issues.
A healthy individual contributes to the maximum of overall development and growth of a country. A developed health infrastructure also guarantees a country of strong and healthy manpower for the production of goods and services. Health infrastructure includes advanced machines, specialist doctors, nurses, and other paramedical professionals and developed pharmaceutical industries.
Generally, it is difficult to describe exactly what good health means. However, few scholars evaluate good health by taking various signs like infant and maternal mortality rate, nutrition level, life expectancy, and with the current data of communicable and non-communicable diseases.
Measures to Control Public Health Diseases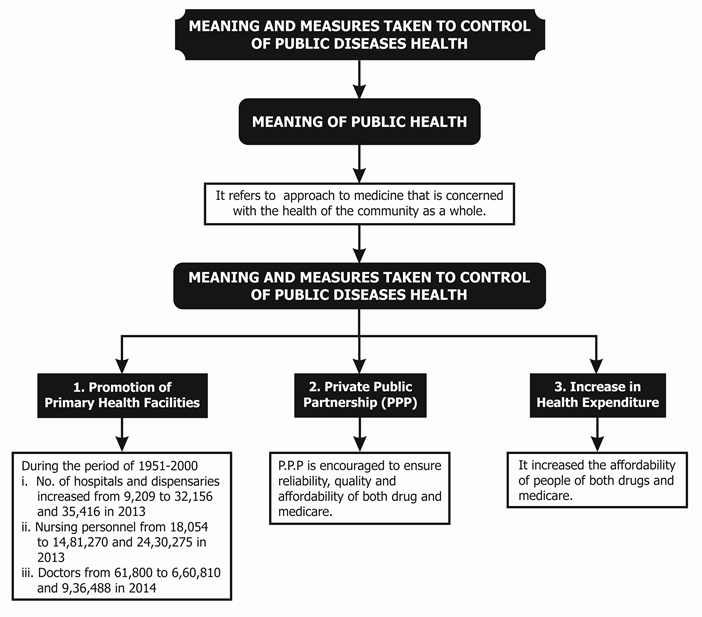 Reason for Insufficient Health
You Might Also Like To Read:
Drawbacks of the Healthcare System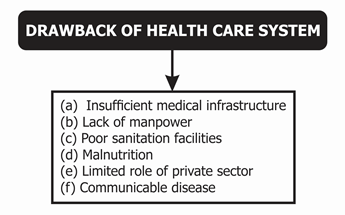 Solved Question
Q.1 Explain the health and the state of health of the people in our country? (NCERT)
(A) Health

●

Health is a state of complete physical, mental, and social well-being, and not merely the absence of disease.

(B) The following is the state of health of the people in our country:

(1) Inadequate expenditure on health

●

   

The

expenditure of the health sector is 1.3% of GDP in 2015-16. It is extremely low as compared to other developed and developing countries.

(2) Lack of public health facilities

●

At present, less than 20% of the population utilises public health facilities.

● Only 38% of the primary health centres have the required number of doctors. This percentage has declined to 30% in 2013.

●     Only 30% of the primary health centres have sufficient stock of medicines. This percentage has increased to 35% in 2015.

(3) Malnutrition

●

Almost 5 lakhs children die of water-borne disease every year. The risk of AIDS is still emerging.

●     Malnutrition and insufficient supply of vaccines add to the death of 2.2 million children every year, which has decreased to 1.2 million in 2015 in India and 5.9 million in 2015 in the world.
Important Topics in Economics:
For more data on the syllabus, relevant notifications, and sample papers, stay tuned to our website.