A round plane figure whose boundary (the circumference) consists of points equidistant from a fixed point (the centre).
Perimeter and Area of a Circle-
The perimeter (usually known as Circumference) of a circle is defined as length of the boundary of a circle, which is given as
Circumference = 2 π r,
where the value of π = 3.14,
r is the radius of a circle
Area of a Circle is defined as the region covered by a circle in a plane. The area of a circle is given as-
A = π r2
Areas of Sector and Segment of a Circle-
A sector is defined as circular region enclosed by two radii and the corresponding arc.
Whereas the segment is defined as the circular region enclosed between a chord and the corresponding arc.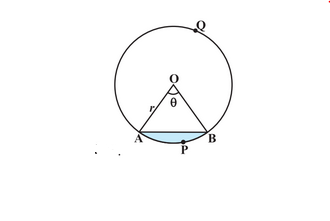 The area of Sector of angle \(\theta\), where \(\theta\) is the angle between two radius is given by,
\(\mathbf{Area = \frac{\theta}{360} \times \pi r ^{2}}\)
Length of an Arc of a Sector of angle \(\theta\) = \(\mathbf{Area = \frac{\theta}{360} \times 2 \pi r }\)<