You'll find multiplication tables 1 to 100 on this web page. Learn all the tables from 1 to 30 by reading them aloud from the charts given on this page. Basic numerical skills are improved by learning the maths tables from 1 to 20. It would be easy to solve any type of mathematical problem if we learn the multiplication tables properly. We have presented all the Maths tables in a table or chart to make it more interesting to learn. Also, BYJU'S provides tables in PDF format, which students can download and learn offline as well.
Tables from 1 to 100
Memorising the tables 1 to 30 will help you in learning the rest of the 1 to 100 tables. It will also help in solving all kinds of mathematical operations like Addition, Subtraction, Division and Subtraction. For example: Instead of adding 2 + 2 + 2 + 2 + 2 + 2 + 2 + 2 + 2 + 2, 10 times, you can calculate it fast if you know how much is 10 times 2, i.e. 20. Memorising tables not only helps in making calculations easy but faster too. These multiplication tables from 2 to 30 will help you in scoring good marks by making it easier to solve the problems fast.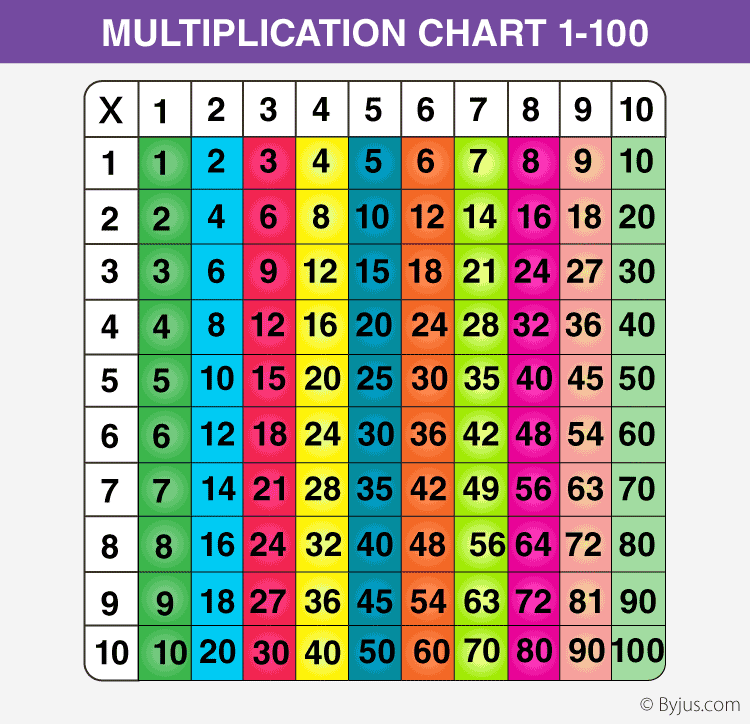 Tables From 2 to 30 (PDFs)
Find the links to tables from 1 to 30. These tables are given in table and chart form to make it easier for students to learn it quickly.
Multiplication Tables 1 to 100
We need a strong base of multiplication tables in maths to solve any kind of Mathematical problem. You can learn these 1 to 100 tables, which are given in a table form here.
Tables 2 to 10
| | | | | | | | | |
| --- | --- | --- | --- | --- | --- | --- | --- | --- |
| Table of 2 | Table of 3 | Table of 4 | Table of 5 | Table of 6 | Table of 7 | Table of 8 | Table of 9 | Table of 10 |
| 2 ×‌ 1 = 2 | 3 × ‌1 = 3 | 4 × ‌1 = 4 | 5 × ‌1 = 5 | 6 × 1 = 6 | 7 × 1 = 7 | 8 × 1 = 8 | 9 × 1 = 9 | 10 × 1 = 10 |
| 2 ×‌ 2 = 4 | 3 × ‌2 = 6 | 4 × ‌2 = 8 | 5 × ‌2 = 10 | 6 × 2 = 12 | 7 × 2 = 14 | 8 × 2 = 16 | 9 × 2 = 18 | 10 × 2 = 20 |
| 2 × ‌3 = 6 | 3 × ‌3 = 9 | 4 × ‌3 = 12 | 5 × ‌3 = 15 | 6 × 3 = 18 | 7 × 3 = 21 | 8 × 3 = 24 | 9 × 3 = 27 | 10 × 3 = 30 |
| 2 × ‌4 = 8 | 3 × ‌4 = 12 | 4 × ‌4 = 16 | 5 × ‌4 = 20 | 6 × 4 = 24 | 7 × 4 = 28 | 8 × 4 = 32 | 9 × 4 = 36 | 10 × 4 = 40 |
| 2 × ‌5 = 10 | 3 × ‌5 = 15 | 4 × ‌5 = 20 | 5 × ‌5 = 25 | 6 × 5 = 30 | 7 × 5 = 35 | 8 × 5 = 40 | 9 × 5 = 45 | 10 × 5 = 50 |
| 2 × ‌6 = 12 | 3 × ‌6 = 18 | 4 × ‌6 = 24 | 5 × ‌6 = 30 | 6 × 6 = 36 | 7 × 6 = 42 | 8 × 6 = 48 | 9 × 6 = 54 | 10 × 6 = 60 |
| 2 × ‌7 = 14 | 3 × ‌7 = 21 | 4 × ‌7 = 28 | 5 × ‌7 = 35 | 6 × 7 = 42 | 7 × 7 = 49 | 8 × 7 = 56 | 9 × 7 = 63 | 10 × 7 = 70 |
| 2 × ‌8 = 16 | 3 × ‌8 = 24 | 4 × ‌8 = 32 | 5 × 8 = 40 | 6 × 8 = 48 | 7 × 8 = 56 | 8 × 8 = 64 | 9 × 8 = 72 | 10 × 8 = 80 |
| 2 × ‌9 = 18 | 3 × ‌9 = 27 | 4 × ‌9 = 36 | 5 × 9 = 45 | 6 × 9 = 54 | 7 × 9 = 63 | 8 × 9 = 72 | 9 × 9 = 81 | 10 × 9 = 90 |
| 2 × ‌10 = 20 | 3 × ‌10 = 30 | 4 × ‌10 = 40 | 5 × 10 = 50 | 6 × 10 = 60 | 7 × 10 = 70 | 8 × 10 = 80 | 9 × 10 = 90 | 10 × 10 = 100 |
Tables 11 to 20
| | | | | | | | | | |
| --- | --- | --- | --- | --- | --- | --- | --- | --- | --- |
| Table of 11 | Table of 12 | Table of 13 | Table of 14 | Table of 15 | Table of 16 | Table of 17 | Table of 18 | Table of 19 | Table of 20 |
| 11 ×‌‌ 1 = 11 | 12 ×‌ 1 = 12 | 13 ×‌ 1 = 13 | 14 ×‌ 1 = 14 | 15 ×‌ 1 = 15 | 16 ×‌ 1 = 16 | 17 ×‌ 1 = 17 | 18 ×‌ 1 = 18 | 19 ×‌ 1 = 19 | 20 ×‌ 1 = 20 |
| 11 ×‌‌ 2 = 22 | 12 ×‌ 2 = 24 | 13 ×‌ 2 = 26 | 14 ×‌ 2 = 28 | 15 ×‌ 2 = 30 | 16 ×‌ 2 = 32 | 17 ×‌ 2 = 34 | 18 ×‌ 2 = 36 | 19 ×‌ 2 = 38 | 20 ×‌ 2 = 40 |
| 11 ×‌‌ 3 = 33 | 12 ×‌ 3 = 36 | 13 ×‌ 3 = 39 | 14 ×‌ 3 = 42 | 15 ×‌ 3 = 45 | 16 ×‌ 3 = 48 | 17 ×‌ 3 = 51 | 18 ×‌ 3 = 54 | 19 ×‌ 3 = 57 | 20 ×‌ 3 = 60 |
| 11 ×‌ 4 = 44 | 12 ×‌ 4 = 48 | 13 ×‌ 4 = 52 | 14 ×‌ 4 = 56 | 15 ×‌ 4 = 60 | 16 ×‌ 4 = 64 | 17 ×‌ 4 = 68 | 18 ×‌ 4 = 72 | 19 ×‌ 4 = 76 | 20 ×‌ 4 = 80 |
| 11 ×‌ 5 = 55 | 12 ×‌ 5 = 60 | 13 ×‌ 5 = 65 | 14 ×‌ 5 = 70 | 15 ×‌ 5 = 75 | 16 ×‌ 5 = 80 | 17 ×‌ 5 = 85 | 18 ×‌ 5 = 90 | 19 ×‌ 5 = 95 | 20 ×‌ 5 = 100 |
| 11 ×‌ 6 = 66 | 12 ×‌ 6 = 72 | 13 ×‌ 6 = 78 | 14 ×‌ 6 = 84 | 15 ×‌ 6 = 90 | 16 ×‌ 6 = 96 | 17 ×‌ 6 = 102 | 18 ×‌ 6 = 108 | 19 ×‌ 6 = 114 | 20 ×‌ 6 = 120 |
| 11 ×‌ 7 = 77 | 12 ×‌ 7 = 84 | 13 ×‌ 7 = 91 | 14 ×‌ 7 = 98 | 15 ×‌ 7 = 105 | 16 ×‌ 7 = 112 | 17 ×‌ 7 = 119 | 18 ×‌ 7 = 126 | 19 ×‌ 7 = 133 | 20 ×‌ 7 = 140 |
| 11 ×‌ 8 = 88 | 12 ×‌ 8 = 96 | 13 ×‌ 8 = 104 | 14 ×‌ 8 = 112 | 15 ×‌ 8 = 120 | 16 ×‌ 8 = 128 | 17 ×‌ 8 = 136 | 18 ×‌ 8 = 144 | 19 ×‌ 8 = 152 | 20 ×‌ 8 = 160 |
| 11 ×‌ 9 = 99 | 12 ×‌ 9 = 108 | 13 ×‌ 9 = 117 | 14 ×‌ 9 = 126 | 15 ×‌ 9 = 135 | 16 ×‌ 9 = 144 | 17 ×‌ 9 = 153 | 18 ×‌ 9 = 162 | 19 ×‌ 9 = 171 | 20 ×‌ 9 = 180 |
| 11 ×‌ 10 = 110 | 12 ×‌ 10 = 120 | 13 ×‌ 10 = 130 | 14 ×‌ 10 = 140 | 15 ×‌ 10 = 150 | 16 ×‌ 10 = 160 | 17 ×‌ 10 = 170 | 18 ×‌ 10 = 180 | 19 ×‌ 10 = 190 | 20 ×‌ 10 = 200 |
Tables 21 to 30
| | | | | | | | | | |
| --- | --- | --- | --- | --- | --- | --- | --- | --- | --- |
| Table of 21 | Table of 22 | Table of 23 | Table of 24 | Table of 25 | Table of 26 | Table of 27 | Table of 28 | Table of 29 | Table of 30 |
| 21 ×‌ 1 = 21 | 22 ×‌ 1 = 22 | 23 ×‌ 1 = 23 | 24 ×‌ 1 = 24 | 25 ×‌ 1 = 25 | 26 ×‌ 1 = 26 | 27 ×‌ 1 = 27 | 28 ×‌ 1 = 28 | 29 ×‌ 1 = 29 | 30 ×‌ 1 = 30 |
| 21 ×‌ 2 = 42 | 22 ×‌ 2 = 44 | 23 ×‌ 2 = 46 | 24 ×‌ 2 = 48 | 25 ×‌ 2 = 50 | 26 ×‌ 2 = 52 | 27 ×‌ 2 = 54 | 28 ×‌ 2 = 56 | 29 ×‌ 2 = 58 | 30 ×‌ 2 = 60 |
| 21 ×‌ 3 = 63 | 22 ×‌ 3 = 66 | 23 ×‌ 3 = 69 | 24 ×‌ 3 = 72 | 25 ×‌ 3 = 75 | 26 ×‌ 3 = 78 | 27 ×‌ 3 = 81 | 28 ×‌ 3 = 84 | 29 ×‌ 3 = 87 | 30 ×‌ 3 = 90 |
| 21 ×‌ 4 = 84 | 22 ×‌ 4 = 88 | 23 ×‌ 4 = 92 | 24 ×‌ 4 = 96 | 25 ×‌ 4 = 100 | 26 ×‌ 4 = 104 | 27 ×‌ 4 = 108 | 28 ×‌ 4 = 112 | 29 ×‌ 4 = 116 | 30 ×‌ 4 = 120 |
| 21 ×‌ 5 = 105 | 22 ×‌ 5 = 110 | 23 ×‌ 5 = 115 | 24 ×‌ 5 = 120 | 25 ×‌ 5 = 125 | 26 ×‌ 5 = 130 | 27 ×‌ 5 = 135 | 28 ×‌ 5 = 140 | 29 ×‌ 5 = 145 | 30 ×‌ 5 = 150 |
| 21 ×‌ 6 = 126 | 22 ×‌ 6 = 132 | 23 ×‌ 6 = 138 | 24 ×‌ 6 = 144 | 25 ×‌ 6 = 150 | 26 ×‌ 6 = 156 | 27 ×‌ 6 = 162 | 28 ×‌ 6 = 168 | 29 ×‌ 6 = 174 | 30 ×‌ 6 = 180 |
| 21 ×‌ 7 = 147 | 22 ×‌ 7 = 154 | 23 ×‌ 7 = 161 | 24 ×‌ 7 = 168 | 25 ×‌ 7 = 175 | 26 ×‌ 7 = 182 | 27 ×‌ 7 = 189 | 28 ×‌ 7 = 196 | 29 ×‌ 7 = 203 | 30 ×‌ 7 = 210 |
| 21 ×‌ 8 = 168 | 22 ×‌ 8 = 176 | 23 ×‌ 8 = 184 | 24 ×‌ 8 = 192 | 25 ×‌ 8 = 200 | 26 ×‌ 8 = 208 | 27 ×‌ 8 = 216 | 28 ×‌ 8 = 224 | 29 ×‌ 8 = 232 | 30 ×‌ 8 = 240 |
| 21 ×‌ 9 = 189 | 22 ×‌ 9 = 198 | 23 ×‌ 9 = 207 | 24 ×‌ 9 = 216 | 25 ×‌ 9 = 225 | 26 ×‌ 9 = 234 | 27 ×‌ 9 = 243 | 28 ×‌ 9 = 252 | 29 ×‌ 9 = 261 | 30 ×‌ 9 = 270 |
| 21 ×‌ 10 = 210 | 22 ×‌ 10 = 220 | 23 ×‌ 10 = 230 | 24 ×‌ 10 = 240 | 25 ×‌ 10 = 250 | 26 ×‌ 10 = 260 | 27 ×‌ 10 = 270 | 28 ×‌ 10 = 280 | 29 ×‌ 10 = 290 | 30 ×‌ 10 = 300 |
Tables 31 to 40
| | | | | | | | | | |
| --- | --- | --- | --- | --- | --- | --- | --- | --- | --- |
| Table of 31 | Table of 32 | Table of 33 | Table of 34 | Table of 35 | Table of 36 | Table of 37 | Table of 38 | Table of 39 | Table of 40 |
| 31 ×‌ 1 = 31 | 32 ×‌ 1 = 32 | 33 ×‌ 1 = 33 | 34 ×‌ 1 = 34 | 35 ×‌ 1 = 35 | 36 ×‌ 1 = 36 | 37 ×‌ 1 = 37 | 38 ×‌ 1 = 38 | 39 ×‌ 1 = 39 | 40 ×‌ 1 = 40 |
| 31 ×‌ 2 = 62 | 32 ×‌ 2 = 64 | 33 ×‌ 2 = 66 | 34 ×‌ 2 = 68 | 35 ×‌ 2 = 70 | 36 ×‌ 2 = 72 | 37 ×‌ 2 = 74 | 38 ×‌ 2 = 76 | 39 ×‌ 2 = 78 | 40 ×‌ 2 = 80 |
| 31 ×‌ 3 = 93 | 32 ×‌ 3 = 96 | 33 ×‌ 3 = 99 | 34 ×‌ 3 = 102 | 35 ×‌ 3 = 105 | 36 ×‌ 3 = 108 | 37 ×‌ 3 = 111 | 38 ×‌ 3 = 114 | 39 ×‌ 3 = 117 | 40 ×‌ 3 = 120 |
| 31 ×‌ 4 = 124 | 32 ×‌ 4 = 128 | 33 ×‌ 4 = 132 | 34 ×‌ 4 = 136 | 35 ×‌ 4 = 140 | 36 ×‌ 4 = 144 | 37 ×‌ 4 = 148 | 38 ×‌ 4 = 152 | 39 ×‌ 4 = 156 | 40 ×‌ 4 = 160 |
| 31 ×‌ 5 = 155 | 32 ×‌ 5 = 160 | 33 ×‌ 5 = 165 | 34 ×‌ 5 = 170 | 35 ×‌ 5 = 175 | 36 ×‌ 5 = 180 | 37 ×‌ 5 = 185 | 38 ×‌ 5 = 190 | 39 ×‌ 5 = 195 | 40 ×‌ 5 = 200 |
| 31 ×‌ 6 = 186 | 32 ×‌ 6 = 192 | 33 ×‌ 6 = 198 | 34 ×‌ 6 = 204 | 35 ×‌ 6 = 210 | 36 ×‌ 6 = 216 | 37 ×‌ 6 = 222 | 38 ×‌ 6 = 228 | 39 ×‌ 6 = 234 | 40 ×‌ 6 = 240 |
| 31 ×‌ 7 = 217 | 32 ×‌ 7 = 224 | 33 ×‌ 7 = 231 | 34 ×‌ 7 = 238 | 35 ×‌ 7 = 245 | 36 ×‌ 7 = 252 | 37 ×‌ 7 = 259 | 38 ×‌ 7 = 266 | 39 ×‌ 7 = 273 | 40 ×‌ 7 = 280 |
| 31 ×‌ 8 = 248 | 32 ×‌ 8 = 256 | 33 ×‌ 8 = 264 | 34 ×‌ 8 = 272 | 35 ×‌ 8 = 280 | 36 ×‌ 8 = 288 | 37 ×‌ 8 =296 | 38 ×‌ 8 = 304 | 39 ×‌ 8 = 312 | 40 ×‌ 8 = 320 |
| 31 ×‌ 9 = 279 | 32 ×‌ 9 = 288 | 33 ×‌ 9 = 297 | 34 ×‌ 9 = 306 | 35 ×‌ 9 = 315 | 36 ×‌ 9 = 324 | 37 ×‌ 9 = 333 | 38 ×‌ 9 = 342 | 39 ×‌ 9 = 351 | 40 ×‌ 9 = 360 |
| 31 ×‌ 10 = 310 | 32 ×‌ 10 = 320 | 33 ×‌ 10 = 330 | 34 ×‌ 10 = 340 | 35 ×‌ 10 = 350 | 36 ×‌ 10 = 360 | 37 ×‌ 10 = 370 | 38 ×‌ 10 = 380 | 39 ×‌ 10 = 390 | 40 ×‌ 10 = 400 |
Tables 41 to 50
| | | | | | | | | | |
| --- | --- | --- | --- | --- | --- | --- | --- | --- | --- |
| Table of 41 | Table of 42 | Table of 43 | Table of 44 | Table of 45 | Table of 46 | Table of 47 | Table of 48 | Table of 49 | Table of 50 |
| 41×1=41 | 42×1=42 | 43×1=43 | 44×1=44 | 45×1=45 | 46×1=46 | 47×1=47 | 48×1=48 | 49×1=49 | 50×1=50 |
| 41×2=82 | 42×2=84 | 43×2=86 | 44×2=88 | 45×2=90 | 46×2=92 | 47×2=94 | 48×2=96 | 49×2=98 | 50×2=100 |
| 41×3=123 | 42×3=126 | 43×3=129 | 44×3=132 | 45×3=135 | 46×3=138 | 47×3=141 | 48×3=144 | 49×3=147 | 50×3=150 |
| 41×4=164 | 42×4=168 | 43×4=172 | 44×4=176 | 45×4=180 | 46×4=184 | 47×4=188 | 48×4=192 | 49×4=196 | 50×4=200 |
| 41×5=205 | 42×5=210 | 43×5=215 | 44×5=220 | 45×5=225 | 46×5=230 | 47×5=235 | 48×5=240 | 49×5=245 | 50×5=250 |
| 41×6=246 | 42×6=252 | 43×6=258 | 44×6=264 | 45×6=270 | 46×6=276 | 47×6=282 | 48×6=288 | 49×6=294 | 50×6=300 |
| 41×7=287 | 42×7=294 | 43×7=301 | 44×7=308 | 45×7=315 | 46×7=322 | 47×7=329 | 48×7=336 | 49×7=343 | 50×7=350 |
| 41×8=328 | 42×8=336 | 43×8=344 | 44×8=352 | 45×8=360 | 46×8=368 | 47×8=376 | 48×8=384 | 49×8=392 | 50×8=400 |
| 41×9=369 | 42×9=378 | 43×9=387 | 44×9=396 | 45×9=405 | 46×9=414 | 47×9=423 | 48×9=432 | 49×9=441 | 50×9=450 |
| 41×10=410 | 42×10=420 | 43×10=430 | 44×10=440 | 45×10=450 | 46×10=460 | 47×10=470 | 48×10=480 | 49×10=490 | 50×10=500 |
Tables 51 to 60
| | | | | | | | | | |
| --- | --- | --- | --- | --- | --- | --- | --- | --- | --- |
| Table of 51 | Table of 52 | Table of 53 | Table of 54 | Table of 55 | Table of 56 | Table of 57 | Table of 58 | Table of 59 | Table of 60 |
| 51×1=51 | 52×1=52 | 53×1=53 | 54×1=54 | 55×1=55 | 56×1=56 | 57×1=57 | 58×1=58 | 59×1=59 | 60×1=60 |
| 51×2=102 | 52×2=104 | 53×2=106 | 54×2=108 | 55×2=110 | 56×2=112 | 57×2=114 | 58×2=116 | 59×2=118 | 60×2=120 |
| 51×3=153 | 52×3=156 | 53×3=159 | 54×3=162 | 55×3=165 | 56×3=168 | 57×3=171 | 58×3=174 | 59×3=177 | 60×3=180 |
| 51×4=204 | 52×4=208 | 53×4=212 | 54×4=216 | 55×4=220 | 56×4=224 | 57×4=228 | 58×4=232 | 59×4=236 | 60×4=240 |
| 51×5=255 | 52×5=260 | 53×5=265 | 54×5=270 | 55×5=275 | 56×5=280 | 57×5=285 | 58×5=290 | 59×5=295 | 60×5=300 |
| 51×6=306 | 52×6=312 | 53×6=318 | 54×6=324 | 55×6=330 | 56×6=336 | 57×6=342 | 58×6=348 | 59×6=354 | 60×6=360 |
| 51×7=357 | 52×7=364 | 53×7=371 | 54×7=378 | 55×7=385 | 56×7=392 | 57×7=399 | 58×7=406 | 59×7=413 | 60×7=420 |
| 51×8=408 | 52×8=416 | 53×8=424 | 54×8=432 | 55×8=440 | 56×8=448 | 57×8=456 | 58×8=464 | 59×8=472 | 60×8=480 |
| 51×9=459 | 52×9=468 | 53×9=477 | 54×9=486 | 55×9=495 | 56×9=504 | 57×9=513 | 58×9=522 | 59×9=531 | 60×9=540 |
| 51×10=510 | 52×10=520 | 53×10=530 | 54×10=540 | 55×10=550 | 56×10=560 | 57×10=570 | 58×10=580 | 59×10=590 | 60×10=600 |
Tables of 61 to 70
| | | | | | | | | | |
| --- | --- | --- | --- | --- | --- | --- | --- | --- | --- |
| Table of 61 | Table of 62 | Table of 63 | Table of 64 | Table of 65 | Table of 66 | Table of 67 | Table of 68 | Table of 69 | Table of 70 |
| 61×1=61 | 62×1=62 | 63×1=63 | 64×1=64 | 65×1=65 | 66×1=66 | 67×1=67 | 68×1=68 | 69×1=69 | 70×1=70 |
| 61×2=122 | 62×2=124 | 63×2=126 | 64×2=128 | 65×2=130 | 66×2=132 | 67×2=134 | 68×2=136 | 69×2=138 | 70×2=140 |
| 61×3=183 | 62×3=186 | 63×3=189 | 64×3=192 | 65×3=195 | 66×3=198 | 67×3=201 | 68×3=204 | 69×3=207 | 70×3=210 |
| 61×4=244 | 62×4=248 | 63×4=252 | 64×4=256 | 65×4=260 | 66×4=264 | 67×4=268 | 68×4=272 | 69×4=276 | 70×4=280 |
| 61×5=305 | 62×5=310 | 63×5=315 | 64×5=320 | 65×5=325 | 66×5=330 | 67×5=335 | 68×5=340 | 69×5=345 | 70×5=350 |
| 61×6=366 | 62×6=372 | 63×6=378 | 64×6=384 | 65×6=390 | 66×6=396 | 67×6=402 | 68×6=408 | 69×6=414 | 70×6=420 |
| 61×7=427 | 62×7=434 | 63×7=441 | 64×7=448 | 65×7=455 | 66×7=462 | 67×7=469 | 68×7=476 | 69×7=483 | 70×7=490 |
| 61×8=488 | 62×8=496 | 63×8=504 | 64×8=512 | 65×8=520 | 66×8=528 | 67×8=536 | 68×8=544 | 69×8=552 | 70×8=560 |
| 61×9=549 | 62×9=558 | 63×9=567 | 64×9=576 | 65×9=585 | 66×9=594 | 67×9=603 | 68×9=612 | 69×9=621 | 70×9=630 |
| 61×10=610 | 62×10=620 | 63×10=630 | 64×10=640 | 65×10=650 | 66×10=660 | 67×10=670 | 68×10=680 | 69×10=690 | 70×10=700 |
Tables 71 to 80
| | | | | | | | | | |
| --- | --- | --- | --- | --- | --- | --- | --- | --- | --- |
| Table of 71 | Table of 72 | Table of 73 | Table of 74 | Table of 75 | Table of 76 | Table of 77 | Table of 78 | Table of 79 | Table of 80 |
| 71×1=71 | 72×1=72 | 73×1=73 | 74×1=74 | 75×1=75 | 76×1=76 | 77×1=77 | 78×1=78 | 79×1=79 | 80×1=80 |
| 71×2=142 | 72×2=144 | 73×2=146 | 74×2=148 | 75×2=150 | 76×2=152 | 77×2=154 | 78×2=156 | 79×2=158 | 80×2=160 |
| 71×3=213 | 72×3=216 | 73×3=219 | 74×3=222 | 75×3=225 | 76×3=228 | 77×3=231 | 78×3=234 | 79×3=237 | 80×3=240 |
| 71×4=284 | 72×4=288 | 73×4=292 | 74×4=296 | 75×4=300 | 76×4=304 | 77×4=308 | 78×4=312 | 79×4=316 | 80×4=320 |
| 71×5=355 | 72×5=360 | 73×5=365 | 74×5=370 | 75×5=375 | 76×5=380 | 77×5=385 | 78×5=390 | 79×5=395 | 80×5=400 |
| 71×6=426 | 72×6=432 | 73×6=438 | 74×6=444 | 75×6=450 | 76×6=456 | 77×6=462 | 78×6=468 | 79×6=474 | 80×6=480 |
| 71×7=497 | 72×7=504 | 73×7=511 | 74×7=518 | 75×7=525 | 76×7=532 | 77×7=539 | 78×7=546 | 79×7=553 | 80×7=560 |
| 71×8=568 | 72×8=576 | 73×8=584 | 74×8=592 | 75×8=600 | 76×8=608 | 77×8=616 | 78×8=624 | 79×8=632 | 80×8=640 |
| 71×9=639 | 72×9=648 | 73×9=657 | 74×9=666 | 75×9=675 | 76×9=684 | 77×9=693 | 78×9=702 | 79×9=711 | 80×9=720 |
| 71×10=710 | 72×10=720 | 73×10=730 | 74×10=740 | 75×10=750 | 76×10=760 | 77×10=770 | 78×10=780 | 79×10=790 | 80×10=800 |
Tables 81 to 90
| | | | | | | | | | |
| --- | --- | --- | --- | --- | --- | --- | --- | --- | --- |
| Table of 81 | Table of 82 | Table of 83 | Table of 84 | Table of 85 | Table of 86 | Table of 87 | Table of 88 | Table of 89 | Table of 90 |
| 81×1=81 | 82×1=82 | 83×1=83 | 84×1=84 | 85×1=85 | 86×1=86 | 87×1=87 | 88×1=88 | 89×1=89 | 90×1=90 |
| 81×2=162 | 82×2=164 | 83×2=166 | 84×2=168 | 85×2=170 | 86×2=172 | 87×2=174 | 88×2=176 | 89×2=178 | 90×2=180 |
| 81×3=243 | 82×3=246 | 83×3=249 | 84×3=252 | 85×3=255 | 86×3=258 | 87×3=261 | 88×3=264 | 89×3=267 | 90×3=270 |
| 81×4=324 | 82×4=328 | 83×4=332 | 84×4=336 | 85×4=340 | 86×4=344 | 87×4=348 | 88×4=352 | 89×4=356 | 90×4=360 |
| 81×5=405 | 82×5=410 | 83×5=415 | 84×5=420 | 85×5=425 | 86×5=430 | 87×5=435 | 88×5=440 | 89×5=445 | 90×5=450 |
| 81×6=486 | 82×6=492 | 83×6=498 | 84×6=504 | 85×6=510 | 86×6=516 | 87×6=522 | 88×6=528 | 89×6=534 | 90×6=540 |
| 81×7=567 | 82×7=574 | 83×7=581 | 84×7=588 | 85×7=595 | 86×7=602 | 87×7=609 | 88×7=616 | 89×7=623 | 90×7=630 |
| 81×8=648 | 82×8=656 | 83×8=664 | 84×8=672 | 85×8=680 | 86×8=688 | 87×8=696 | 88×8=704 | 89×8=712 | 90×8=720 |
| 81×9=729 | 82×9=738 | 83×9=747 | 84×9=756 | 85×9=765 | 86×9=774 | 87×9=783 | 88×9=792 | 89×9=801 | 90×9=810 |
| 81×10=810 | 82×10=820 | 83×10=830 | 84×10=840 | 85×10=850 | 86×10=860 | 87×10=870 | 88×10=880 | 89×10=890 | 90×10=900 |
Tables 91 to 100
| | | | | | | | | | |
| --- | --- | --- | --- | --- | --- | --- | --- | --- | --- |
| Table of 91 | Table of 92 | Table of 93 | Table of 94 | Table of 95 | Table of 96 | Table of 97 | Table of 98 | Table of 99 | Table of 100 |
| 91×1=91 | 92×1=92 | 93×1=93 | 94×1=94 | 95×1=95 | 96×1=96 | 97×1=97 | 98×1=98 | 99×1=99 | 100×1=100 |
| 91×2=182 | 92×2=184 | 93×2=186 | 94×2=188 | 95×2=190 | 96×2=192 | 97×2=194 | 98×2=196 | 99×2=198 | 100×2=200 |
| 91×3=273 | 92×3=276 | 93×3=279 | 94×3=282 | 95×3=285 | 96×3=288 | 97×3=291 | 98×3=294 | 99×3=297 | 100×3=300 |
| 91×4=364 | 92×4=368 | 93×4=372 | 94×4=376 | 95×4=380 | 96×4=384 | 97×4=388 | 98×4=392 | 99×4=396 | 100×4=400 |
| 91×5=455 | 92×5=460 | 93×5=465 | 94×5=470 | 95×5=475 | 96×5=480 | 97×5=485 | 98×5=490 | 99×5=495 | 100×5=500 |
| 91×6=546 | 92×6=552 | 93×6=558 | 94×6=564 | 95×6=570 | 96×6=576 | 97×6=582 | 98×6=588 | 99×6=594 | 100×6=600 |
| 91×7=637 | 92×7=644 | 93×7=651 | 94×7=658 | 95×7=665 | 96×7=672 | 97×7=679 | 98×7=686 | 99×7=693 | 100×7=700 |
| 91×8=728 | 92×8=736 | 93×8=744 | 94×8=752 | 95×8=760 | 96×8=768 | 97×8=776 | 98×8=784 | 99×8=792 | 100×8=800 |
| 91×9=819 | 92×9=828 | 93×9=837 | 94×9=846 | 95×9=855 | 96×9=864 | 97×9=873 | 98×9=882 | 99×9=891 | 100×9=900 |
| 91×10=910 | 92×10=920 | 93×10=930 | 94×10=940 | 95×10=950 | 96×10=960 | 97×10=970 | 98×10=980 | 99×10=990 | 100×10=1000 |