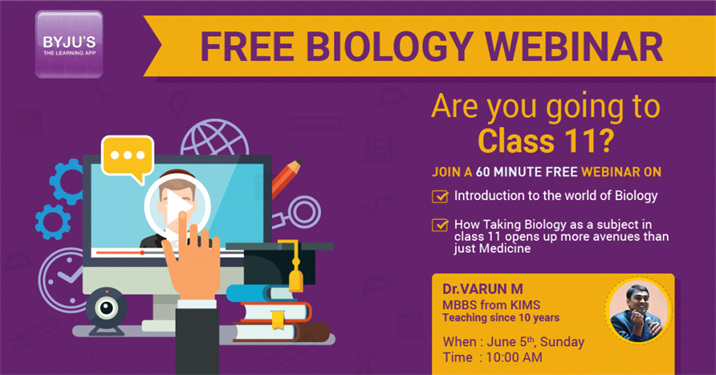 Click here to Register for the Free Webinar
So why should you choose Biology as a subject in class 11?
Do you think that Biology is meant for only those who are aiming at Medicine (MBBS)? Well, that's not true. Biology is a vast stream and it opens up to a wide-range of avenues including Biotechnology, Microbiology, Forensic Sciences, Pharmacy, and even core Research & Development.
What's the right time to start studying Biology? Well, it is better to start off with Biology from lower classes as it lays foundation to the most important disciplines like Zoology, Ecology, Bio Informatics, Biotechnology, Biomedical Research, Oncology and so many more.
To go in depth and learn more about the options that Biology offers, join our FREE 60 minute Webinar this Sunday, June 5th 2016 at 10 AM. It will take you through the world of Biology and throw light on different verticals of it.
A quick look at the speaker
This FREE Webinar on Sunday will be taken by Dr. Varun, who has completed his MBBS from KIMS, Bangalore. He has been teaching Biology for more than 10 years and has trained over 10000 students for various entrance examinations.
Takeaways of the webinar
– Introduction to the world of Biology
– Career options that you can explore other than just Medicine (MBBS) after choosing to study Biology in class 11
So what are you waiting for? Register now for FREE!