The Government of India launched 'Aarogya Setu,' an app to track the cases of COVID-19 and alert the citizens of the country to keep safe. This article will read the overview, objectives and constitution of the Aarogya Setu App. 
Candidates can visit the official website of Aarogya Setu (mygov.in) to dive deeper into the relevant information.
Like Aarogya Setu, the government has launched many apps and schemes for the welfare of the citizens of the country. The links of two related schemes launched by the government are given below.
For the list of important Government Schemes with the detailed explanation which will be helpful for the aspirants of UPSC exam and other competitive exams, visit the given link. 
Candidates aspiring to appear for the UPSC examination can check the important link for their preparation.

Overview of Aarogya Setu 
In the fight against Coronavirus COVID-19 in India, the Government launched a mobile application Aarogya Setu to connect essential health services with the citizens of India. 
Aarogya Setu is a COVID-19 tracking app that uses GPS and Bluetooth features of smartphones to track the infection. It helps in determining whether the person has been in close contact with any other infected person or not.
To take a step forward for protecting the citizens, the government has launched the app in 11 different languages (Now 12). Through Aarogya Setu people will be able to know or track the infection in close vicinity more accurately and effectively.
Constitution of Aarogya Setu
Prime Minister Narendra Modi launched Aarogya Setu. The mobile app has been developed by the National Informatics Centre (NIC) that comes under the Ministry of Electronics and Information Technology.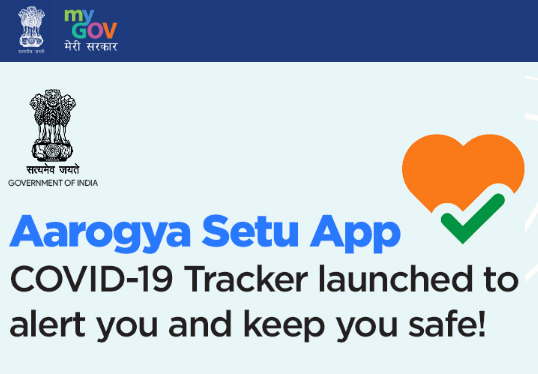 Objectives of Aarogya Setu
The Aarogy Setu is developed keeping in mind the following objectives:
To spread awareness of the novel Coronavirus outbreak among Indian citizens.

To augment the Government of India's initiatives, particularly the Department of Health, in proactively reaching out to the users and informing them about the risks, best practices and relevant advisories relating to the containment of COVID-19.

To establish a connection between the government and the people of India for health services, facilities and updates from the health ministry nationally and state-wise.
The information on Aarogya Setu is covered under Government Schemes which is an important Static GK topic with regards to UPSC or any other competitive examination. 
Candidates preparing for any competitive exams can check the relevant links: