Fill the details, and get notified about your GSEB 2020 Result!
The Gujarat Secondary and Higher Secondary Education Board is an educational board in the state of Gujarat, which is responsible for the academic development, conducting of exams, research, etc. The Gujarat Secondary  Education Board is shortly known as GSEB. All the students who appeared for the Classes 10 and 12 Board Exams eagerly await their GSEB Results, as their passing marks in these exams will determine their transfer to higher classes. GSEB Results for Classes 10 and 12 are especially important as the student's pass marks in these years will determine their entry into higher classes.
GSEB Results
Once the GSEB exams for 2021 are over, the results for this year will be out on the official site. We will also update the results here. Meanwhile, Gujarat Secondary Education Board, successfully conducted the SSC and HSC exams in 2020. The exam dates for 2020 SSC, was from 05 Mar – 17 Mar 2020, while for HSC the dates were 05 Mar – 21 Mar 2020 (General Stream) and 05 Mar – 16 Mar 2020(Science Stream).
Meanwhile, Gujarat HSC exams were held from 7th March 2019 to 23rd March 2019, last year, while for the Class 12 science stream, the examination was conducted from 7th March to 16th March 2019. The GSEB SSC examination was conducted from 7th March to 19th March 2019. This year, about 11 lakh students appeared for the GSEB SSC examination conducted in March at the 1548 exam centres established across the state.
The Gujarat Board released the GSEB HSC Science Stream Results 2020 on its official website i.e. gseb.or on May 17 while the SSC or class 10th exam was declared on June 9. This year, the announcement of results was delayed due to coronavirus lockdown. Students can go to the official website i.e., gseb.org to check out their Science 12th or 10th Result 2020
Steps to check the GSEB Result 2020 online
The GSEB SSC Result and GSEB HSC Result can be checked online by following the steps mentioned below.
Step 1: Visit the official GSEB website i.e. gseb.org
Step 2: Click on the link "GSEB Result 2020".
Step 3: Enter details like registration no/roll no.

Step 4: GSEB Result will be displayed.
Step 5: Download and take a printout.
GSEB Exam Details 2018
Gujarat HSC exams for general stream were held from 12th March to 28th March in 2018 while for the Class 12 science stream, the examination was conducted from 12th March to 22nd March 2018. The GSEB SSC examination was conducted from 12th March to 23rd March 2018.
According to Board officials, 57,734 candidates took the examination in the group 'A', with chemistry, mathematics, and physics for the last year exam. And 76,888 candidates had taken the exam in the group 'B', with chemistry, biology, and physics.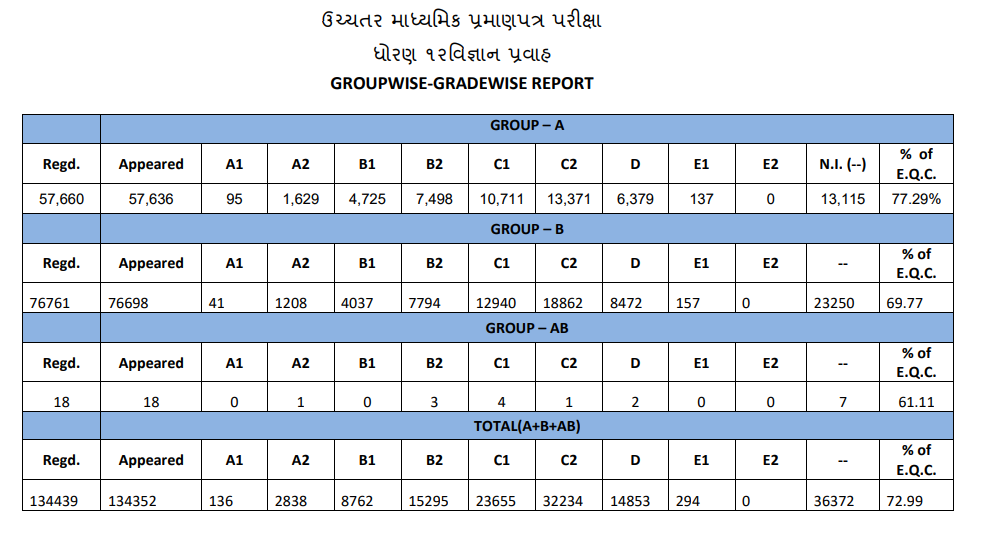 Merit List for GSEB 2018
The merit list for GSEB 2018 is provided below.
Overall Students- 1.34 lakhs
Passed – 98067
Girls- 74.9%
Boys- 71%
English medium- 75.78%
Sixth scoring district- Chota Udaipur
Top scoring district- Rajkot