Gujarat Board has released the official date sheet for GSEB SSC Class 10 Exam on the official site. Meanwhile, to check for more details, students can also browse through this GSEB SSC Time-table. Students are normally eager to know the latest GSEB Class 10 Exam Date-Sheets, so that they can easily prepare a more effective study plan for the exams.
GSEB SSC Class 10 Exam Date-Sheet 2021
In 2021, the exam was expected to be conducted from 10th May 2021 to 20th May 2021. However,  it was decided that the GSEB Class 10 exams for 2021 would be postponed due to the Covid-19 resurgence. Officials decided to review the situation on 1 May 2021 and a decision was to be made depending on the situation. Students would have been informed 15 days prior to the exam schedule.  However, due to the rising cases, later, these board exams for Class 10 students in Gujarat was cancelled on 2 June 2021. Meanwhile, The exams, last year, commenced on 5 March 2020 and ended on 17 March 2020.
Find below the date-sheet 2021 as released on the official website. Make sure to enter the exam hall before time.
GSEB Class 10 Exam Date- Sheet 2021 (Cancelled)
| | |
| --- | --- |
| Subjects | Dates |
| First language | 10 May 2021 |
| Science | 12 May 2021 |
| Mathematics | 15 May 2021 |
| Social Science | 17 May 2021 |
| Gujarati | 18 May 2021 |
| English (Second Language) | 19 May 2021 |
| Second Language (other than English) | 18 May 2021 |
GSEB Class 10 Exam Date- Sheet 2020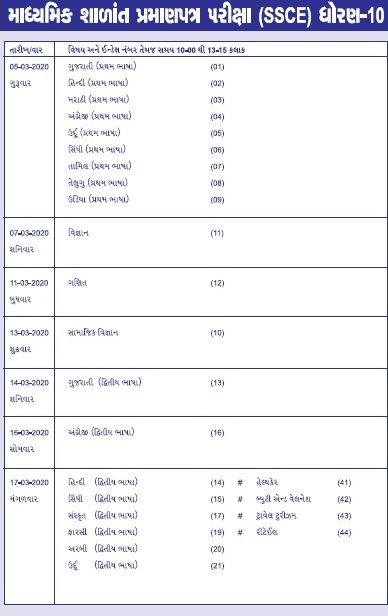 Meanwhile, last year, the GSEB SSC exam was conducted from 12th March 2019 to 23rd March 2019. The exam started at 10:00 am and ended at 1:20 pm. Students had to carry their ID card, Hall ticket or Admit card, and writing materials.
Students can read up the gseb textbook on all the subjects to build up the concepts before preparing for the exams.
Expected GSEB SSC timetable 2019
| | |
| --- | --- |
| Exam Date | Subject |
| 12th March 2019 | First language – Gujarati, Tamil, Hindi, Telugu, Marathi, Odia, Urdu, English, Sindhi |
| 14th March 2019 | Science Technology |
| 16th March 2019 | Social Science |
| 18th March 2019 | Maths |
| 19th March 2019 | Gujarati (Second language) |
| 22nd March 2019 | English (Second language) |
| 23rd March 2019 | Second language – Sanskrit, Arabic, Sindhi, Farsi, Urdu, Hindi |
Now that you have the final exam timetable you can start preparing for the exam accordingly. From creating a study plan to practising by solving papers is all that you have to focus. Here are some steps that you can follow to prepare for the exam:
Step 1: Arrange a study area which is away from distractions such as TV, smartphone, etc.
Step 2: Understand the syllabus for every subject and create a study timetable.
Step 3: Keep all the study materials such as syllabus copy, textbooks, a rough book and writing materials handy to maintain notes while you study.
Step 4: Depending on the subject, start making notes. For example, if you are studying a subject like Math, then you will have important formulas, postulates, theorems, etc. to remember. For a subject like a Chemistry, you will have chemical reactions, compound names to remember. You can write them down in the form of points to remember and refer to it while you revise.
Step 5: Start your revision at least one month before your final exam. Also, practice previous year question papers. The more you solve question papers the more you are confident about the subject.
These steps will help you during your exam preparation phase. To understand the complete syllabus for Class 10 as per the 2019-2020 syllabus, you can check out GSEB Syllabus for SSC exam.
Stay tuned and also get more updates about Gujarat secondary education board.