BYJU'S Free RRB NTPC live course will help aspirants prepare for the upcoming Railway NTPC exam that is scheduled to be conducted from December 28th 2020 onwards. 
The Railway Recruitment Board is the conducting body of RRB NTPC exam. The exam for Railway NTPC is conducted annually and is one of the most sought after examinations in the railway sector.
Candidates can check the detailed schedule for the Non-Technical Popular categories CBT I exam at the RRB NTPC Exam Dates page. 
Through the official RRB NTPC Notification, Railway board announced a total 35277 vacancies for the Non-Technical Popular Categories post. Details regarding vacancies and latest updates on the exam can be checked on the linked page. 
The online Railway NTPC Live Course is a smart approach to make the preparation of NTPC exam a cakewalk for candidates.
Aspirants interested can check the Free Online NTPC Live Course information given below-
Railway NTPC Test Series Highlights-
Start Date

– November 1st 2020

Classes Timing

– 7:30 p.m. to 9:00 p.m. (Daily)

End date

– December 11th 2020

Subject Covered

– YouTube Live Classes on Mathematics, General Awareness, General Intelligence and Logical Reasoning

Joining

– subscribe to the

BYJU'S Govt Exam Prep YouTube Channel

to get notified whenever the course is live. 
What will the candidates get?
Interactive live classes and Ad-free video lectures

Bilingual Live classes (English & Hindi)

Discussion on 2000+ Multiple Choice Questions based on previous year question papers

Recorded classes for future reference
Prerequisite for NTPC Live Classes
Internet connectivity 

Headphone

Laptop, Desktop or Tablet

Pen and textbook to note down important points during live classes.
Railway Recruitment Board 2020 – Free NTPC Live Classes Schedule  
Candidates can check the topic-wise, day and date-wise schedule of the online NTPC live course from November 1st given below-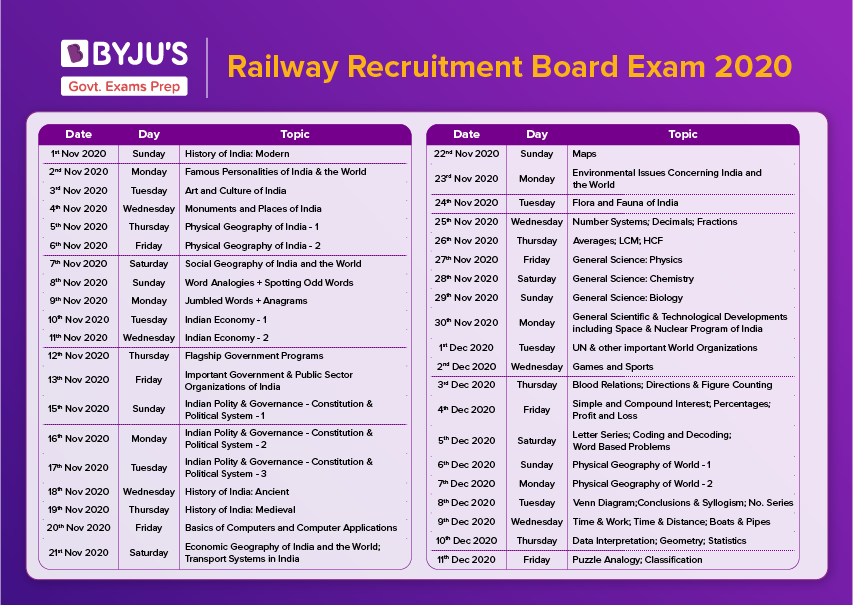 Aspirants are also advised to check the detailed RRB NTPC Syllabus at the linked article to get a better understanding of the exam pattern and topics included under each section.
For candidates who are appearing for the Non-Technical & Popular Category Exam for the first time, this Free NTPC Live Course will help boost their preparation and will take them a step ahead to their dream of cracking the exam.
The online live course for Non-technical & Popular Category exam is way beyond any RRB NTPC Crash Course because it unleashes the full potential of online learning.
Unlike other RRB NTPC crash courses, the recorded sessions of the live classes enable the candidate to learn whenever and wherever they want without any time constraints. They will be no fear of missing the class due to some other commitments. It is a replica of physical classroom experience, hence candidates will be able to clear their doubts there and then.
All set for the RRB NTPC Exam? Take a quick revision of the whole syllabus through the Free NTPC Live Course and outshine the competition.
Subscribe to the BYJU'S Govt Exam Prep Youtube Channel Now!
Free RRB NTPC Live Course Schedule- Download PDF Here
Candidates can go through the RRB NTPC salary page for information related to salary structure, pay scale and perks provided on clearing the NTPC examination.
Aspirants preparing for other exams conducted by the railway board can check the relevant details on RRB exams page.
BYJU'S Preparation Channel for Government Exams 2020
BYJU'S Govt. Exams Prep Youtube channel is a one-stop destination for conceptual clarity and understanding of a spectrum of topics covered in the syllabus of various government exams.
Candidates will be provided with a detailed video explanation based on important topics of different sections. Aspirants will get the study materials on Logical Reasoning & Data Interpretation, English Comprehension, Banking Trivia, Quantitative Aptitude, Current Affairs and much more! 
Now prepare smart and crack a plethora of competitive exams such as RRB, SSC, SBI, NABARD, IBPS and many others, only with BYJU'S.
All the Government exam aspirants can go through our detailed Preparation Strategy for Competitive Exams page.
Frequently Asked Question – RRB NTPC Online Live Course 2020
Q1
Q.1.
When is RRB NTPC Online Classes starting

?

Ans.

The Online Railway NTPC Live Course is scheduled to start from November 1st 2020

.
Q2
Q.2.
What is the time duration of NTPC Live Classes?
Ans.
The duration for RRB NTPC Live Classes is 1 hour 30 minutes daily i.e 7:30 pm to 9:00 p.m.
Q3
Q.3.
How to join the Free Online RRB NTPC Live Classes

?

Ans.

For joining the NTPC Live classes candidates just have to subscribe to the BYJU'S Govt Exam YouTube Channel

.
Q4
Q.4.
Is the NTPC Live Course Free for all candidates?
Ans.
Yes, the Railway NTPC Online Course is free for one and all
.
Q5
Q 5.
What is the last date of the Railway NTPC Live Classes

?

Ans.

The Online NTPC Live Course will end on December 11th 2020.
Q6
Q 6.
Who can join the Free RRB NTPC Live Course

?

Ans.

Anybody can join the Railway NTPC Live Classes, those who are preparing for NTPC exam for the first time and the ones who need a thorough revision of the comprehensive NTPC syllabus

.