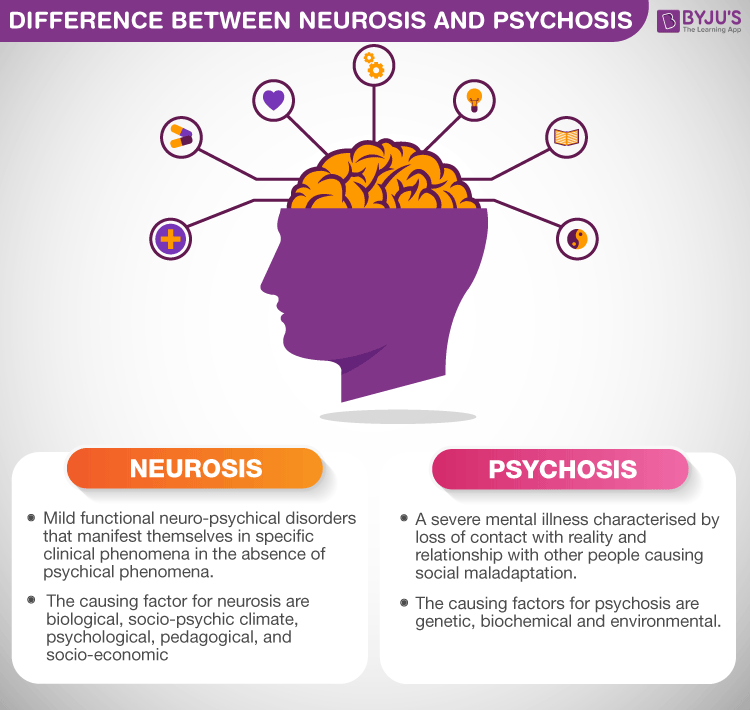 Neurosis and Psychosis are different types of mental disorders.
Neurosis is a mild mental disorder NOT arising from organic diseases – instead, it can occur from stress, depression or anxiety.
Psychosis is a major personality disorder characterised by mental and emotional disruptions. It is much more severe than neurosis – often impairing and debilitating the affected individual.
Difference between Neurosis and Psychosis.
The following are some major differences between psychosis and neurosis.
| | |
| --- | --- |
| Neurosis | Psychosis |
| Mild functional, neuro-psychical disorders that confirm themselves in specific clinical phenomena in the absence of psychical phenomena. | A severe mental illness characterised by loss of contact with reality and relationship with other people causing social maladaptation. |
| Doesn't affect personality | Affects personality |
| The contact with reality is partially lost | The contact with reality is completely lost |
| Hallucinations and delusions are not present (or extremely rare if present) | Hallucinations and delusions are present |
| Low risk of self-harm | Higher risk of self-harm |
| Obsessive-compulsive disorders, Somatoform disorders, Depression and Post-traumatic disorders are a few types of neurosis. | Schizophrenia and delusional disorders are a few types of psychosis. |
| The causing factor for neurosis are biological, socio-psychic climate, psychological, pedagogical, and socio-economic. | The causing factors for psychosis are genetic, biochemical and environmental. |
| The treatment is usually psychological and medicines can also be prescribed. | Psychosis is treated by antipsychotic medicines, psychological therapy, social support. |
Visit BYJU'S, to learn more differences like the difference between epidemic and pandemic.