"National Parks are the areas that are set by the government to conserve the natural environment."

"Sanctuary is a place of refuge where injured, abandoned and abused wildlife is allowed to live in peace in their natural environment without any human intervention."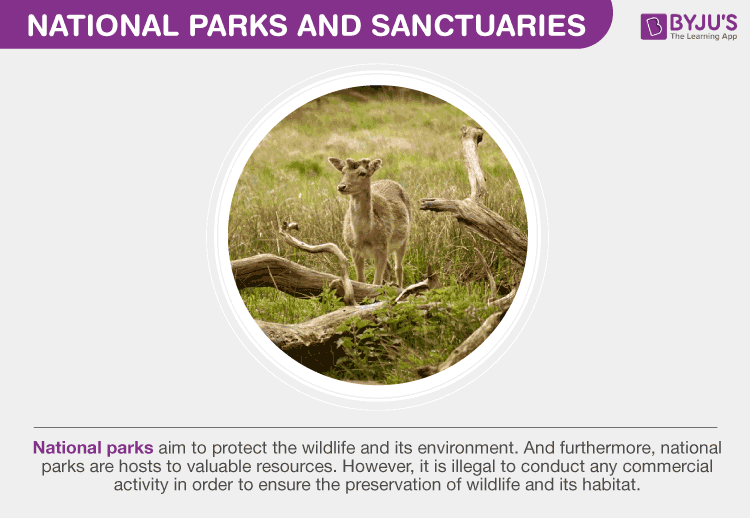 What is a National Park?
National parks are areas that aim to protect the natural environment. They are also involved in public recreation and enjoyment activities. In a national park, the landscapes and its flora and fauna are present in their natural state.
India is rich in biodiversity. It comprises about 7.6% mammals, 6.2% reptiles, 12.6% birds, and 6.0% flowering plant species under the Indomalayan ecozone. Many eco-regions of our country like Shola forests exhibit high rates of endemism. The forests cover over the ranges from the tropical rainforest, the Western Ghats, and Northeast India to the coniferous forests in the Himalayan region.
The significant terrestrial ecosystem coming along the Indomalayan ecozone consists of temperate, polar, wet, dry regions for different kind of species to live. The species include elephant, tiger, cobra, crocodile, apes, sambar deer, spotted deer, rhinoceros, goats, lions along with different types of flora and faunas.
Indian wildlife has around 99 world-recognized national parks in different parts of the country. All these national parks and the wildlife reserves have been recognized by the IUCN or the International Union for the Conservation of Nature under the second category of protected areas.
List of National Parks in India
National parks provide a haven for wildlife away from civilization. India has currently over 100 national parks distributed across the country, stretching across various biomes.
The Hailey National Park is the first national park in India. It is one of the finest examples of ecological conservation. The other national parks in India include:
Bandipur National Park in Karnataka
Bandhavgarh National Park in Madhya Pradesh
Bhadra Wildlife Sanctuary in Karnataka
Chinnar Wildlife Sanctuary in Kerala
Corbett National Park in Uttarakhand
Dandeli Wildlife Sanctuary in Karnataka
Dudhwa National Park in Uttar Pradesh
Gir National Park and Sasan Gir Sanctuary in Gujarat
Hemis National Park in Jammu & Kashmir
Kanha National Park in Madhya Pradesh
Kaziranga National Park in Assam
Keoladeo Ghana National Park in Bharatpur, Rajasthan
Manas National Park in Assam
Nagarhole National Park in Karnataka
Panna National Park in Madhya Pradesh
Periyar National Park in Kerala.
Pench National Park in Madhya Pradesh
Ranthambore National Park in Rajasthan
Sariska National Park in Rajasthan
Tadoba Andhari Tiger Reserve in Maharashtra
The Great Himalayan National Park in Himachal Pradesh
All these national parks are an abode to a large number of wild animals because of the optimum environmental conditions with proper upbringing and breeding facilities.
Also Read: Biosphere Reserves
Importance Of National Parks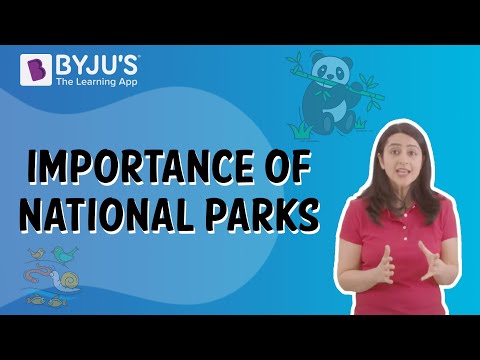 What is a Sanctuary?
Sanctuaries are naturally occurring areas that are meant to protect the endangered species from hunting, poaching and predation. Here the animals are not bred for commercial purposes. It provides a safe, healthy and secured refuge to all the wild animals.
List of Wildlife Sanctuaries in India
Following is the list of sanctuaries found in India:
Dichigam Wildlife Sanctuary
Sunderbans Wildlife Sanctuary
Manas Wildlife Sanctuary
Bharatpur Bird Sanctuary
Periyar Wildlife Sanctuary
Vedanthangal Bird Sanctuary
Mundanthurai Wildlife Sanctuary
Annamalai Wildlife Sanctuary
Dandeli Wildlife Sanctuary
Chinnar Wildlife Sanctuary
Initially, many of the National Parks were wildlife sanctuaries. After the adoption of conservative measures by the Indian Government, there was a 30% rise in the number of tigers in the year 2015. These wildlife sanctuaries and national parks are the most visited areas in India that offer an unmatchable wilderness in various regions.
The wildlife lovers and tourists can find more opportunities for sightseeing, safari tour, bird watching, angling, fishing, river crossing, camping, and tiger tours at distinct tiger reserves in India.
To make a better and rewarding wildlife experience to the tourists, these destinations are made much more extensive by the Wildlife Authority of India, thus making them as better-known tourist spots having major attractions. There is also a provision of various kinds of accommodations such as resorts, hotels, lodges coming in close vicinity.
Also Read: Wildlife Sanctuaries
Stay tuned with BYJU'S to learn more in detail about the different National Parks and Sanctuaries in our country India.
Further Reading