Microtubules are found in the entire cytoplasm of a cell which forms a segment of the cytoskeleton. They undergo both accumulations and dissipates within a cell to form more complex structures.  They play a fundamental role in the cellular process, in maintaining the structure of a cell and in their movements. Apart from these functions, they are also involved in the division of chromosomes during the process of mitosis and in locomotion.
Microtubules are arranged in the form of microtubule organizing centers. They are structures that are found in eukaryotes. During the interphase, most of the animal cell consists of microtubule organizing centers. Several proteins are bound to microtubules namely dynein and kinesin.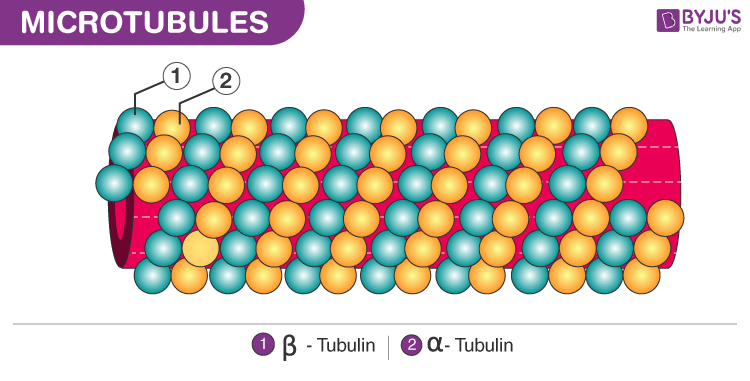 Structure of Microtubules
Microtubules play a vital role in all eukaryotic cells. These cells release a protein tubulin in a normal manner that involves transcription of the gene coding for tubulin that yields RNA and it is followed by transcription of mRNA to produce protein by ribosomes. Lumen is the inner space of the hollow cylinder of microtubules.

There are 2 types of tubulin, beta and alpha-tubulin. At a level of amino acid, fifty percent of beta and alpha-tubulin can be identified. Heterodimer is formed when both beta and alpha-tubulin are bound together to form a functional unit. It consists of completely two different types of gene.


The above diagram emphasizes the synthesis of tubulin with the existence of heterodimer. Cells do not produce any kind of proteins or tubulin unless they fall shortage of resources.
Intracellular Organization of Microtubules
In the cytoplasm, microtubules form a structural network. The function of the cytoskeleton in microtubule include chromosomes segregation, transport, mobility and mechanical support. It can either shrink or grow to generate energy which is due to the presence of motor proteins that allow cellular components and others to be carried along with microtubules.
The arrangements in microtubules are specific to cell -type. So that it would be easy to facilitate the transportation of organelles, vesicles, and proteins along the apical-basal axis of the cell. They play a vital role in the cell migration as well.
To learn more about Microtubules, download Byju's-The Learning App.