Class 10 examinations are one of the most important and intimidating examinations in a student's academic life, since he/she would be experiencing board examinations for the first time. So, students should aim to score well in the board exams and start preparing ahead of time by referring to the RBSE Class 10 Science Syllabus. Therefore, we are providing the Science Syllabus to help students of Rajasthan Board 10th in their studies. Along with the RBSE Syllabus for Class 10th, students will also find the marks' distribution of Science. Knowing the entire Rajasthan Board Class 10 Science Syllabus will help the students to plan their studies more effectively to ace the board exams.
Science involves an extensive and in-depth analysis of scientific and physical behaviour around us. Explaining why these naturally occurring phenomena make it interesting and relevant a subject. Students are now encouraged to venture into this field by exploring various projects and seminars on different topics, which requires their attention and application of knowledge acquired over the years through the meticulous learning of Science.
Rajasthan Board Class 10 Science Syllabus
Students can see the overview of the Class 10 Science Syllabus by RBSE. Moreover, students will find the weightage of marks distribution for each unit. Click on the link below to download the Rajasthan Board Class 10 Science syllabus for the academic year 2021-22. Also, find details of the Rajasthan Board Class 10 Science Syllabus with marking scheme in this article below: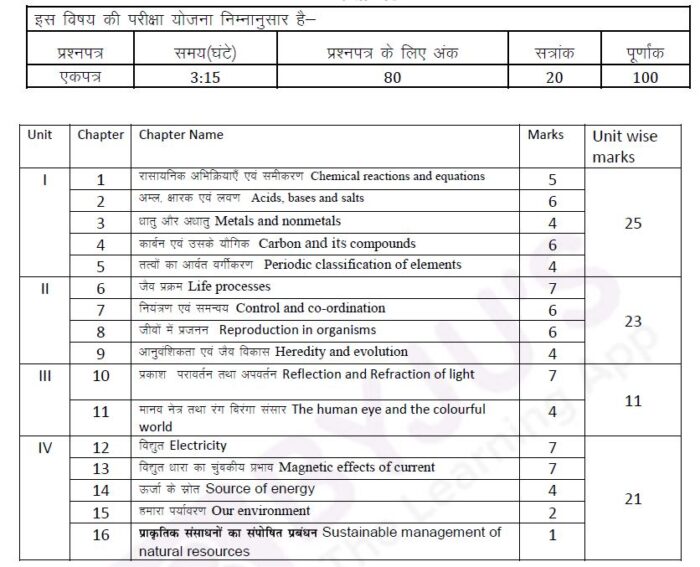 Meanwhile, in the image above the marks' distribution of the chapters, as per the Class 10 Science syllabus 2021-2022 can be found.
What After knowing the RBSE Class 10th Science Syllabus?
Rajasthan Board Science Syllabus covers all the necessary topics, which are required to be learnt by students of Class 10th. Following are few steps that will help you to utilise this Science syllabus in a better way:
Prepare a studying schedule.
Have customized study rules.
Review and recap from a previous study session.
Make your own notes.
Create a list of learning objectives.
Understand the motive of the chapter.
Instead of memorising pay attention to understanding the concepts.
Students are also advised to analyse the exam pattern by solving the Rajasthan Board Class 10 previous years question papers. They are also urged to keep a copy of the syllabus while studying from Rajasthan Board Class 10 Books.
We hope you find this information on "Rajasthan Board Class 10 Science Syllabus" useful. Stay tuned for more updates on Rajasthan Board. Download BYJU'S App for interactive Maths & Science Videos.