The Rajasthan Board offers a wide range of topics in Chemistry for Class 12. Whether you want to pursue a career in engineering or other fields related to the subject such as Pharmaceuticals, you must have the knowledge of chemistry subject. We have included Rajasthan Board Class 12 Chemistry Syllabus so you can start your preparations in earnest. From traditional science topics such as Electrochemistry to more modern topics such as Polymers, the exhaustive list of Chemistry syllabus is all that you need to prepare for the Board of Secondary Education Rajasthan Class 12 Chemistry exams.
The Class 12 Chemistry syllabus of Rajasthan Board is divided into a total of 17 chapters. As 12th class is a board exam class, therefore, students must solve the Rajasthan Board Class 12 Previous Years Question Papers to score good marks in chemistry.
Rajasthan Board Class 12 Chemistry Syllabus
You can see an overview of RBSE Class 12th Chemistry Syllabus below. To download the detailed Rajasthan Board 12th Class Chemistry Syllabus click on the link provided at the end of this para. However, to get the syllabus of all the subjects students can visit the board of secondary education Rajasthan portal. The RBSE Chemistry syllabus for class 12th is available in the Hindi medium for downloading.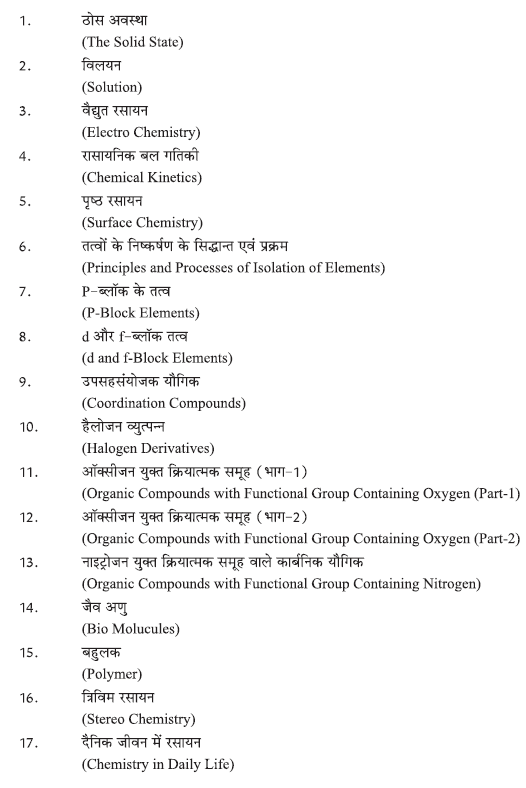 Students can also download the Rajasthan Board Class 12 textbook of Chemistry in pdf format for study reference.
We hope you find this information on "Rajasthan Board Class 12 Chemistry Syllabus" useful? Stay tuned for more updates on Rajasthan Board exam. Download BYJU'S App and subscribe Youtube channel to watch interactive maths and science videos for your studies.