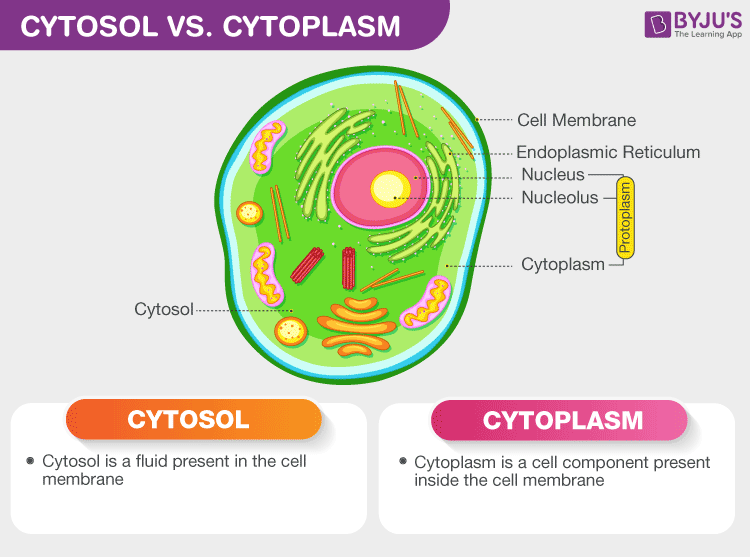 A cell is the basic unit of life for all living organisms. Cytosol and cytoplasm are two components of a cell. Cytosol is an intracellular fluid present within the cytoplasm. Cytosol is often confused with cytoplasm but one must realise that both are different entities. Given below in a tabular column is the difference between cytosol and cytoplasm.
Cytosol vs Cytoplasm
| | |
| --- | --- |
| Cytosol | Cytoplasm |
| Cytosol is a fluid present in the cell membrane | Cytoplasm is a cell component present inside the cell membrane |
| It is composed of soluble ions, water, water-soluble proteins and molecules | It is composed of enzymes, water, lipids, carbohydrates, nucleic acids and inorganic ions. |
| All the chemical reactions in prokaryotes occur here | Involved in large cellular activities like cell division and glycolysis |
| Transportation of molecules and Signal transduction take place in the cytosol | Cytokinesis, nuclear division and signal transduction take place in the cytoplasm |
| Diversity is low | Diversity is high compared to the cytosol |
Thus, we can infer that while cytosol is the fluid contained in the cell, cytoplasm is the entire content within the cell membrane. To learn more differenceS, Visit Byju's.
Also Read:-