Blood pressure is a serious health problem which affects nearly 40 to 50 percent of the total population.
Blood is a fluid connective tissue which is carried to all parts of our body with the help of the blood vessels called arteries. It plays a key factor in providing blood (thus oxygen and energy) to organs.
Blood pressure is the force of blood against the arteries. An individual should maintain a normal blood pressure from 120 – 140 / 70 – 90 mm Hg. Blood pressure is given by two numbers, with one above or before the other – 120/80.120 – This is called systolic pressure and 80 – This is called diastolic pressure.
Types of blood pressure
The normal range of systolic blood pressure should be 90 – 120 mm Hg.
Diastolic Blood Pressure.
The normal range of diastolic blood pressure should be 60 – 80 mm Hg.
Both Diastolic and Systolic are derived from the Greek word. Diastolic meaning drawing apart and Systolic meaning a drawing together.
Here is the differenced between systolic and diastolic blood pressure.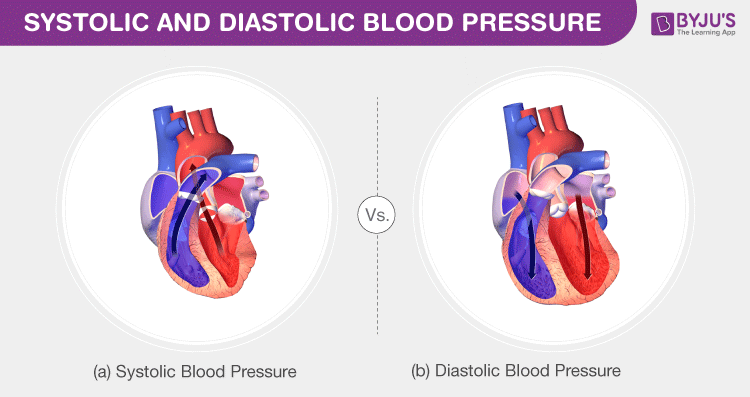 | | | |
| --- | --- | --- |
| Types | Diastolic  blood pressure | Systolic blood pressure |
|   Definition | The pressure which is exerted on the walls of the arteries. | The amount of pressure exerts on the arteries and blood vessels. |
| Average Range | In infants–65 mm Hg.   In adults– 60-80 mmHg. Age 6 – 9 — 65 mmHg. | In infants  -95mmHg.     In adults- 90-120 mmHg.  Age 6 – 9 –100  mmHg. |
| Ventricles of the Heart | Fill with blood | Left ventricles contract |
| Reading of Blood Pressure | The lower number is diastolic pressure. | The higher number is systolic pressure. |
| Blood Pressure | Diastolic constitutes the minimum pressure in the arteries. | Systolic constitutes the maximum pressure applied to the arteries. |
For more detail information regarding the blood pressure, its types and hypertension, visit BYJU'S.