The words Yolk vs Yoke sound similar and often confuse candidates preparing for various competitive exams. Candidates must learn the difference between yolk and yoke in order to fetch good marks in the vocabulary part of the examinations. 
Aspirants of Government exams such as SSC, RRB, Insurance, Bank etc must go through the difference between yolk vs yoke carefully as questions on vocabulary for general English forms a part of both objectives as well as descriptive sections of these exams. 
The article aims to provide clarity to candidates on Yolk vs Yoke with definition and examples.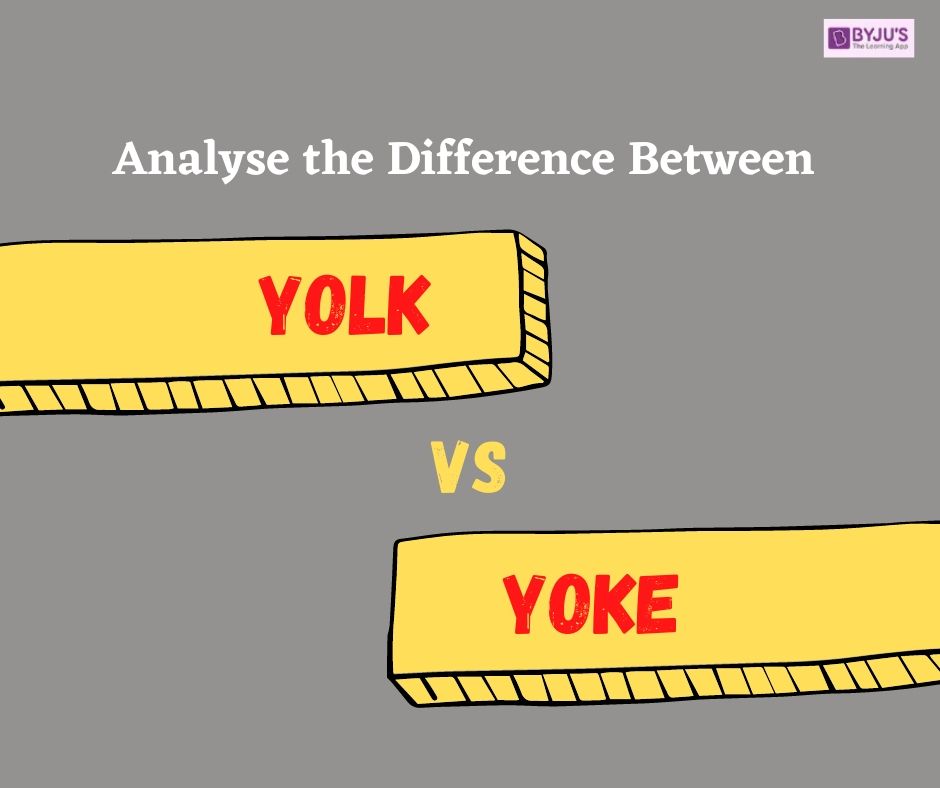 Yolk Vs Yoke Differences
Yolk and Yoke do sound similar but are not the exact homophones, candidates can go through the list of Homophones, Homonyms and Homographs given with example sentences. 
Check the table of difference between Yolk and Yoke for clarification:
Difference between Yolk Vs Yoke
Yolk
Yoke

Yolk is a noun and can never be a verb

Yoke can be both noun and a verb

Yolk is the yellow part of the egg.

It is the only ever noun.

Yoke as a noun is a wooden tool used to join two livestock at the neck so that they can work together. 

As a verb yoke describes the act of joining things together

Sometimes, yoke is also used metaphorically to refer to something that is oppressive. 

Yolk Example:

He spilt all the

yolk

on his friend's t-shirt.

She loves to eat her bread dipped in egg

yolk

.

Whenever I try to fry eggs, I end up breaking the

yolk.

Yoke Example

The Farmer tied the bullocks with Yoke and plowed the field. (noun)

You have to yoke the oxen to put them to work. (verb)

We have to fight against the yoke of tyranny. (used metaphorically).
Questions based on Yolk vs Yoke are asked under the error spotting section or the reading comprehension section of the competitive exams. Candidates can check important Tips to master Error Spotting given in the link provided here.
Also, a few important Sentence correction questions asked in various competitive exams are given for candidates to gain clarity and practice well for the exam.
For assistance in preparing the English section of various competitive exams candidates can go through other differences between articles given below.
Also, check topic-wise, subject-wise and concept-wise 100 difference between articles in the linked page.
Go through the relevant topics for general English sections, questions based on which are surely asked in the examination, These topics will genuinely be helpful for candidates preparation of various competitive examination.
The syllabus of English language is vast and for convenient preparation of this section, candidates can check English For Competitive exams to get more relevant topics.
It is imperative for candidates to be well versed with the syllabus of respective exams they are preparing for. To devise a strategic preparation plan candidates can go through the detailed syllabus of important government exams.
Aspirants of Government exams such as SSC, RRB, Insurance, Bank, or the most coveted UPSCexam can check the important links given below for a comprehensive preparation: