Programme vs program are easy-to-confuse words but understanding the difference between program and programme is essential if candidates preparing for competitive exams want to get through the general English section easily. 
Being confused with the word program and programme candidates often mark incorrect answers and end up scoring less marks in the examination. Hence, the article will give clarity on the difference between programme vs program.
Aspirants of various Government exams should also go through the comparison of programme and program thoroughly as questions based on these are covered under General English which forms an important part of the syllabus of most of the government exams.  
Candidates preparing for SSC, RRB, Insurance, Bank, UPSC exam or any other government exam can check the important links given below for a comprehensive preparation: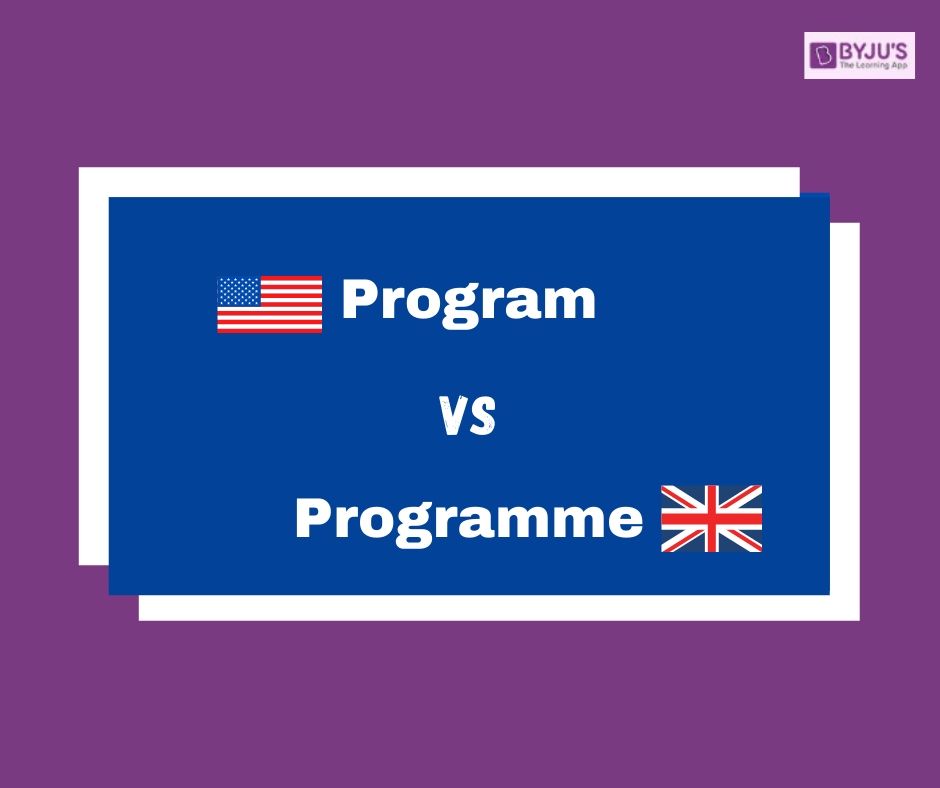 Why is there a difference between British and American English
The British are credited with introducing the English language to North American continent when they arrived as settlers in the 16th and 17th centuries. At the time English itself had gone through many changes over the centuries, hence the spellings were yet to be standardised. This happened when the first dictionaries were written down in order to set in stone how these words appeared. The dictionaries were compiled in the UK by London-based authors while in the United States, a lexicographer named Noah Webster did the same.
However Noah Webster allegedly changed the way the American and British words were spelt as way of showing cultural independence from its mother country.
In terms of speech, the differences between American and British English actually took place after the first settlers arrived in America. These groups of people spoke using what was called rhotic speech, where the 'r' sounds of words are pronounced. Meanwhile, the higher classes in the UK wanted to distinguish the way they spoke from the common masses by softening their pronunciation of the 'r' sounds. Since the elite even back then were considered the standard for being fashionable, other people began to copy their speech, until it eventually became the common way of speaking in the south of England.
Difference Between Programme & Program
Programme vs Program are homophones words that sound identical but have a different meaning, spelling as well as the usage. Candidates can find more such homophones or homonyms words with example sentences on the list of homonyms, homophones and homograph page.
In British English, Program is used in context with computers, while programme is a preferred spelling. Similarly, in American English, the word program is acceptable for everything while both programme and program are preferred in Australian English.
The table below highlights the major differences between program and programme.
Programme vs Program – Difference
Program
Programme

It means to set, modify, to regulate, produce a result, etc.

It means a plan of action for a specific purpose; list of acts or activities related to an event

Program can be both noun and verb

This can only be a noun

As per US English – it can be used for anything.

As per UK English – program can be used only for things related to computers.

Not prevalent in US English but as per British English, programme is used to refer to TV shows, Agenda of meeting or any event, collection of projects etc.

Program Examples

She asked the Tech geek to program the computer today.

Can you please program the alarm for 6 pm?

This program does not support my computer.

The school programed the yoga classes before lunch

Learn this program, it is useful to deal with computers

Programme Examples

He was disheartened to know that his name was not there for the programme.

My mother watches this TV programme on repeat mode.

The high commands have meetings to decide the programme of the conference with foreign delegates.

My act is at the end as per the programme of the show.

The teacher gave me the responsibility to draw a programme for the annual function. 
Candidates can check important Tips to master Error Spotting as questions based on Programme vs Program are asked in the form of spotting the error or under the reading comprehension part of competitive exams. 
Go through other differences between articles for convenient preparation of the English section of various government exams.
Candidates can also check important Sentence Correction Questions asked in various competitive exams practice well and gain clarity. 
Given below are a few relevant topics for general English sections, questions based on which are surely asked in the examination.
The syllabus of the English language is vast and for convenient preparation of this section, candidates can check English For Competitive exams to get more topics. These will genuinely be helpful for candidates preparation of various competitive examinations.
Candidates need to be well versed with the latest and detailed syllabus of respective exams they are preparing for in order to prepare an effective preparation plan. Candidates can check the topic-wise syllabus of important competitive exams given below:
Frequently Asked Question about differences between program and programme
Q1
What is a difference between program and Programme?
Programme is a British English spelling variant of program; both refer to an outline in a prescribed order or an agenda, such as a program at a theater. Since the 20th century program has also referred to computer code, and in this case both the British and American spellings are the same.
Q2
What is programme example?
Examples of programs include Web browsers, word processors, e-mail clients, video games, and system utilities. These programs are often called applications, which can be used synonymously with "software programs.