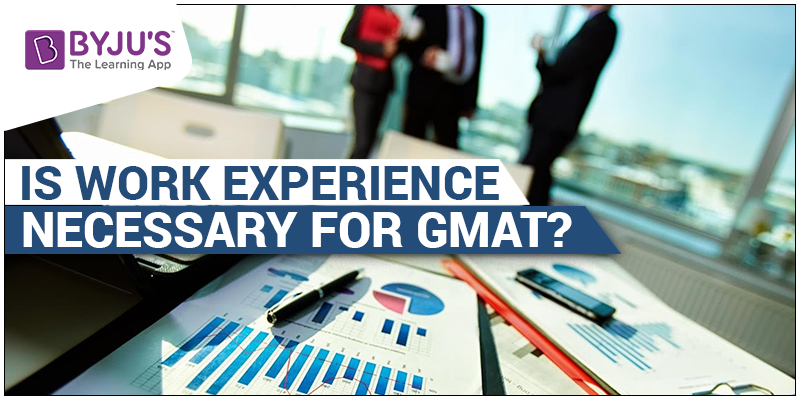 It is often perceived that work experience is mandatory to pursue an MBA abroad. However, on the contrary, it is possible for you to apply and write the GMAT test without any prior work experience. In this cut-throat competitive scenario, students don't ignore the opportunities that can take their career to the next level in the management hierarchy. And to gain a prestigious position in management one has to attain a Master of Business Administration (MBA) after obtaining a good GMAT score in the exam.
In the last few years, it was necessary to have at least a minimum of 4-5 years of work experience before procuring an MBA. This is because the Admissions committee believed that the candidates with experience will possess more wisdom, competencies and skills which may be lacking with freshers. They were of the opinion that certain qualities can only be developed with experience and therefore were particular to admit candidates with work experience for the MBA programs. However in the current dynamic scenario MBA programs are modifying their courses to cater to the requirement of youth managers and to meet the managerial job challenges.
It is often seen that aspirants of the MBA program rarely have prior management experience or a relevant background. This however will not affect their chances of acquiring the MBA degree which will help to elevate their career further in the organisation. The main reason why admissions committee are very particular to admit candidates who have sufficient years of work experience is because the MBA programs focus on experiential learning or learning through practical case studies. In doing so they aim at improving a candidate's knowledge and perspective and developing their outlook as well. At B schools in the USA the average number of years of work experience is in the range of 3-7 years. Whereas at universities in Canada, the work experience required is between 2-3 years and in some cases up to 5 years as well. Below is a list of the top B-schools across the world and the approximate GMAT score and work experience which is required for gaining admission at each of these universities.
| | | | |
| --- | --- | --- | --- |
| Business School | FT Ranking | Average GMAT score | Average Work Experience |
| Stanford Graduate School of Business | 3 | 733 | 4 years |
| California Business School | 6 | 715 | 3-7 years |
| Harvard Business School | 1 | 700-760 | Not given |
| MIT Sloan School of Management | 8 | 670-760 | 4-9 years |
| Wharton, University of Pennsylvania | 3 | 620-790 | 5-6 years between graduation and joining the MBA |
| | | | |
| --- | --- | --- | --- |
| Rotman School of Management, University of Toronto | 53 | 600 | 2 years |
| Alberta School of Business, University of Alberta | 86 | 550 | 5 years |
| Ivey Business School, Western University | 97 | 656 | 2 years |
| Queen's School of Business, Queen's University | 86 | 600 | 2 years |
| | | | | |
| --- | --- | --- | --- | --- |
| London Business School | UK | 2 | 2-11 years | 701 |
| HEC Paris Business School | France | 16 | Minimum 3 years | 600 |
| University of Cambridge: Judge Business School | UK | 13 | 1-2 years | 640 |
| | | | |
| --- | --- | --- | --- |
| Melbourne Business School | 42 | 680 | 2 years |
| AGSM at UNSW Business School | 75 (FT Raking) | 550 | 2 years |
| | | | |
| --- | --- | --- | --- |
| Victoria University of Wellington | 229 | 550 | 5 years |
| University of Canterbury | 211 | 600 | 5 years |
(Mentioning about what is 'good' experience for B school, big companies vs small companies experiences: which is better?, family business experience, is internship experience counted, will too many jobs hurt my application?, Does part time experience count? – Refer to Link 1)
(Adding table with Business School Name, FT Ranking,Average GMAT Score and Average Work Experience country wise, – Refer to Links 1 and 3)
If you don't have work Experience:
Students of this cohort are career oriented, and immediately after completing their graduation degree they rush to pursue their MBA program. So while choosing the program or say MBA specialization you have to be a little wise. Because this is the final degree which will shape your career and give an edge over the challenges you face at work and help you cross those hurdles.
Most of the admissions committee members will look for the following 3 main characteristics in candidates they admit to the MBA programs at their universities: Leadership experience, Professional Maturity and Interpersonal/communication skills. It is necessary to showcase to the members of the adcom the above qualities so that they can understand your competencies.
Some candidates doubt if their internship experience or part time work experience will be counted as relevant work experience while submitting their applications for admissions. This is however dependent on the colleges you are applying to and if the adcom from these universities have accepted such experiences in the past. Ensure to do adequate research regarding the same before you proceed to submit your applications. You will have to clearly mention what the key takeaways have been from these roles you had undertaken and how it has impacted your learning as well.
Similarly another common query is if a family business experience will be considered as suitable work experience on your application. Once again you will have to work hard on your profile to make the adcom members understand how this has positively influenced your overall work experience. You can mention in detail all of the characteristics you learned during your stint at the family business and the responsibilities which you had handled in the process.
Finally if you have changed too many jobs over a short period of time then you may be at a slight disadvantage since this may exhibit a lack of commitment or clarity from your end. Although in case you have a valid explanation on why you have had so many career changes then you can still explain the same in your application.
How can an early MBA elevate your career?
Acquiring an early MBA has a career, strategic and economic benefits.
An early MBA will give you the chance to learn all the basics and detailed information about the corporate world.
An early MBA facilitates you to pay back the loan you may have incurred while financing the MBA degree. Generally, there is a high ROI since a master's degree immediately after your undergraduate degree elevates your career graph and provides you with a big start. The hefty pay packages assures you good financial stability and promises more financial opportunities in the future when compared to the salary you might have received after your undergraduate degree.
Finally, we suggest if you're planning for an early MBA without any prior working experience, then go for it. An early MBA and a late MBA both have the same benefits more or less. So you can go ahead and attempt the GMAT exam once you are well prepared for the same.
BYJU'S will be glad to help you in your GMAT preparation journey. You can ask for any assistance related to GMAT and MBA from us by calling us at +918884544444. You can write to us at gmat@byjus.com.
Must Read GMAT Articles: