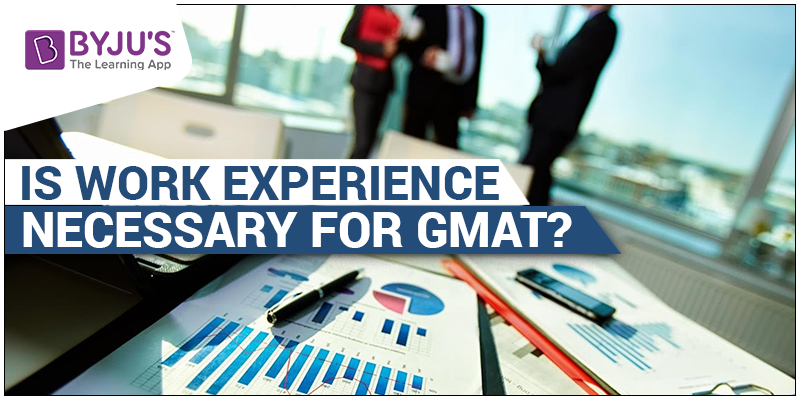 It is often perceived that work experience is mandatory to pursue an MBA abroad. However on the contrary, it is possible for you to apply and write the GMAT test without any prior work experience. In this cut throat competitive scenario, students don't ignore the opportunities that can take their career to the next level in the management hierarchy. And to gain a prestigious position in management one has to attain a Master of Business Administration (MBA) after obtaining a good GMAT score in the exam.
In the last few years, it was necessary to have at least a minimum of 4-5 years of work experience before procuring an MBA. This is because the Admissions committee believed that the candidates with experience will possess more wisdom, competencies and skills which may be lacking with freshers. They were of the opinion that certain qualities could only be developed with experience and therefore were particular to admit candidates with work experience for the MBA programs. However in the current dynamic scenario MBA programs are modifying their courses to cater to the requirement of youth managers and to meet the managerial job challenges.
If you don't have work Experience
Students of this cohort are career oriented, and immediately after completing their graduation degree they rush to pursue their MBA program. So while choosing the program or say MBA specialization you have to be a little wise. Because this is the final degree which will shape your career and give an edge over the challenges you face at work and help you cross those hurdles.
Select a full-time MBA program that helps you in gaining experiential learning and adds value to career services. Full-time MBA degree courses offer- in client consulting projects, internships at professional organizations, mentor programs, networking opportunities, etc. as an integral part of the curriculum, this confronts the pupils with real time situations. It also facilitates the students to learn and work with the experienced professionals from different segments.
Also Read: Why You Should Work Before Pursuing MBA?
Select a program that gives you an extensive knowledge about the management hierarchy. This enables your decision-making skills and strengthens your decisions with valid points. A manager should always have the capabilities to resolve differences and meet the common objective without demoralizing others. An MBA teaches you all the necessary managerial hacks. It gives a deep insight about the different departments of the company. You will become well versed with sections of the organization like – Marketing, Finance, HR etc. An MBA program also assists in developing certain managerial traits like leadership, Accountability, Prioritization, Effective Decision making etc to list down a few.
Some of the other key traits of a Good manager are listed below, these are the skillsets which one must possess to be effective in his/her career on completing their MBA program. You must ensure to pay close attention to developing these skills since you don't have any prior work experience therefore you wouldn't have been exposed to a corporate environment. A manager must know how to create a good hierarchy in the organization, how to hire the right people for the job, how to handle employees with warmth and empathy, to be abreast with the current market trends, to be aware of the company's position etc. Great managers must be transparent and straightforward, they should understand what the employees desire and how they are motivated. They should remain easily accessible to their employees and be understanding of their requirements to complete a job.Managers are required to exhibit appropriate maturity since they hold such an important position in the hierarchy of the organization. They shouldn't lose their cool/temper under any circumstances and always remain well composed. A flexible manager is one who will lead by example. When a manager accepts changes in his stride naturally his employees will also emulate the same. Another critical characteristic of a good manager is accountability. They must take responsibility and own up for any mistakes/flaws his team members may have committed. He should drive changes within the team by conducting regular reviews with his team and offering assistance when required. There should be no blame game culture in such scenarios. He should learn to appreciate talent and help nurture it when he finds the same. Finally a manager must always know how to lead from up front, he should actively get involved in the day to day activities of his team members on a periodic basis. He must not be known only to delegate work to his employees.
How can an early MBA elevate your career?
Acquiring an early MBA has a career, strategic and economic benefits.
An early MBA will give you the chance to learn all the basics and detailed information about the corporate world.
An early MBA facilitates you to pay back the loan you may have incurred while financing the MBA degree. Generally, there is a high ROI since a master's degree immediately after your undergraduate degree elevates your career graph and provides you with a big start. The hefty pay packages assures you good financial stability and promises more financial opportunities in the future when compared to the salary you might have received after your undergraduate degree.
Finally, we suggest if you're planning for an early MBA without any prior working experience, then go for it. An early MBA and a late MBA both have the same benefits more or less. So you can go ahead and attempt the GMAT exam once you are well prepared for the same.
BYJU'S will be glad to help you in your GMAT preparation journey. You can ask for any assistance related to GMAT and MBA from us by just giving a missed call at +9188845 44444, or you can drop an SMS. You can write to us at gmat@byjus.com.