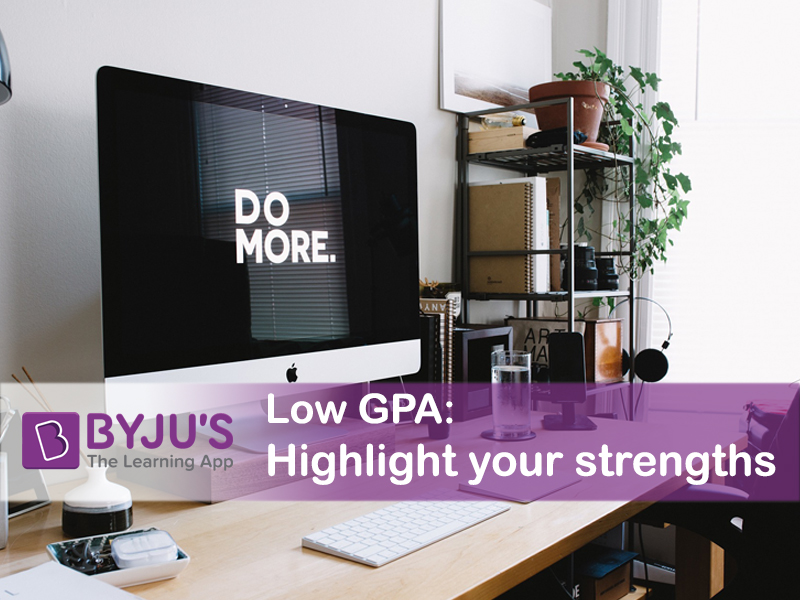 We must accept finite disappointment but never lose infinite hope.
                                                                                         Martin Luther King, Jr.
Marks are marks, they are neither good nor bad. But remember good GPA may bring great satisfaction but it's not a guarantee card of superior and extravagant passionate career. Similarly, low GPA is not the end of life. A low GPA would not abduct the path of success. One of the biggest examples we have is of Mark Zuckerberg, Founder of famous social site Facebook; he is a college drop-out and is now counted among the billionaire's list.
Be cool ! marks are just the pair of numbers who can't navigate your career's cruise.
The college considers complete package of application
There might be a lot of factors working in your benefit besides your senior high school GPA. The college application convenes many distinct components of expertise and your accomplishments. It is not unusual for pupils to become cynical about their likelihood of being taken to their choice of schools and to dwell on the negative variables. Remember that this isn't the same view the admissions officers will accept. Applications let you highlight your strengths. In the interview and your essay, you get a clean slate. Take benefit of this opportunity to play the best portions of your application up. Emphasize some encounters outside the classroom that have already been particularly significant to you.
Highlight your Strength
Write about the tough decision you had to make during critical situations and how you solved them, things you have achieved, and values that direct your life. Convince the admission committee that you have an advantage to the school and what it can take to be a leader on campus. It's possible for you to show an up tendency. Make them your best if you still have a couple of sessions left of high school. Demonstrate that you have learned how to be an excellent pupil and you take your work seriously.
Ensure your Aspiration
You will be prepared for college-level work if you do nicely in your challenging junior and senior year classes. Seek the additional help of your teachers and to master the course content give your best shot. This is the time when it can profit you the most if your parents are willing to put money into tutoring. You can point out this if your classes influenced. School life's difficult. If you've worked to defeat them and confronted challenges, this is a precious strength which will assist you to make probably the majority of your school experience.
Clarify your LOW GPA reasons
It can be worth mentioning in your application if you scored low due to some personal or professional crisis. Tell the admission committee about how these situations have influenced you and what you experienced. Also, describe your low levels, it will give some insight into your life to the admission officers and gives personalized approach in the application. If you are an excellent applicant except for some class grades that were lesser than perfect, you might be offered a conditional approval.
Many schools offer a conditional acceptance
You go to your dream school and, so long as you keep a certain Grade point average throughout your 1st year, you are there to stay. This gives you the opportunity to show that you could be successful in the campus surroundings that is interesting and new. Once you are in, only do your best, seek help whenever you need it, and everything should fall in line.
BYJU'S will be glad to help you in your GMAT preparation journey. You can ask for any assistance related to GMAT and MBA from us by calling us at +918884544444. You can write to us at gmat@byjus.com.