Preparing for the GMAT is certainly a tough task and should not be taken lightly. This is because the GMAT exam decides the candidate's competence in several sections like – Verbal Reasoning, Quantitative Aptitude, Analytical Writing, and Integrated Reasoning. It also provides an opportunity to apply and seek admission into some of the top B-schools across the world. Keeping this in mind, one must be aware that studying for this exam in 30 days will be a challenging exercise. Although this journey may be a nerve-wracking experience, there are certain simple strategies which you can follow to score 700+ in GMAT and get admitted into one of the leading institutes in the world.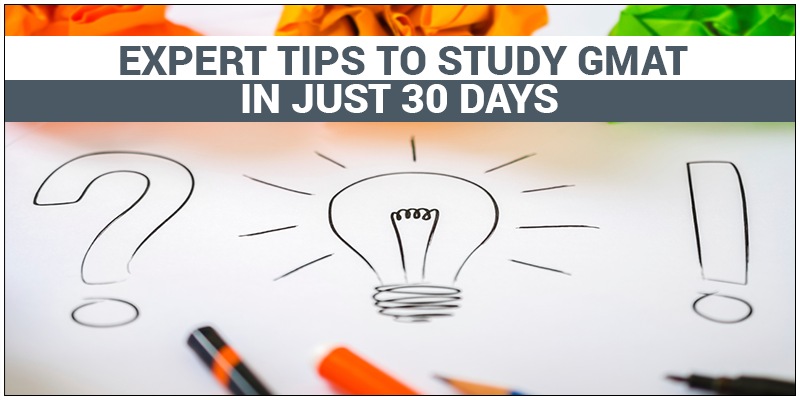 Given below are 5 of the best GMAT prep tips from our experts in the subject:
Be Bothered, But Not Worried
The GMAT Verbal and Quantitative sections syllabus contain basic concepts and content from high school and middle school levels. Although one must not assume this to be a child's play since it requires you to do smart work to solve problems and answer questions in a limited amount of time. The perfect way to calm yourself is to get accustomed to the GMAT test pattern. This can be easily achieved by taking an online practice test which is available in plenty now on various sites.
Post completion of your mock you can examine where you have scored high and low. This will give you insights on which areas you will need to concentrate on more and which are your strong points. You will also have to keep in mind that the GMAT is an adaptive test and therefore, the level of difficulty increases or decreases depending on your performance in the previous sections. There is not much you can do regarding this aspect of the exam, but being aware of the same will assist you during the exam.
Form a Study Plan and Stick To It
Creating a study plan is an imperative step during your preparation for the exam and we can't emphasize how important this is. Study plans help you focus on the various topics you have covered and analyze where you stand. You must chalk out a detailed strategy and divide your time appropriately to the topics which you consider require maximum efforts from your end.
Time management is a vital step in the GMAT preparation especially considering you have only 30 days to prepare. Ensure to spend enough time on all sections in the exam and do not overlook any segment. For example- The Analytical Writing section needs you to read many articles and US publications which keeps you updated on the current scenarios across the globe so that you have a definite idea on how to approach any topic given in the exam. Similarly, maintain a list of all the problem-solving shortcut techniques in Quant and review your basics in Verbal as well.
Hit Your Weak Nerve
This is once again one more essential techniques which a candidate should adopt. Being conscious of one's shortcomings is the first step to overcome them as well. There are various mistakes one is prone to make during the exam some of which include: Do you read too fast and tend to miss out on important details? Your handwriting could be illegible and you could tend to make a mistake during computation in the Quant section. You might make the wrong assumptions since you missed to read the entire question, etc.
These are very simple errors yet end up costing you dearly in your GMAT scores. You must also remember that there is no negative marking in the exam or options to skip a question either. It is recommended that you attempt as many mock tests as possible before your final test so that you are more familiar with the pattern and also are able to judge which areas you need to work on the most.
Take Short Breaks, Continue Study
When you have set yourself such a short duration to prepare for the GMAT it is needless to say you will be devoting the maximum hours of your day to studying diligently. This is inevitable since the syllabus for the exam demands the same. However "All work and no play" tends to take a toll on the mind in the long run. You should engage in certain practices to relax like meditation or yoga.
Don't get disheartened at any point of time with the limited amount of time you have. Take short breaks, make sure you are adequately hydrated and eat protein-rich food to keep you satiated so that there is no dip in your energy level. You can review the progress you have made and have a check on small milestones you might have completed. Recall all the fundamentals in the Quant and Verbal sections which you have finished.
Take a Mock Test Every Week
As already mentioned above it is paramount that you take into account which areas you are strong in and which you may need to work on. To help in this regard the ideal measure you can take is to attempt Mock exams every week. This not only helps you get familiar with GMAT's testing conditions (i.e) the break patterns, the timing allocation for each section, No calculator usage in the Quant section. Besides, it gives you a brief idea on which segments you spend more time on or on which areas you are confident in. It also assists in preparing you mentally for the actual exam and what scoring range you may finally fall in. There are many Mock tests available online which you can attempt before your main exam.
We'll be glad to help you in your GMAT preparation journey. You can ask for any assistance related to GMAT and MBA from us by calling us at +918884544444. You can write to us at gmat@byjus.com.
Trending GMAT Articles 2019: