Harvard Business School (HBS) is a graduate business school located in Boston, Massachusetts, which offers a full-time MBA program, HBS Online, Ph.D. programs and several executive education programs. U.S. News & World Report gave HBS 1st rank among all the business schools located in the USA. It was ranked 5th in the world by the Financial Times in the same year.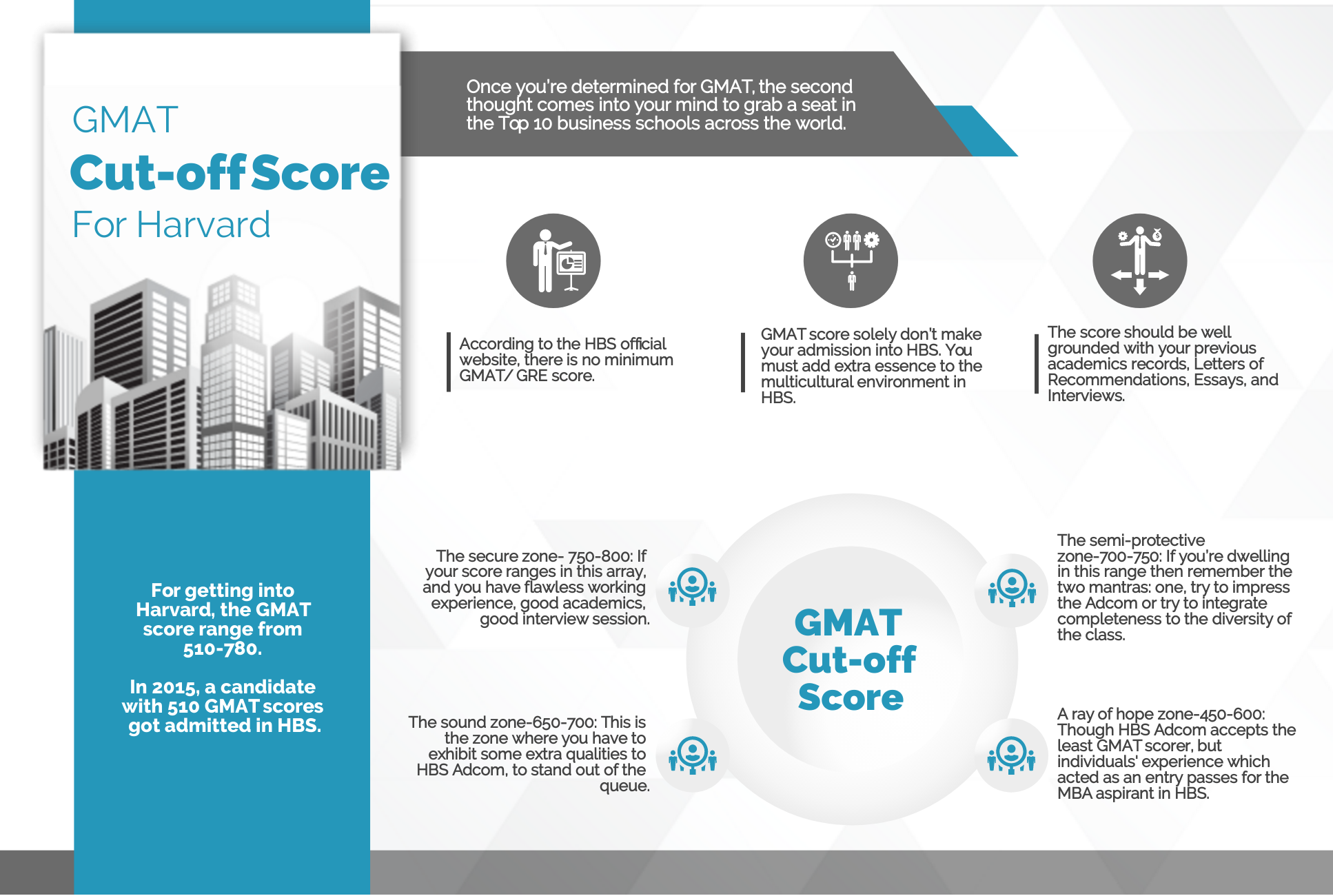 Once you're determined for GMAT, the second thought comes into your mind to grab a seat in the Top 10 business schools across the world. Among all of the management universities, Harvard Business School (HBS) suddenly becomes first priority. For getting into Harvard, the GMAT score range from 510-780. In 2015, a candidate with 510 GMAT scores got admitted in HBS. Yes, you read it correctly and after reading this you can't refrain yourself from Google-ing about –
GMAT cut off for Harvard
GMAT score required for Harvard
GMAT score for Harvard University and many other queries.
According to the HBS official website, there is no minimum GMAT/ GRE score. Anyone with any score can apply to HBS. Let's reiterate, GMAT score solely don't make your admission into HBS, it should be well grounded with your previous academic records, Letters of Recommendations, Essays, and Interviews.
Let's discuss the HBS GMAT Score cut off array:
1. The secure zone- 750-800: If your score ranges in this array, and you have flawless working experience, good academics, good interview session. Then you might have been in the picture. Recall every year, Adcom showed the exit door to good scorer, if they lagged behind in any of the criteria.
2. The semi-protective zone-700-750: If you're dwelling in this range then remember the two mantras: one, try to impress the Adcom or try to integrate completeness to the diversity of the class.
3. The sound zone-650-700: This is the zone where you have to exhibit some extra qualities to HBS Adcom, to stand out of the queue. In this you have to go through scrutiny.
4. A ray of hope zone-450-600: Though HBS Adcom accepts the least GMAT scorer, but they are some exceptional individuals' possess some vibrant or unique quality or any past experience which acted as an entry passes for the MBA aspirant in HBS.
Though you're a good scorer, average scorer or low scorer you can seek admission in HBS if you have a few extraordinary qualities that is relevant and the B-school will learn from you. You must add extra essence to the multicultural environment in HBS.
Academics
The MBA course at HBS is designed in a way that it enables the students to develop leadership skills that help them to hold managerial positions in organisations. The faculty at HBS use a practical approach to impart education. The students analyse various cases that challenge their problem-solving skills and help them to improve their decision-making skills. The students often participate in debates where the students often counter each others perspective and come at the most feasible solution for that particular problem. Students then use this knowledge to carry out independent studies. These studies prepare candidates for leadership roles by teaching them the ways to utilize the resources that they have at their disposal and to take tough decisions.
Initiatives
Students get the chance to actively participate in the initiatives that are fuelled by research. Students also get to collaborate with the faculty, alumni and the practitioners in that field to develop strategies that create a positive impact. These initiatives give students the platform to develop a new managerial mindset that is required to address complex issues. The HBS initiatives are spread across various areas like:
Business & Environment
Business History
Digital
Entrepreneurship (Rock Center)
Gender
Health Care
Leadership
Social Enterprise
Here are the factors that differentiate the HBS MBA program from the conventional MBA programs:
Global VisionThis course aims at developing skills in the students, which can be used for the greater good of the society.
Practical LearningStudents are taught techniques that can be used to make correct decisions in case of adverse circumstances.
EntrepreneurshipEnables the students to start their own business ventures and connect with entrepreneurs.
NetworkingIt gives students a chance to build connections and uncover business opportunities by allowing them to get in touch with the Harvard alumni and meritorious students who come from diverse backgrounds.
Facilities You will be able to access top-class research facilities and other resources present at Harvard.
Fees and Financial Aid
Its annual tuition and fees are $72,000. The fall 2016 acceptance rate at Harvard was 12%. HBS provides fellowships that do not need to be paid back. Almost 50% of students in the class receive the fellowship. The average fellowship awarded at the HBS is $40k per year. HBS provides financial aid through a combination of these resources.
Fellowships (and other HBS funding, if eligible)
Savings (and external resources)
Student loans (both federal and private)
Career Opportunities
Leading companies like J.P. Morgan Chase & Co. (JPMCC), McKinsey & Company, Inc., Amazon.com Inc. and Apple Computer Inc. recruit HBS students. And it doesn't stop there HBS has almost 600 recruiting partners that hire the HBS graduates. The most prominent industries for HBS graduates are consulting, financial services and technology. According to PayScale, the median starting salary of a HBS graduate is $146,000 per annum.
BYJU'S will be glad to help you in your GMAT preparation journey. You can ask for any assistance related to GMAT from us by just giving a missed call at +918884544444, or you can drop an SMS. You can write to us at gmat@byjus.com.