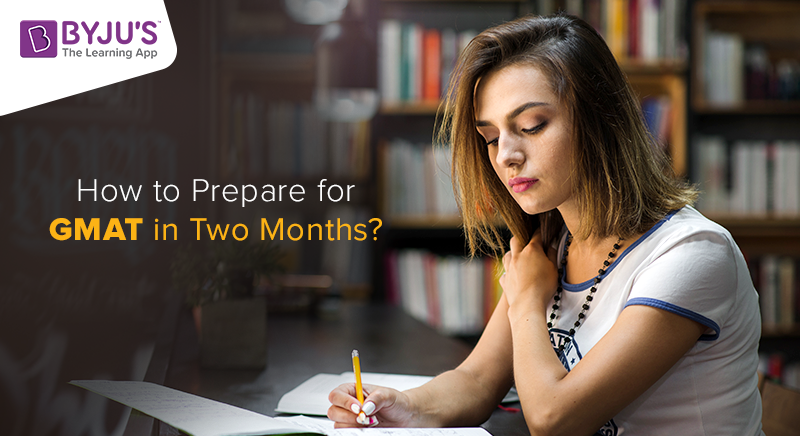 Preparation for the GMAT is both extensive and intensive – Extensive because one is expected to cover all the question types in as much detail and intensive because GMAT demands a change in the way some challenges are being tackled. Due to this dual nature, the preparation can get a little time consuming, involving dedication and focus. While the average time taken by a student to prepare for the GMAT is 3 months, the 2-month preparation plan may be a bit crunched for time, thus demanding more bandwidth from you than is usual.
You should think about preparing for GMAT in two months if you are a person
who can reschedule your work schedule or can avail work from home options.
who is quite well versed in the basic concepts but is relatively weak in the intermediate and advanced concepts.
whose knowledge in basic concepts is strong but is weak in one section and / or lacks practice in the other.
who is aware that the deadlines to submit your applications and is sensitive to the fact that an entire year may be lost if application is not sent before the deadline.
Ideally, this plan is practical for a student who is still in college or for a professional who has 4 years of work experience. The student would have to devote 4-5 hrs for preparation every day. The student should be able to find time from work to aid him in his preparation. Totally it is expected that such a student would spend around 250 hours only to brush up on the basic concepts as it is necessary for the student to know them well, and spend another 100 hours on practicing these concepts.
Extensive practice always gives more confidence to face the test but at the same time the student should bear in mind that time lost during preparation cannot be compensated for due to the crunch in time that he / she is already facing.
In case you are not familiar with certain concepts tested on the GMAT then, you should be ready to spend 2 hours every day to study and work on those concepts first. This should help you familiarize yourself with these concepts and will better prepare you to face the Test.
Taking mock tests are an important aspect to preparation. What is more important than taking the mock test is to analyze your errors and make sure you aren't making the same errors once more. These mistakes should be corrected to ensure they are not repeated in the next test. You should also start working on the advanced questions for at least 2 hours every day to build your confidence.
In case you are totally weak with one of the components tested on the GMAT, say Verbal, then it would do you good to learn the concepts in a fortnight and simultaneously practice the advanced concepts in Quant. In this manner he will be in touch with both Quant & Verbal & be able to track his progress.
The plan should include working out all types of questions that test the different concepts in GMAT Quant and GMAT Verbal. On one day you must ideally be able to solve PS, DS, SC, CR and RC every day. This will give you the ability to switch well between question types. Once the student gets to the Verbal section he has to devote all his time only on the Verbal concepts and questions. To test whether he has imbibed the concepts in Quant or not he should take as many mock tests as possible.
There are some students who are equally good or bad in all the questions types that are tested on the GMAT. In this case, you should dedicate time to first study the basic concepts & progress to the difficult & advanced questions. Knowing that the time available is limited, you should evaluate his performance with every test he takes. This is a good indicator of whether the you are ready to take the Test. If you feel that your performance is not up to the mark, then you should take time off to fine tune your test taking skills and plan to re-schedule the test to a later date. It is also advisable to seek professional advice in case you are not able to take a firm decision.
Feel free to talk to our GMAT counselors! We'll be happy to help. You can reach us on +918884544444 or email byjusforgmat@gmail.com