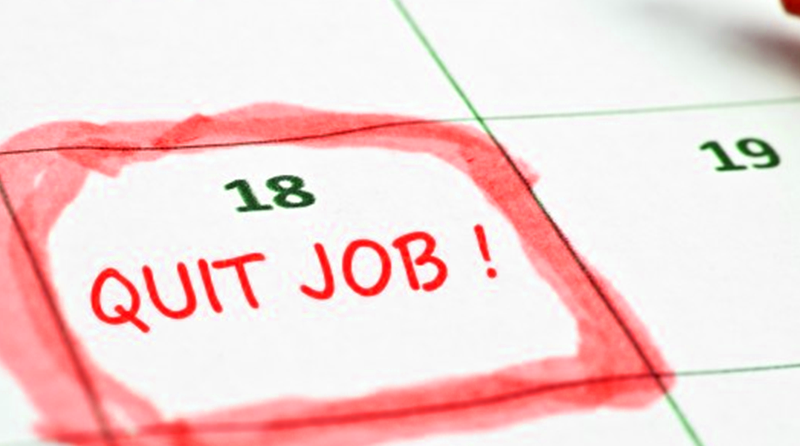 On several instances, prospective MBA aspirants get befuddled with the following question "Should I Quit my full-time job to prepare for GMAT?" Although different people have different notions on the same, we would however definitely say 'No' to the above question. The reason why people start thinking about quitting their job is that the GMAT syllabus seeks more attention and dedication from the aspirants as it deals with the high school standard basics. To excel in the test, the challenge is to solve the questions with shortcuts to get the correct answer in a couple of seconds.
Why it is not advisable to Quit your job for GMAT preparation
It is true that the majority of GMAT exam aspirants belong to the working fraternities. It is exhaustive and tiring for them to study after spending nine hours in the office. Nevertheless, this wouldn't account for a valid excuse since, quitting a job may impose a negative image on the admissions committee. They would think that it represents your failures on the parameters of time management. Besides the AdCom prefers candidates who have good work experience as they believe that these individuals possess the key qualities like Maturity, business acumen and expertise in their particular field.
The MBA program is better suited for students who are experienced since the syllabus is developed in that manner. In addition to the above, experienced candidates will be able to comprehend the various management subjects taught in the course since they would have already practically experienced the same over many years at their job. You will also be aware of the hierarchy followed in an organization and how to effectively work along with other teams in your company.
It is possible that you may not achieve your target GMAT score with just one attempt of the exam. Luckily the exam gives you 5 attempts which you can take in a year with a 16 day gap between each attempt. While initially it may seem like you will be able to spend all your time towards preparation you will soon realise this is easier said than done. You will be able to effectively prepare for a total of 5-6 hours only in a day. This means that you will essentially require only part of your day for preparation. It will also be difficult for you to look for a new job after your GMAT since job opportunities are not always available as per your requirement.
The admissions committees at top B-schools analyze the "Stress Management" capabilities of the candidates and this can be evaluated by proving your balance between 'study' and ' working hours'. Adcom are accustomed to admitting candidates who have full time jobs and will therefore be skeptical towards admitting individuals who quit their job just for GMAT preparation. While a gap of 1-2 months may be overlooked but anything more than that will require adequate explanation from your end.
Yet another reason to reconsider quitting your job is because your job will provide you with financial stability as appearing for GMAT and pursuing an MBA abroad is a costly affair. It will burn a big hole in your pocket and you would have to opt for loans with high rates of interests or go for some internship stipends etc. You will therefore require all the sources of income you can get to help fund the same. Your job will give you a steady form of income which you may lose out on if you choose to quit your job. Sometimes your employers would also assist you in funding your MBA with certain clauses which you may have to agree to. It is wise to keep earning rather than quitting your job just to study for the GMAT. You must invest your time appropriately and plan your studies in a prudent manner on a daily basis. When you are working you automatically tend to be more proficient since you would be communicating with your peers and superiors and learn many valuable skills which textbook knowledge will never teach you.
How to prepare for the GMAT while balancing a full time job
Allocate minimal time to your daily routine activities, steal your time from weekend parties and exploring. You could:
Spend time studying or practicing simple concepts during your breaks
Learn vocabulary during the time you spend traveling to and from work.
Map out a detailed study plan covering all the important topics for the exam.
These are small strategies which would greatly help in utilizing your time effectively. However, don't forget to refresh your mind with entertaining or delightful activities since all study and no play would have an adverse effect on your mind. The admissions committee of the universities will look to admit enterprising candidates who are talented and can add diversity to their campus. You must, therefore, set out to map a detailed study plan covering all the topics in the syllabus. This would help you to track the progress you have made periodically. Another key approach is to attempt mock tests at regular intervals. This is one more way to help you measure which are your strengths and weaknesses. You could concentrate on the topics you are not good at and spend adequate time to improve on the same. Mock tests give you an understanding of the testing conditions of GMAT – the break patterns, the adaptive testing method they use, the rule of not using a calculator in the Quant section etc. Alternatively if you still believe you will require more time to be spent dedicatedly towards GMAT preparation then you can request your employer for unpaid leave or explore options with your current employer for a part time position as well. It is always a bonus to project to the adcom that you are capable of balancing the responsibilities of a job as well as preparing for a competitive exam like the GMAT. Since the MBA program will also need you to be a person capable of multitasking, managing time in a smart manner and handling additional responsibilities, it is necessary that you hold on to your job before you gain admits from the university of your preference.
Instead of quitting your job you can take the help of online or app based learning for e.g., BYJU'S GMAT preparation (BYJU'S GMAT App), i.e. an App based study material recorded in the form of videos which gives you insights and knowledge about every minute topic related to GMAT. It is composed with all the shortcut techniques and tricks by the eminent GMAT topper Mr. P.N.Santosh, who scored 780 and ISB alum as well.
We'll be glad to help you in your GMAT preparation journey. You can ask for any assistance related to GMAT and MBA from us by calling us at +918884544444. You can write to us at gmat@byjus.com.
Must Read Articles for GMAT 2019: