SSLC exams in Kerala are very crucial for students. Kerala Board of Public Examination found in 1965 is responsible for conducting and overviewing the Intermediate as well as higher education in Kerala, the land with 100% literacy as per reports. The Kerala SSLC board also specifies the course syllabus and also prescribes books for the schools under the Kerala Board. The board conducts board exams mainly for the Class 10 and Class 12 students.
The Kerala SSLC Board Exam:
Class 10 is also known as SSLC with full form Secondary School Leaving Certificate in Kerala. Kerala SSLC is very crucial as it helps students to get a solid foundation for the important subjects for their higher studies, especially as per their preference for a professional career. The Department of Higher Secondary Education, Kerala (DHSE) conducts the SSLC exams in the month of March. Schools also conduct the model exams just before the boards, so that students are more confident to answer questions for the final exams like the SSLC Exam 2020.  
SSLC Kerala Year-wise Comparison:
Exam statistics of KBPE SSLC (class 10) exam below: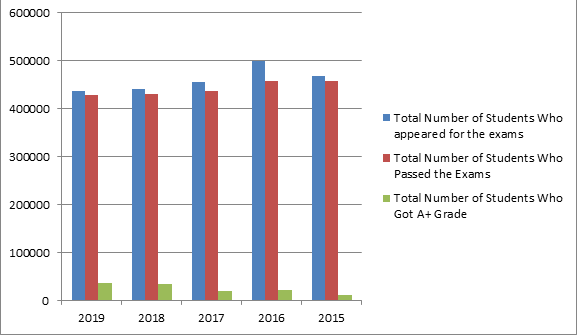 The pass percentage trend over the years is also given below: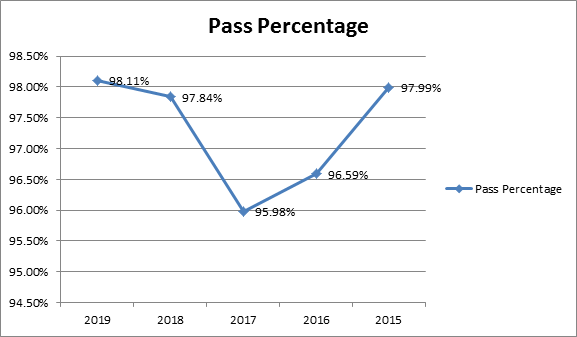 Kerala SSLC Board Public Exam and Results
Kerala Secondary Education Examination Board Class 10 examinations are conducted in a number of schools affiliated with the Kerala Board every year. Students who have prepared well for the exams will be able to do well in the exams and top it. Once exams are over, the month of May is also crucial for Kerala SSLC students as they will get to know their results then. It will decide on their future career path, as the subjects they choose Class 11 will determine their preference for the career ahead. Students who have prepared ahead will do well in the exams and get good results.
Kerala SSLC Board Exam Resources
Find below in this article, the following study material for the SSLC board name Kerala, crucial for examinations for the academic year 2020-21. 
KBPE SSLC Board Syllabus provides an overview of the course by giving a brief idea of the topics included and their description, as well. The Kerala 10th Board Syllabus is created according to the guidelines received by the board. Topics are covered following a thorough filtration from a variety of resources. This is done after careful introspection and references from experts. SSLC Kerala Exam Syllabus certainly comes as a blessing during crunch time, which most of us find ourselves into either intentionally or unintentionally. 
KBPE SSLC model question papers offer knowledge of the exam paper pattern, marks allotment and time management. By practising more questions from these exam papers helps to remove the student's exam fear or the phobia and also increases their confidence. Students who aspire to score good marks in both final and board exams will have practised well by solving these model question papers. 
SSLC students can also find the question papers here. Solving these SSLC Board Name Kerala question papers along with studying well help students to fetch high marks. Studying smart and hard is the best way to perform well in exams. These KBPE question papers gives an idea about the several aspects like the exam pattern, marks allotment-chapterwise, thus making studying stress-free for students. It helps to deduce the type of questions asked in a chapter under different question types such as MCQs, short type of question, long type of questions, essays and so on. 
Find also the KBPE SSLC Class 10 Social Science Previous Year Paper from the link below:
Other resource that we offer in our portal is the textbooks. These Kerala SSLC Examination Board books are developed to suit the calibre of the students. These books cover a wide range of interesting activities that help the teachers to make their lectures more engaging and lively. These Kerala Board 10th Class Textbooks are prepared based on the different level of understanding of each student. 
Kerala SSLC Maths Textbook
SSLC Kerala Board Maths is a very challenging subject and students will have to master the formulas and concepts thoroughly to get a proper basis in the subject. The Kerala SSLC Maths Textbook has explained all the important concepts in an easy to understand language. Some of the main topics included in the book 1 of Class 10 Maths include Arithmetic Sequences,  Circles, Trigonometry and so on, while book 2 covers Solids, Polynomials, Statistics and more. 
Kerala SSLC Science Textbook
Kerala SSLC Science is a subject that should be studied thoroughly by students who are aspiring to score high marks in the board exams. The books are made available for download in the links below. Kerala SSLC Science Textbook is divided into separate books. Topics covered in these books are divided into 3 disciplines of Science such as Physics, Chemistry and Biology. 
Know About SSLC Kerala
The KBPE (Kerala Board of Public Examination) is one of the most distinguished boards in India for education. It intends to sow seeds of a better quality education. The Kerala SSLC board provides different schemes that can help the students to enhance their soft skills and extracurricular abilities. These schemes also make them better human beings and socially responsible people. The  Government of Kerala comes into the picture here, providing all the required aid to the board, which has always aimed at a holistic approach towards the education system. Thus furthering its efforts to gain maximum benefits in all its academic endeavours.
Total Marks in SSLC Kerala
Kerala State Board SSLC exams for English, Social Science and Mathematics score will be 80:20 and for all other papers, the score will be 40:10, except Information Technology. The score for written examination is 490 and internal assessment 130 and for IT Practical 20. The maximum score for the examination is 640. 
Passing Marks in SSLC Kerala
The passing marks in SSLC Kerala is minimum 30% marks in each subject. At least grade D+ (30-39%) should be secured in each paper to qualify for pursuing higher education. The same is applicable to pass in compartmental exams, as well.
Duration of SSLC Exams
This year, the KBPE SSLC exam was to commence from 10 March 2020 and end on 26 March 2020. Each exam is expected to be for a total duration of 1 hour and 45 minutes. However, the exams were postponed due to the Covid-19 outbreak. 
Students can also refer to the below resources from here: