After clearing any management entrance test, the candidates need to pick their preferred B-School to apply for admissions. From picking a new dress to buying a new car, ultimately what aspirants invest depends on what factors are most important to them. Drawing parallels from these analogies, there are some archetypal attributes a potential candidate should have in mind while selecting a management school for a Masters in Business Administration.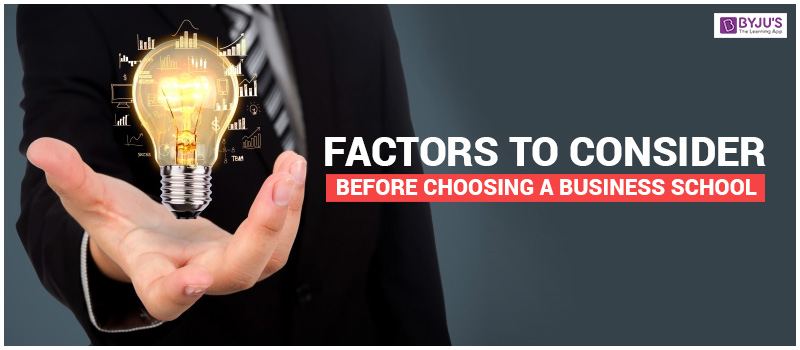 Here are some key factors one should look for while choosing an MBA College:
According to an article published by Forbes contributor Ronald Yeaple, in a mail survey of GMAT-takers at the University of Rochester's Simon Business School, the 750 respondents were asked to divide up 100 points among ten attributes to indicate the relative importance of each attribute when choosing a business school. Of these, the reputation of an institution takes the cake each time. Students tend to look at the MBA program and university rankings, alumni and their accomplishments, and word-of-mouth opinion to judge the grad school's prestige.
Starting Salary Post Completion of MBA
Although the common perception would place this factor much higher than the others; surprisingly, it ranks second to the college's prestige. The average pay package offered to a graduate from an institution is of primary concern to anyone looking to pursue their MBA, especially to highly ambitious mid-level professionals for whom an MBA uplifts their career from one platform to a significantly higher one.
Quality of Faculty and Style of Teaching
Tied for second place with the starting salary post MBA, this factor plays a vital role in selecting any business school. How approachable the faculty is, the curriculum, the flexibility and the viable scope of the course in real-life situations are necessary points to keep in mind while narrowing down your dream school. Ask your peers, meet with the faculty of schools you are interested in and search the internet for all the necessary certifications and research work each school has done and come to a decision.
Cost of Education/ Financial Aid provided (if any)
The net cost that a student has to bear during his/her time at a business school is a grave but rational concern for many, especially for the candidates looking to fund their education solely by themselves or those who would have to apply for educational loans and provide necessary collateral for the same. Many organizations sponsor their employees' MBA. You could always ask your employer about the same.
Specialization(s) Offered
If you are sure, beyond a shadow of doubt of what specialization in MBA you wish to take up, decide on a business school known for it. There are various business schools affiliated with universities which although renowned, may not offer the best program for your choice of specialization.
For most students, meeting and studying with people from different backgrounds, cultures, and even nationalities is higher up on their checklist of the ideal business school. There are global and international MBA programs that allow you to travel to different countries during your study, helping you learn more about business practices and cultures across the globe and shaping you as a proficient global executive.
To some, how near their B-school is to their home plays a substantial role in deciding between schools. It could be due to some family obligations and responsibilities restricting them, or the fact that moving so far away from home does not seem like a good idea.
The MBA candidates should analyse the aforementioned factors to choose a management school that best suits them and brings out the best of their capabilities. The candidates can also check the top management colleges to make an informed decision.
Stay tuned with BYJU'S to get more information on management schools, CAT exams and other related preparation tips and question papers. BYJU'S also provide the MBA aspirants with various engaging video lessons to make learning more effective and interactive.