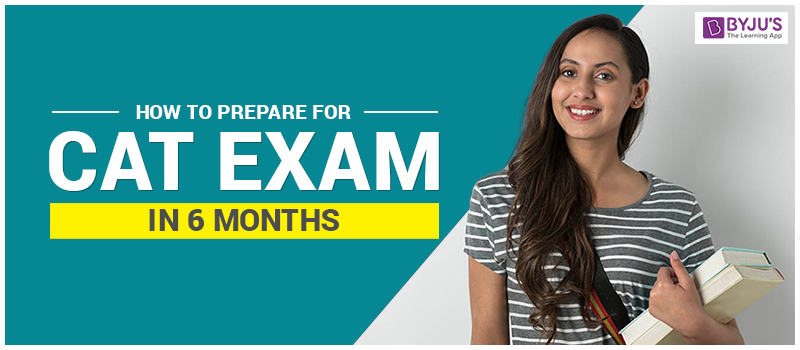 Wondering how to prepare for CAT in 6 months? Few things are carved here to help the candidates to know how to work on their CAT when you still have six months in hand. Here are a few things for you to know how to crack the CAT exam in 6 months.
Tips for CAT Preparation in 6 Months
 Be informed:
One should be informed about the CAT syllabus and pattern before starting the preparation. You can also create Google Alert with the topic – "CAT and "MBA" to get the news and events as soon as they happen. Thorough research about the colleges and the selection criteria should be done too.
 Get your basics right:
If you are preparing on your own, you can start with 9th and 10th class maths topics. For the first two months, you should just concentrate on building the foundation. Once that is done, you can move on to more advanced/difficult questions from each topic.
 Time Management:
The secret to cracking CAT in 6 months is to master the art of time management. Quality over Quantity is always stressed for CAT preparation. So, you need not have to put 6 -7 hours for preparation but rather measure them in actionable goals. Assign a fixed time that is suitable for your routine and stick to it.  Preparing a timetable that revolves around the same time is the best way.
 Newspapers:
Keep yourself updated with the happenings around the world. Apart from enhancing your vocabulary and general awareness, you will also gain different perspectives on an issue. It should also be known that most of the GD topics are taken from recent events.
 Go for the tricks:
After knowing the basics, you can apply the tricks learned to similar questions. Tricks help you solve the questions in very little time. For tips, the candidates can keep visiting BYJU'S and get equipped with various effective shortcut tips.
 Tests:
Keep testing yourself regularly by giving several CAT mock tests. Make it a point to give at least one sectional test every month for the topics that you have prepared. This shall help you to quantify your preparation. Also, always try to give timed tests to get acquainted with the timing of the actual CAT exam.
 Analyse your performance:
Be it the unit tests, sectional tests or overall mock tests; always analyse your performance. Especially in Verbal Ability which is a tricky topic where people tend to make the same kind of mistakes. Identify your mistakes and improve upon them. Topics, where you score less, can now be focussed better.
Aptitude is something that has a time validity attached to it. With these tips, you are all prepared for the CAT. It is suggested to take a lot of mock tests for CAT and get completely prepared to tackle the CAT questions easily. So, it can be said that preparing for CAT in 6 months is not very difficult if one prepares in a smart and efficient way.