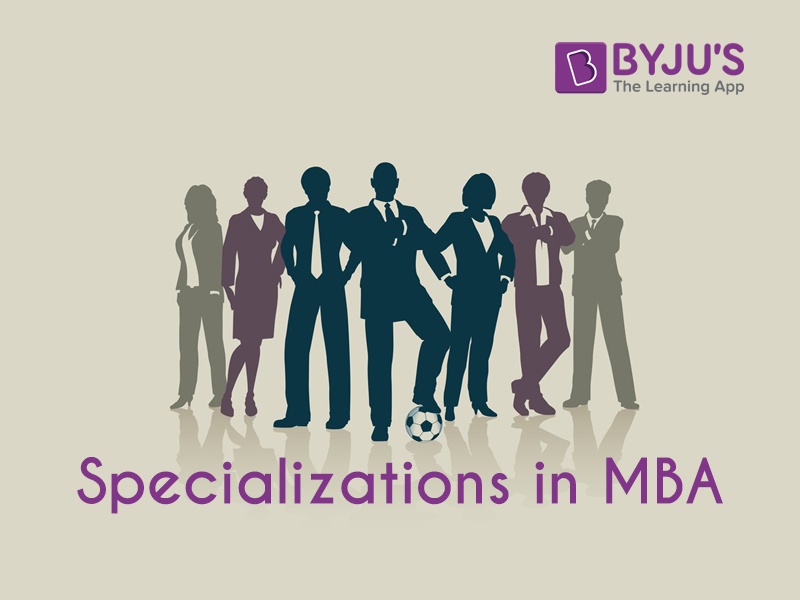 Pursuing Master In Business Administrations- popularly known as MBA is just not a course to achieve a degree. But it fosters the career graph to next level. An MBA program is two-year course aims to hone skills in various subjects of management and one come up with an EXPERT.
During the two years of course; in the first year, brief knowledge about the different management subjects are given to the prospective students. While in the second year of the persuasion, it offers a student to choose a specialisation in MBA. It is a difficult process for students to choose a specialization course out of the available specialized courses. It is vital from the perspective of the career growth and professional development before selecting a specialization. The business world is dynamic, and being a managerial candidate, one must know the traits of management to survive in the competitive edge. It is essential to know about the MBA specializations which have demanded in future.
The list below contains the modern business specialization:
Business Economics: Business Economics is a study of applied economics. It enables the clans to think out of the box, create sophisticated strategies and achieve success in challenging situations. This specialisation focuses on economic variables, from employment or inflation to fiscal policy and mastering them. 
Finance and Accounting: It deals with the teaching of financial accounting, managerial accounting, corporate governance, corporate finance, capital markets (including equity, fixed-income securities and derivatives), and financial institutions and services (including banking and insurance).  F&A guaranteed an excellent career stability; it is ultra dynamic in nature as it offers a wide amount of job availability and security to students graduating with this degree. The graduate student may work on the job profiles like Chief Financial Officer (CFO), treasurer, controller, and purchasing manager, whether it's in a bank, accounting firm, government agency, the investment firm, large corporation, or small business. 
Global Management: Cultural or geographical boundaries can't bound business. Hence global management caters ample of opportunities to trade globally. It fosters the entrepreneurial qualities to tackle multi-national business and gives a unique identity. 
Human Resource Management: Human resource is the backbone of an industrial organisation, it can make an organisation or break. It is one of the most significant areas of MBA specialisation, it ensures the enduring relationship with employees. It hones students' skills in talent acquisition, legal requirements, benefits compensation. 
Marketing: Marketing is an important part of any flourishing business. It is the responsible department for generating revenues for the organisation. It is the most challenging area of specialisation as it pools the customer dealings, brand promotion, rigorous marketing research and much more.
Leadership Management: Leadership management course deals with the leadership qualities which are needed to solve the cringe while facing challenges in working organisations. A leadership manager is an asset to the organisation as s/he is responsible to lay down the plans and inspires other to follow that in order to meet the common objective of the company.
Agribusiness Management: Agriculture is the new plateful of opportunities from a business point of view. The greater the business extends, the more administration it needs. From seed supply and agrichemicals to yield creation, sustenance dissemination, ranch apparatus, and notwithstanding showcasing and deals, there are numerous routes for MBAs to make their imprint in agri-business administration. 
Public administration: According to Byju's mentors pursuing MBA  focusing on public administration is one of the most booming sectors in term of job opportunities. Public administration endeavours to decode how choices in government are made and also administering government activities to complete those choices. It is one of the most intellectual specialisation course and attracts those who seem the social problems as business problems. 
Supply chain management: the industrial organisations face difficulties in maintaining a smooth relationship with suppliers. An MBA with a Supply Chain Management specialization offers study in operations, production and delivery methods, quantitative methods, logistics, strategic planning, and project management. 
Strategic Operations Management:  Strategic Operations Management is the connecting link between the missing loops occurred during 'process'. For say from collecting raw materials into finished goods. An MBA graduate student learns about the strategic operations which include mass customization, lean production, agile manufacturing, customer­-centric provision and much more.
Choose your specialisation wisely and give an edge to your career. Good Luck!
Share your views by posting your comment below. You can ask for assistance related to GMAT and MBA from us by just giving a missed call at +918884544444, or you can drop an SMS. You can write to us at gmat@byjus.com.
Also read:MBA Specializations