If you consider a batch of about 25 GMAT aspirants, one can very well say that almost 50% of the class consists of worry faced, wrinkled fore-headed people with more than 10 years of work experience. It is not just the facial features that differentiate them from the others, but it is also the thoughts that run through their head. They always have a thousand questions about whether the strategy taught in class will help them, whether they will get a good GMAT score and the like. To a great extent, all those questions can be answered, but the one question that such as aspirant mustn't have is whether the GMAT test is the right test for him. That is such a dangerous question that can fundamentally nullify the positive impact that one may have on all the other components of the applications process.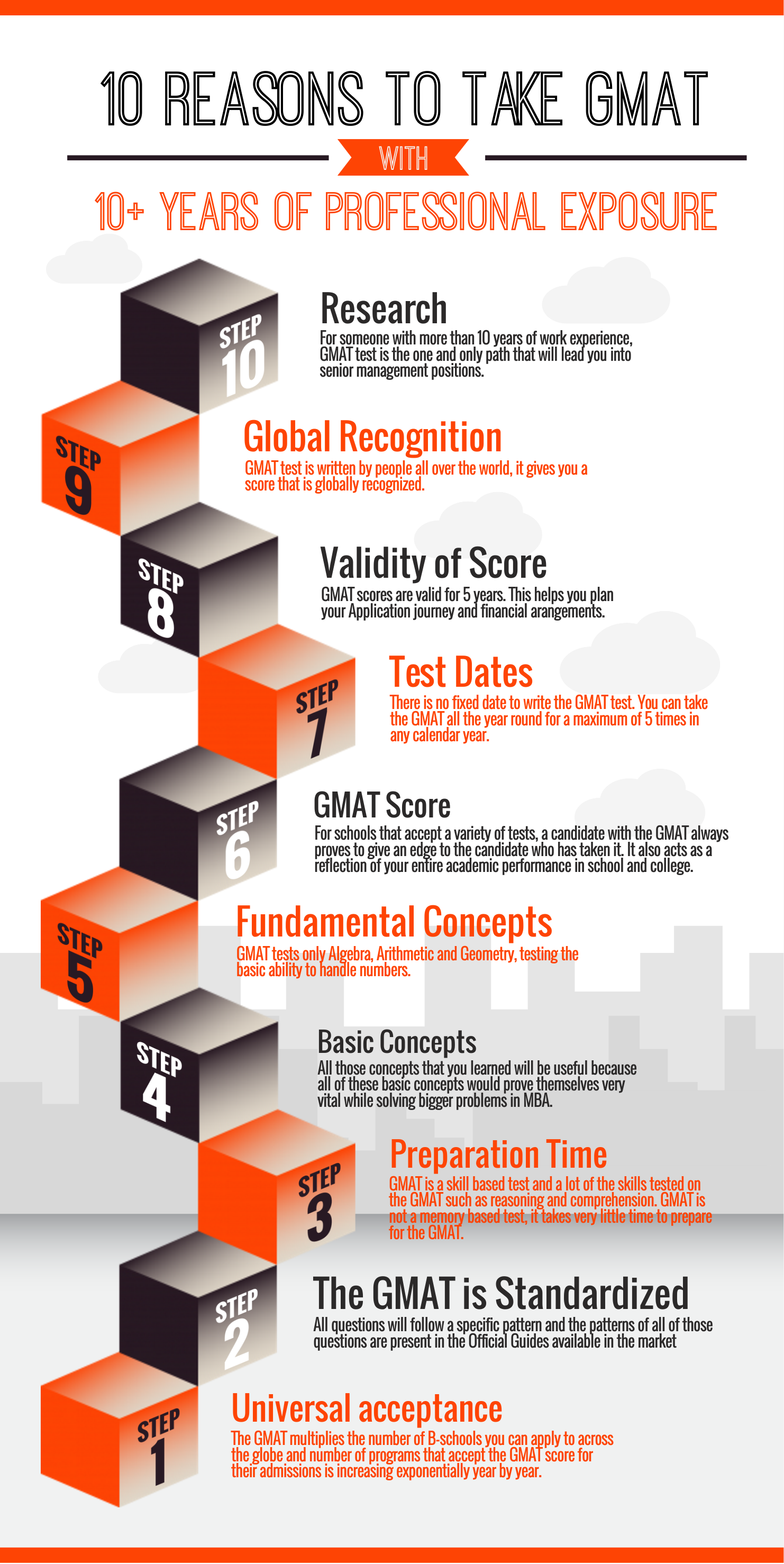 In an attempt to answer that question, here are ten reasons why GMAT is THE test for people with almost ten years of work experience.
1. The GMAT exponentially multiplies the number of B-schools you can apply to across the globe. While other exams in the same fraternity such as the CAT, XAT and the MAT have their limited applicability, the GMAT takes the pride of being universally applicable to schools in India and across the globe. What's more? The number of programs that accept the GMAT score for their admissions is increasing exponentially year by year.
2. Again, compared to the Indian contemporaries, the GMAT test is highly standardized. This means that you will not see even one question that is unexpected on the day of the test. All questions will follow a specific pattern and the patterns of all of those questions are present in the Official Guides available in the market
3.  GMAT is a skill based test and a lot of the skills tested on the GMAT such as reasoning and comprehension are skills that people develop over a period of time with their work experience. Since GMAT test is not a memory based test compared to a lot of its peers out there, it takes very little time to prepare for the GMAT.
4.  The GMAT also opens the doors to all those concepts that you learned in school but have become obsolete for practical purposes. This is useful because all of these basic concepts would prove themselves very vital while solving bigger problems in MBA.
5.  Given the above point, it is also to be understood that the GMAT tests the candidate on very fundamental concepts. GMAT doesn't even test concepts such as trigonometry and calculus. All it tests is Algebra, Arithmetic and Geometry, testing the basic ability to handle numbers.
6.  For schools that accept a variety of tests, a candidate with the GMAT always proves to give an edge to the candidate who has taken it. It also acts as a reflection of your entire academic performance in school and college.
7.  There is no fixed date to write the GMAT test. You can take the GMAT all the year round for a maximum of 5 times in any calendar year. This gives you an option to plan your entire MBA Applications journey clearly.
8. GMAT scores are valid for 5 years. This means that if you don't wish to apply this year but would want to write the test for an admit three years down the lane because you have the bandwidth now, you are welcome to do so. This again helps plan your Application journey and chronicle all the main events well.
9. Since GMAT test is written by people all over the world, it tends to place you on a platform and gives you a score that is globally recognized.
10.  Last but not the least, for someone with more than 10 years of work experience, GMAT  test is the one and only path that will lead you to an Executive MBA program that will shoot you into senior management positions.
Check out
the GMAT Eligibility Criteria for 2019
We'll be glad to help you in your GMAT preparation journey. You can ask for any assistance related to GMAT and MBA from us by calling us at +918884544444. You can write to us at gmat@byjus.com.