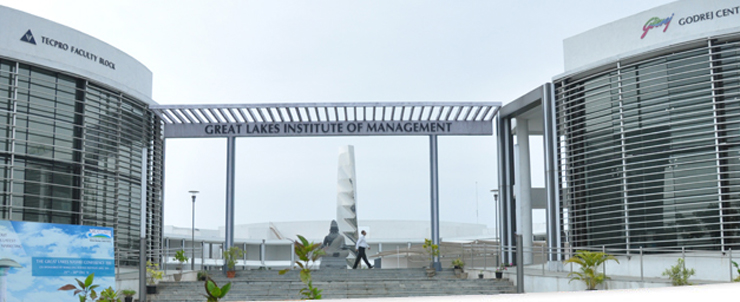 A comparatively younger institute in terms of the years of operation, Great Lake Institute of Management (GLIMS) was founded in 2004 in the vibrant city of Chennai. Despite its recentness, GLIMS has succeeded in acquiring a place for itself in the top 10 MBA colleges of India as reported by Outlook, Business Today, and Outlook Careers. Already a proud holder of AMBA, UK, one of the three main global accreditation bodies in business education, GLIMS focuses on moulding, grooming and developing leaders who have the capability of effortlessly adapting and excelling in changing times.
For a more detailed understanding of what this institute has to offer, we have examined a few key parameters.
What does it have to offer?
In this institute you will not only be exposed to the thoughtfully designed and industry relevant course structure but also be shaped into "Masters of Business Readiness'', with the potential of thinking innovatively and strategically in the face of most trying business situations. GLIMS alliances with Yale, IIT Chicago, and Nanyang Technological University will help you gain diverse and enriching experiences.
Course Architecture
GLIMS offer a 2-year Post Graduate Executive Management Program, 2 –year Flex Post Graduate Management Program and One Year Post Graduate Programme in Business Analytics. The distinguishing characteristics of the course structure are that it is student-centric, industry-relevant, and application-based with unique features like a compulsory Mandarin course, Karma Yoga Project, and Empirical study.
Quality of Education
With a valuable accreditation to its name, universally renowned diverse faculty, modern and technologically advanced teaching methodologies, and a supporting peaceful and healthy environment that nurtures moral values, GLIMS will be an ideal platform for you to advance your career and excel both professionally and personally.
Cost of Education
The cost of pursuing a program from GLIMS varies between 10 lakhs to 14 lakhs depending on whether you have opted for a residential or a non-residential programme. The final placements and lucrative packages more than make up for this initial cost of investment.
Placement and Salary
The year 2016 saw an impressive line-up of organizations across sectors such as BFSI, FMCG, consulting, E-Commerce, IT/ITES, Manufacturing, FMCG, Education, etc, with an average salary of INR 12.11 lakhs p.a.
Therefore, choose GLIMS and boost your career options for success.
BYJU'S  will be glad to help you in your GMAT preparation journey. You can ask for any assistance related to GMAT and MBA from us by calling us at +918884544444. You can write to us at gmat@byjus.com.
Also Read: List of Top B-Schools